Ganpati Bappa Moriya: Bring Ganesha Home in your Brand-New Car on Subscription
---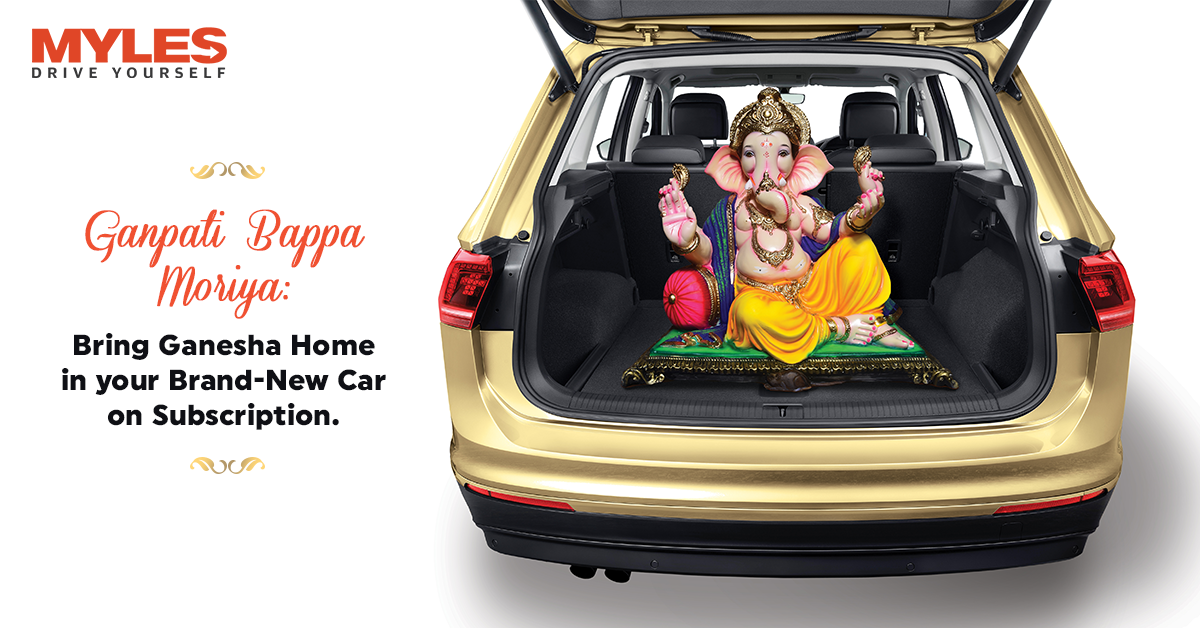 With the onset of the festive season in the country, we all are ready to celebrate them in full gusto. India is the land of flavours, vibrancy and diversity, making it a land of many festivals. Next in line is Ganesh Chaturthi.
Ganesh Chaturthi is around the corner, which is a festival of happiness, prosperity, and peace. Lord Ganesha is the Hindu deity representing luck, wealth, and harmony, and this Ganesh Chaturthi brings home everything with Lord Ganesh in your new subscribed car.
Drive Happiness to Home!
Festivals are when we all try to invest in gold, real estate, car, and other valuable items. This Ganesh Chaturthi brings home Ganesha in your brand-new dream car on subscription. We usually think a car is an investment, but it is a depreciating asset. Car Subscription is a smart alternative to traditional car buying, and this season let's try it.
What is a Car Subscription?
A car subscription is a practical way of purchasing a vehicle in this modern time. By paying a monthly fee, you bring your dream car home and save a lot of money on it. You don't have to pay a heavy down payment or monthly EMIs, car maintenance fee or insurance, and it comes with zero commitment.
Benefits of Car Subscription
Car Subscription is Cost-Efficient
Car buying in India is not a cheap affair, and with down-payment, loan, and registration, it will cost you even more. The interest on monthly EMIs, maintenance costs, and insurance charges make every drive costlier. A car subscription is a cost-effective option to own a vehicle at a nominal monthly fee that includes insurance, routine service, and roadside assistance. Moreover, it reduces your transportation cost if you move between cities for work (job, business or studies).
It offers Flexible Ownership
When we buy a car, our usual thought process is to stick with the vehicle for at least 8-9 years. The traditional car buying process comes with a lot of commitment, but it can be boring for those who love to change their vehicle every few years. New car subscription comes with zero obligation, which means you can change, upgrade or return your car whenever you want. A car Subscription is available for flexible tenure starting from 6 months to 60 months.
Car Subscription is an all-package Deal
Each drive comes with a lot of costs, and it doesn't stop just on car buying. Traditionally owning a car comes with a range of expenses such as vehicle registration, service routines, daily maintenance, insurance, roadside assistance, pollution certificate, taxation, and more. It indeed becomes hard to manage while paying monthly EMIs and busy schedules. Whereas a car subscription is an all-inclusive deal where everything is cover under the cost of the monthly fee.
24/7 Digital Assistance
Safety and customer satisfaction is the utmost priority of every client. With a car subscription, you'll get it all, be it getting assistance while your vehicle breaks down on the road, accidental repair or getting any kind of help related to your subscription. In the traditional car-buying process, you need to go through a lot of paperwork, loan approval, physical signature, etc., which takes a lot of time, energy and money. In a car subscription, everything is accomplished digitally, be it through an app or website.
Drive Stress-Free for Years
Car Subscription can make anything possible, from no down payment to zero commitment to stress-free rides to zero worries of resale value. Owning a vehicle through a car subscription is so much fun and comes with trouble-free rides for months or years. You can get a car at a much lesser cost, with no stress of taking it for service routine, you can always subscribe to the latest car models or upgrade your vehicle to premium or luxury, and much more.
Moreover, you can celebrate every festival with much comfort and ease every time.
No occasion is auspicious than Ganesh Chaturthi to bring home your car through Subscription. Log in to the website or App, choose the tenure, select your vehicle, pay, and get Ganesha and the new vehicle home.
Happy Driving!
Happy Ganesh Chaturthi!
Ganpati Bappa Moriya!
Tags:
car leasing
,
Car Rental
,
Car Subscription
,
Car Subscription in Delhi NCR
,
Car Subscription in India
,
Car Subscription in Mumbai
,
festival
,
Festive Season
,
ganesh chaturthi
,
Ganpati Bappa Moriya
,
India
,
lord ganesha
,
Myles
,
Myles Subscription
,
Myles Zero
,
Subscribed Car
,
Travel India