Travel India: 11 Best Road Trips to Explore with your Father
---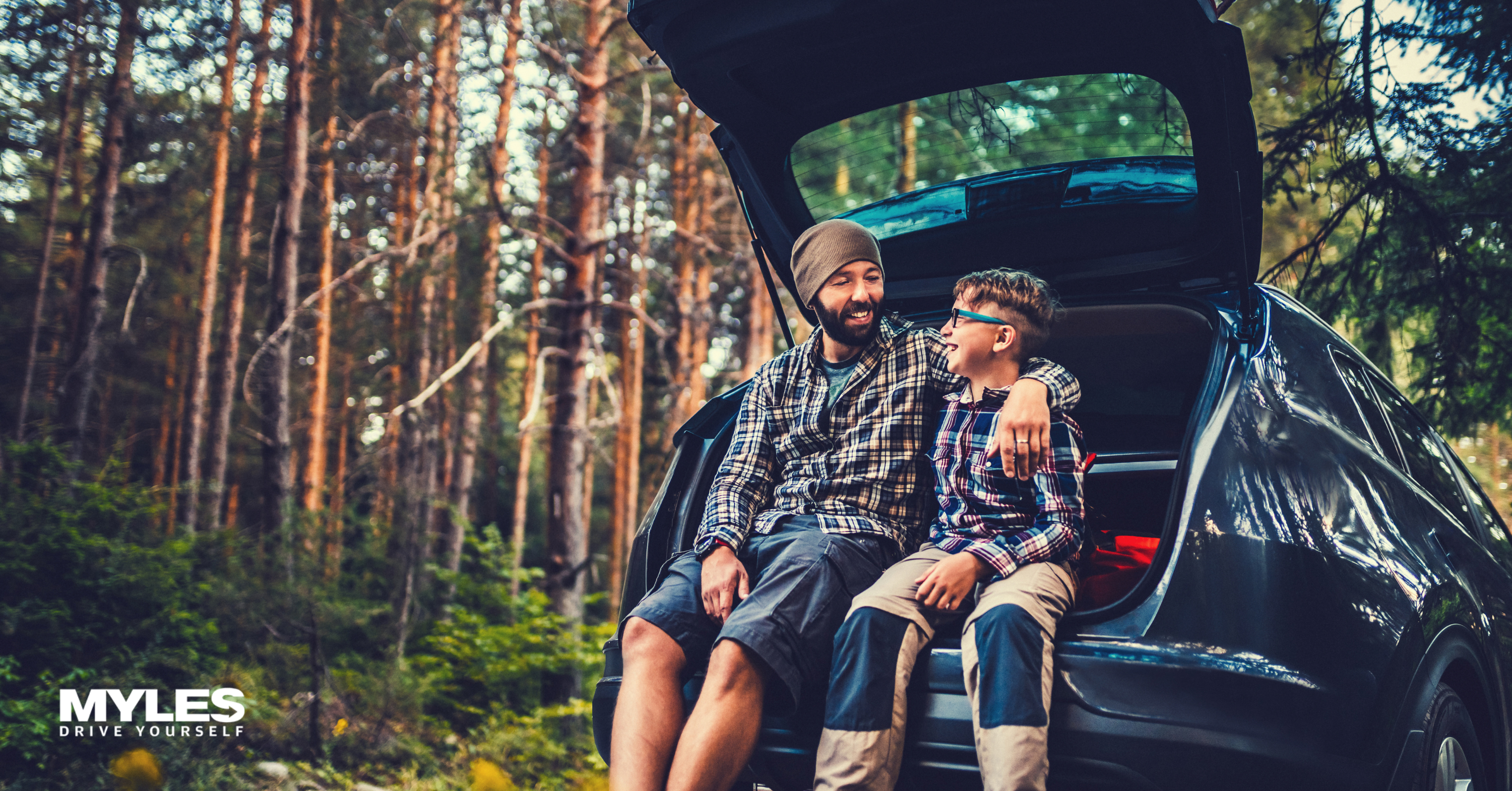 Father's Day is around the corner, and we know you have already planned to spoil your dad with surprises and gifts. If not, we have the best father's day idea for you- an adventurous getaway.
No gift is bigger than a gift of travelling. Escape for the weekend or spend a week travelling to unravelled paths; a road trip getaway is a perfect opportunity to spend quality time with your father and strengthen your bond.
This Father's Day, book a Myles self-drive car rental from your city and set the expedition to these memorable road trips in the country.
Explore the Golden Triangle
An ideal short and sweet loop getaway from Delhi to Agra and Jaipur is packed with a lot of adventure, exploration, and knowledge. Begin this incredible journey from Delhi, where the ruins of eight cities depict the story of India's Islamic Empire.
The next destination is an easy swing to the sacred cities of Mathura and Vrindavan before you reach Agra. The land where the glorious Taj Mahal stands tall, Agra is a small city that offers good food and stories of glorious history.
The last stop of the famous Golden Triangle is the beloved pink city of Jaipur. The land of palaces, forts, mystical observatory, and folklore, Jaipur has everything to allure travellers from every nook and corner of the world. You can add a little adventure with a Jungle Safari in Ranthambhore National Park.
Road Trip from Manali to Ladakh
If your dad loves the Himalayan vicinity and thrill, then the Manali to Ladakh road trip is perfect for the father's day expedition. Rent a self-drive car to Ladakh and follow the mountain circuit from Shimla to Ladakh, enjoying the front-row view of gigantic mountains. The journey offers an unforgettable experience that you and your dad will cherish.
During your voyage, find yourself amidst surreal landscape, fluttering flags, and Buddhist Monasteries. Experience a shift in culture and geography through your journey from Manali to Ladak. The hills turn from dust-yellow to lush green, and the view of Buddhist Monasteries and Gompas to Mosques and Dargahs. The calmness and picturesque sight remain intact, and so is the thrill.
An Adventurous Ride to Rishikesh
Rishikesh is a year-round travel destination for adventure seekers and pilgrims. Book a self-drive car rental in Delhi and start your road trip to Rishikesh. Heaven for many, the city is located in the foothills of the Himalayas beside the Holy River Ganges.
Passing through the rugged terrains, daring tracks, and tricky passageways, you reach heaven to experience an adrenaline rush and ecstasy all at once. You can extend your trip and visit Kanatal, Dehradun, Mussoorie, Landsdown, and other nearby places.
When in Rishikesh, indulge in activities like Bungee Jumping, White Water River Rafting, Waterfall Trekking, Cliff Jumping, Yoga and Meditation, and much more.
The Colour Cities of Rajasthan
Best known for desert colours, the state of Rajasthan is an experience to relish. From mighty fortresses to dramatic landscapes and camel carts, Rajasthan is all about royalty and being extravagant. Hire a budgeted car rental in the pink city of Jaipur and explore the awe-inspiring fortress, bustling bazaars, and authentic Rajasthani food.
Seek blessings at Ajmer and continue your voyage towards the west to experience different hues of Rajasthan in Pushkar. Return to NH 48 and head towards Udaipur, famously known as the white city or city of lakes. The city coiled around the scenic Lake Pichola like a delicate silk scarf.
Rajasthan travel is incomplete without visiting:
The Blue City- Jodhpur is the second-largest city in the state and is also called the Sun City. You cannot miss the stunning sunset view.
The Red City- Bikaner, to experience the authentic Rajasthani culture. This charming city is famous for its rat temple, namkeen, forts and palaces, ancient Havelis, and more.
The Golden City- Jaisalmer carries a beautiful golden-yellow glow throughout the day. The city offers a marvellous experience of desert safari and camping.
The last destination of your Rajasthan road trip is Mount Abu, a temple-strewn hill with scenic views and amazing weather.
Head to Beach Heaven from Mumbai
Taking this road trip?
It means you have the coolest dad in the world!
Goa is a pocket-sized paradise that promises a relaxing weekend getaway. Book a budgeted self-drive car rental in Mumbai and set the wheels in motion towards this heavenly beach destination.
The journey from Mumbai to Goa is magnificent, perfectly embodied with picturesque views, cascading waterfalls, good weather, and more. Enjoy sand, sun, and sundowners while relaxing at the beach. Relish the mouthwatering flavours of Goan cuisine and take a trip to the old town to learn about Portuguese history.
The place is everything you dream of for a rejuvenating yet thrilling vacation with your father. When in Goa, visit dramatic cathedrals, ancient forts, and moon parties, experience a soulful Ayurvedic spa, sit together amidst serene environs, and make memories.
Is your Dad a Wine Connoisseur?
How about seeing your dad doing his favourite thing? Nothing is better than the sight of your dad being himself and enjoying. Plan your father's day gift that personifies him and gives immense pleasure. So if your dad is a wine connoisseur, take him on a wine tasting trip at Sula Vineyard instead of gifting him a fine bottle of wine.
Book a self-drive car rental in Pune and begin your journey to Nasik to taste the finest wine and visit the winery. Sula Vineyards commands around 65% of the Indian wine market. A weekend getaway at Sula Vineyard is embodied with a professional 45 minutes tour of its impressive high-tech estate, followed by a themed six wine-tasting session overlooking the beautiful countryside view.
Taste flavourful and authentic Italian food at the on-site restaurant and stroll around this gorgeous property.
A Drive Through East Coast Road
One of the most epic and scenic routes for a road trip is the East Coast Road, also known as the Chennai to Pondicherry Road. Imagine witnessing the sea on one side and day growing on the other. As the day unfolds, you can see the change in reflections of the Sun on the water of the Bay of Bengal.
The sunsets are equally magnificent and soul-soothing, making it the most beautiful road that leaves you feeling rejuvenated. Book a self-drive car rental in Chennai and start this memorable road trip to Pondicherry with your dad. This quaint white town is all about beaches, relaxation, sea food, yoga and meditation retreat, Ayurvedic Spa, and more.
When you pass through the East Coast Road, you can stop by Mahabalipuram (UNESCO World Heritage Site), Kalpakkam, Marakkanam, and Idaikkazhinadu (Alamparai Fort or Alambara Fort), Mudaliarkuppam.
Gracious view of the Bay of Bengal and the Eastern Ghats
Witness the graceful espousal of the Bay of Bengal and the Eastern Ghats during your road trip from Visakhapatnam to Araku Valley. Road trip through this route will take you away, crediting to the pristine beauty of this union Visakhapatnam offers. The merger of the Bay of Bengal and the Eastern Ghats is a sight to behold.
As the journey goes forward to Araku, you will be mystified by the serenity of the road and the views it is embellished with. The curvy roads, slight elevation, and the picturesque views of the hills make it one of the most breathtaking road trips in India.
The voyage from Visakhapatnam to Araku Valley will etch in your memories forever. During your travel, don't forget to explore places like Borra Caves, Tatipudi Reservoir, and more on the way.
For the Love of Nature & Architecture
How about witnessing the nature and human-made marvel at once? This road trip from Puri to Konark is ideal for capturing the beauty of impeccable roads, the canopy of trees, and clear skies. The Puri-Konark highway is photography worthy and a perfect opportunity to capture your dad's candid photos. Visit places like Puri beach, Konark beach, Jagannath temple, Daring Badi, Rajhurajpur Artist Village, Chilika Lake, Konark Sun Temple, Chandrabhaga beach, Konark Sun Temple Museum, and more.
Relaxing Road Trip from Shillong to Cherrapunji
When listing down the most iconic road trips in India, Shillong to Cherrapunji is going to be in the top five list. The route never disappoints you, even in the off-season. Undoubtedly, the road trips in Northeast India are the most scenic, and this one offers a surreal experience.
Shillong to Cherrapunji is a short stretch road trip but embodied with everything mystical. The drizzle, scintillating views, misty clouds, cascading waterfalls, and mysterious caves sums up the surrounding. This father's day, plan a weekend getaway and set the expedition for an incredible journey.
Get Ready for a Challenging Road Trip
Last on this list and the most challenging and astonishing road trip in Northeast India is the Guwahati to Tawang. The route has rugged roads, harsh climatic conditions, and sharp bends that make it challenging. But undoubtedly the best journey to experience crediting to its breathtaking views.
Hire a car rental and drive uphill to high attitudes for the more surreal view embellished with lofty and snow-cladded Mountains, fluttering prayer flags, and ecstasy. You will witness Buddhist culture on the go and learn more about the history and local tradition.
A fantastic vacation filled with adventure and a life-changing experience awaits you. With Myles, make this father's day filled with experiences and unforgettable moments.
Happy Father's Day!
Happy Travelling!
To book your self-drive car for an upcoming road trip or to explore your city, visit https://www.mylescars.com/.
To know more, write: help@mylescars.com or call: +91 – 11 – 43083000/ 0888 222 2222.
Tags:
best car rental in India
,
budget car rental
,
Car Hire in Delhi NCR
,
Father's Day
,
Happy Father's Day
,
Myles - Self Drive Car Rental
,
Myles Automotive Technologies
,
Myles Cars
,
myles self drive car rentals
,
Travel India