Travel Uttarakhand: Take a Soulful Mental Vacation to Hills to De-stress and Rejuvenate 
---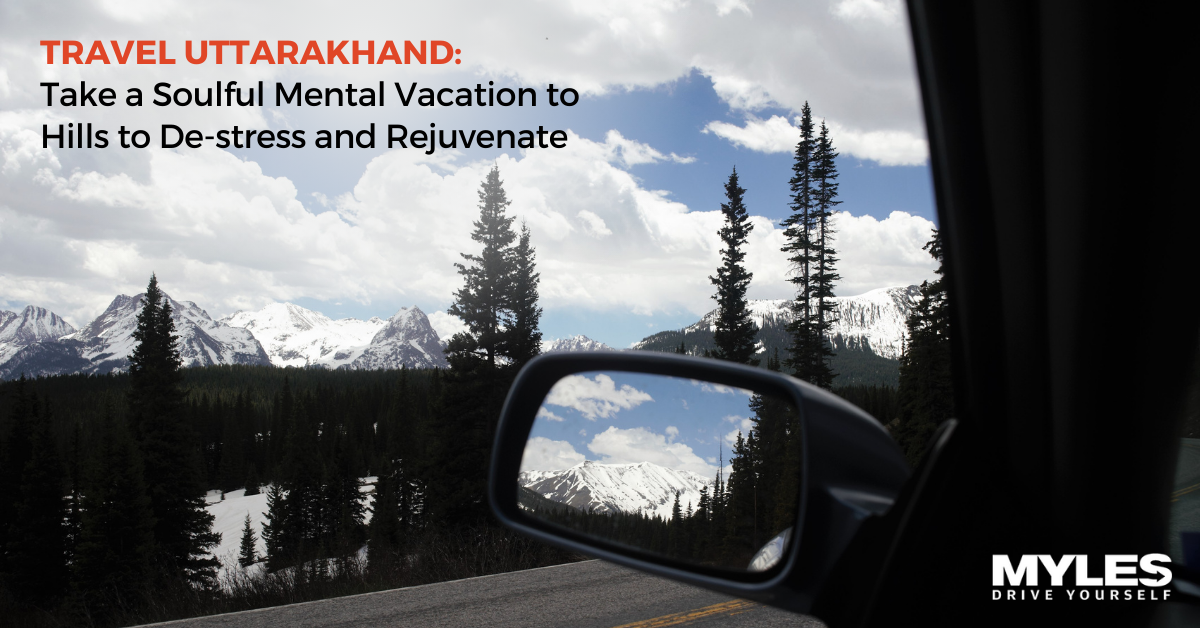 Uttarakhand is the place where you see absolute heaven. Fondly known as the 'Devbhoomi', the state is home to several spiritual and pilgrimage sites. Uttarakhand is the mystical land of surreal mountains and mythologies and is the hotspot of travellers in the North for trekking and weekend getaways. Book a self-drive car from anywhere and drive to explore Uttarakhand on wheels.
On 9th November, the state celebrates its foundation day. Let's know more and everything about this exotic destination Uttarakhand.
About Uttarakhand
The exquisite panoramic view, exhilarating adventure activities, and land of yoga and wellness-Uttarakhand take you close to nature and divinity. The state is one of the most visited places in the country during holidays, festivities, and long weekends. Being a pilgrimage destination, it sees a lot of devotees travelling here for the famous 'Chaar Dham Yatra'. The state is framed by the gigantic Himalayas and divided into two main regions- Garhwal and Kumaon.
The place of mountains and myth, solace and adrenaline rush, dramatic terrain and peaceful view, and everything serene, the state is nothing but pure traveller's gold. It is ideal for every kind of vacation, and in this blog, we explore places known for adventure, spiritualism, and natural beauty.
*Exploring Uttarakhand*
Devbhoomi: The Land of Gods!
Travel to the places that satiate your wanderlust soul.
Travel where you find peace and solace, a true ecstasy, where true spirituality lies.
"The spiritual journey is the unlearning of fear and the acceptance of love."- Marianne Williamson.
Uttarakhand is the land of Gods, a place for a spiritual getaway, where people feel the oneness with the divine power and enlighten themselves. Uttarakhand is a famous pilgrimage and sacred spot known for Chota Chaar Dhaam Yatra or Four Abodes to achieve salvation or Moksha.
Kedarnath- Badrinath: Nestled in the Garhwal Himalayan Range, Kedarnath is one of the most visited religious destinations in the state. The place is known for trekking, is a part of Chhota Char Dham Yatra, and it is believed that the Kedarnath Temple visit make you attain Moksha. Badrinath Temple is dedicated to Lord Vishnu and is surrounded by Neelkanth Mountain. It is believed that River Alaknanda originated from here.
Haridwar-Rishikesh: Haridwar is one of the seven holiest cities in India for Hindus and is situated on the banks of the Holy Rives Ganga. Haridwar hosts the famous Kumb Mela once every twelve years. Rishikesh is a few km away from Haridwar and a popular spiritual destination for yoga, meditation, and wellness retreats.
Guptakashi-Uttarkashi: Not many people visit Guptakashi, but it is known for its Temples, Manikarnika Kund, and is on the way to Kedarnath. Uttarkashi is the house of many shrines and earlier was famous for religious trips, but today people visit here for trekking. In the district lies Gangotri, a prominent sacred site and part of Chota Char Dham Yatra.
Yamunotri: The place of origin of the Holy River Yamuna, Yamunotri, is one of the Char Dhams. The mesmerizing beauty and holy dip in the River Yamuna are what pilgrims and travellers crave for.
Kashipur: Udham Singh Nagar district is known for Gurudwara Shri Nankana Sahib, named after Sikh Guru Shri Guru Nanak Dev. Visit here and experience soulful Gurbani Kirtan and Langar Seva.
Special Mention: Bageshwar, Patal Bhivaneshwar, Nainital, Jageshwar, Mindrolling Monastery, Rudra Prayag, Devprayag, Guptakashi, Gaumukh, Madhhyamaheshwar, Tungnath, and much more.
Unravel the beauty of this soulful destination that offers a peaceful place for your every mood and holiday type. Explore your own country and support Indian Tourism. Book a Myles self-drive car and take a memorable trip to Devbhoomi' Uttarakhand'.
"A nomad I will remain for life in love with distant and uncharted places."- Isabelle Eberhardt.
In this segment, we explore Uttarakhand's most scenic and enchanting destination, which are worth visiting once in your life. The list is long, book self-drive car rental in Delhi, Amritsar, Jaipur, Gurgaon or Chandigarh and have an unexceptional road trip to:
Dehradun-Mussoorie: One of the most popular and visited places in the state, Dehradun and Mussoorie, is the Mecca of mountain lovers travelling to Uttarakhand. When you visit these places, explore Kanatal, Kalsi, Dhanaulti, Chakrata, Chamba, Nag Tibba, Lakhamandal, Barkot, Auli, Jim Corbett National Park, and more.
Almora-Nainital: Another favourite getaway destination is Almora-Nainital, a few hours drive away from Delhi's capital. The place offers a stunning view, surreal snowfall experience in December and January. You should also explore places like Bhimtal, Mukteshwar, Ranikhet, Binsar, Naukuchiatal, Haldwani, Ramgarh, Sattal, Kumaon, Kausani, and more.
These places are a perfect treat for your eyes and soul. Visit here for a relaxing and rejuvenating vacation and even a staycation during these challenging times.
Travel into the wilderness, where your adrenaline calms.
"Adventure is worthwhile in itself." – Amelia Earhart
Uttarakhand is not only about calming and stunning locations but also a place that offers India's best adventure sports. The state is home to many surreal destinations that provide the best adventure activities like bungee jumping, paragliding, white water river rafting, ziplining, etc.
Rishikesh: Rishikesh is fondly known as the Yoga Capital of the World, and at the same time, it is also known as the adventure capital of India. The city is famous for its white-water river rafting, waterfall hiking, and bungee jumping.
Jim Corbett National Park: One of the country's oldest and most famous national parks is known for its wildlife jungle safari, elephant safari, camping, and luxury stay at the resort. Hire a self-drive car rental in Chandigarh or Delhi and have an adventurous trip to Jim Corbett to spot wild animals and varied species of birds.
Auli: Another stunning destination to satiate the adventure junkie in you is Auli, an ideal place for trekking and skiing. Travel here between November to February to enjoy snowfall.
Valley of Flowers: The picturesque landscape to get an Instagrammable picture, Valley of Flowers is famous for its rugged mountain trek.
Nanital-Mukteshwar-Ranikhet: The place is known for paragliding, kayaking and ziplining experience. Here you also try Cable Car Ride for some adventure and exotic bird eye view of the valley.
Special Mention: Famous Trekking Places
Neer and Patna Waterfall Hiking, Rishikesh
Kedarnath Trek, Kedarnath
Valley of Flowers, National Park, Uttarakhand
Gomukh/Gaumukh, Near Gangotri
Kuari Pass or Kauri Bugyal Trek, Near Auli
Mayali Pass Trek, Near Kedarnath
Bali Pass Trek, Near Yamunotri
Bhadra Temple Trek, Near Mussoorie
Pindari Glacier Trek, Near Kausani
All these places are also known for camping and hiking and to have a thrilling adventure getaway.
To book your self-drive car for an upcoming road trip or to explore your city, visit https://www.mylescars.com/.
Tags:
Almora
,
Best Places to Visit in Uttarakhand
,
book self drive car rental in Delhi
,
Car Hire in Delhi NCR
,
Dehradun
,
Delhi to Nainital
,
Delhi to Rishikesh
,
how to reach haridwar
,
Kedarnath
,
Mussoorie
,
Myles Cars
,
myles self drive car rentals
,
Nanital
,
road trip to uttarakhand
,
things to do in uttarakhand
,
Uttarakhand