Travel India: 11 Best Places to Visit in India in the month of November
---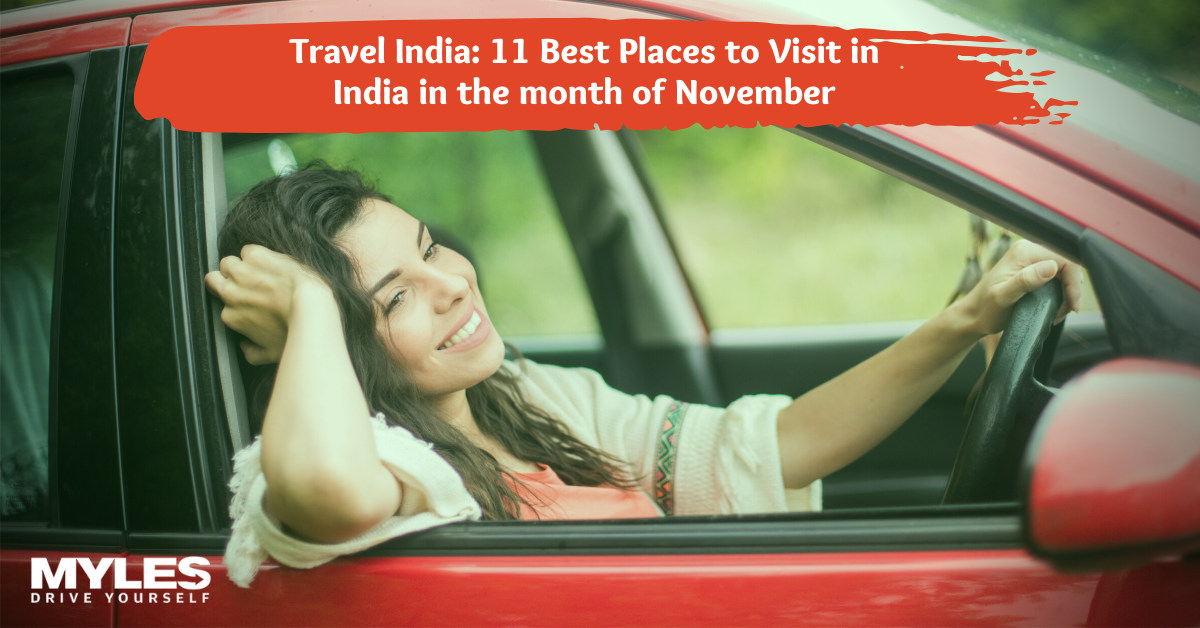 India is a poet's fascination for a traveller who wants to explore and celebrate the vibrant culture and uniqueness of the country. Since November is the time of celebration in almost every part of the country accompanied by holidays. Also, the weather is the major highlight and makes it an ideal time to travel and have a relaxing getaway.
Here are some of the soulful and serene places to explore in India in November.
Manali, Himachal Pradesh
Embellished with the surreal snow-capped peaks of Pir Panjal and Dhauladhar ranges, Manali is a mesmerising hill station in the Himachal state of India. The place is adorned by enchanting meadows, lush greenery, beautiful temples, hippie villages, and scenic views. Hire Myles self-drive car and take an adventurous road trip to Manali. Also, explore Solang Valley for an adventurous getaway.
Places to Explore: Hidimba Temple, Solang Valley, Manu Temple, Gulaba, Mall Road, Van Vihar, Museum of Himachal Culture & Folk Art, Rohtang Pass, and much more.
Things to Do: Shop at Mall Road, Sightseeing, Paragliding, Rafting, Camping, Explore Old Manali, Trekking, Skiing, etc.
What to Eat: Try authentic Himachali food in Manali, like Patande, bhey, sidu, khatta, babru, trout, etc.
Almora, Uttarakhand
Witness the breathtaking, panoramic view of the stunning Himalayas and valley. Almora is a beautiful place in the Kumaon region of Uttarakhand. The place is ideal for visiting throughout the year and known for its vibrant culture, heritage, mouth-watering food, and incredible scenery. Book a self-drive car in Delhi and travel to this charming place in November.
Places to Explore: Visit Zero Point, Jageshwar, Kasar Devi, Chitai Temple, Dunagiri, Jalna, Bright End Corner, Binsar, Katarmal Sun Temple, Deer Park, Kasar Devi Temple, Dwarahat Village, Lakhudiyar Cave, etc., to name a few.
Things to Do: Rafting in Kali Sarada, Shopping in Lal Bazaar and Thana Bazaar, Witness Wild Animals at Binsar Wildlife Sanctuary, Trekking, and more.
What to Eat: Savour the Kumaoni cuisine, especially pili dal, chain soup, phasgapa, the crusher chewani, and aloo ke ghutke.
New Delhi, Delhi
Many of the travellers avoid visiting Delhi during October and November due to the high level of pollution. But at the same time, Delhi is at its best. The city has a lot to offer, from the grandeur festive celebration to famous Delhi ki Sardi to Daulat ki Chat to multiple events organized by Delhi Tourism and private bodies. Delhi's weather is at its best at this time of the year, and we know you can't miss being in the city.
Places to Explore: The best way to explore Delhi is by visiting its monuments, heritage spots, classic art galleries and museum, beautiful gardens, parks, and sanctuaries, and of course, Old Delhi for mouth-watering food and more.
Things to Do: When in Delhi, visit Old Delhi for a food walk, shop in flea markets, go on a heritage walk, enjoy qawwali at Nizammudin, go for a photo walk at Lodhi Garden, etc.
What to Eat: The list is long, but there are top things you should try- jalebi, golgappe, dahi bhalla, cholle bhature, momos, kakori kebab, paratha from prathe vale gali and murthal, mutton korma, butter chicken and naan, chicken shawarma, hot chocolate fudge, rabri faluda kulfi, dal Bukhara, matka biryani, aloo kachori and raj kachori, Depaul's cold coffee, variety of paan, ram ladoo, kala khatta, thupka, laphing, banta, and much more.
Bodh Gaya, Bihar
Bodh Gaya is the landmarked town known for Mahabodhi Tree near Mahabodhi Temple, where Lord Buddha achieved enlightenment. It is believed to be the most sacred Buddhist pilgrimage site and sees a lot of devotees visiting Gaya Ji. If you're looking for peace and ecstasy during your next trip, Bodh Gaya is your place.
Places to Explore: Visit Bodhi tree, Mahabodhi Temple Complex, Thai Monastery, Royal Bhutan Monastery, Chinese Temple, Vishnupad Temple, Root Institute for Wisdom Culture, and much more.
Things to Do: Meditation Retreat, Temple Hopping, Shop at Local Bazaar, Café Hopping, Spiritual Retreat and more.
What to Eat: You will find authentic Bihari cuisine here, special mention to famous sweets like tilkut, khaja, kesarita peda and dishes like litti chokha, pua, and sattu ki roti.
Bharatpur, Rajasthan
November till March is the perfect time to explore the royal state of Rajasthan. Bharatpur is less travelled but an exotic place in the state, famous for the UNESCO Keoladeo National Park and many beautiful ancient temples and historic sites. Bharatpur is also known for its celebratory Brij Festival prior to Holi. Book a budget self-drive car in Delhi and travel to Bharatpur.
Places to Explore: Visit Keoladeo National Park, Lohagarh Fort, Banke Bihari Temple, Bharatpur Palace & Museum, Ganga Mandir, Laxman Temple, Deeg, Dholpur Palace, Band Baretha, and much more.
Things to Do: Bird watching, shop at the local bazaar, go for a photo walk, or enjoy a picnic with family and friends at Band Baretha.
What to Eat: Try mouth-watering Rajasthani cuisine and try delicacies like Kachori, Rabri, Aloo Sabzi, Ghevar, Chaas, and more.
Kutch, Gujrat
The vast stretch of the blinding-white salt dessert, Kutch or Kachchh, is a geographic phenomenon of India's western beauty. The Gulf of Kutch is a seasonal island that lies on the India-Pakistan border. The place is also known for its Rann Utsav or Great Rann of Kutch festival, which begins in November and ends in February.
Places to Explore: Enjoy the Kutch festival and witness a splendid full moon night. You can also visit Kutch Museum, Kutch Bustard Sanctuary, Flamingo Sanctuary, Dholavira, India-Pakistan Border, Kala Dungar (Highest Point in the Region) etc.
Things to Do: Flamingo Watching, Kutch Utsav, Dessert Wildlife Safari, Camel Ride on Mandvi Beach, Camping, and more.
What to Eat: When in Kutch, try Dabeli, Khichadi Kadhi, Odho, Kachchhi Thali, Pakwan, Mesukh, Gulab-Pak, Masala Chai/tea, Adadiya, etc., to name a few.
Sanchi, Madhya Pradesh
Sanchi in Madhya Pradesh is known for its vibrant, unique, and delicious cuisine. The place is home to ancient sculptures and the oldest structures, and many of them are UNESCO World Heritage Site. The Sanchi Stupa or Great Stupa was one famous monument installed in the 3rd century BC by Emperor Ashoka of the Mauryan Dynasty.
Places to Explore: Visit Sanchi Stupa 1, ASI Museum-Sanchi, Buddhist Monuments, Gupta Period Temple, Udayagiri Caves, Little Stupa, The Great Bowl, Ashok Pillar, The Eastern Getaway, and much more.
Things to Do: Caving, Temple Hopping, Sightseeing, exploring monuments and ancient sculptures, etc.
What to Eat: When in MP, try Poha, Bhujiya or Sev, Poha Jalebi, Rogan Josh, Dal Bafla, Chakki ki Shaak, Biryani Pilaf, Bhuttey ke Kees, etc., to name a few.
Tarkarli, Maharashtra
Maharashtra is a beautiful Indian state that offers both stunning beach locations and hill towns. Tarkarli is one of the most beautiful beach places in the state, embellished with white sand stretches where you can go for scuba diving, and if you get lucky, you can spot dolphins. Tarkali is a fantastic place to be in November for an offbeat trip for a lazy time.
Places to Explore: Hire a self-drive car in Mumbai and travel to Tarkarli to visit places like Tarkarli, Achara, Devbaugh, Chivla, Nivati & Sagareshwar Beach, Deobagh, Dhamapur Lake, Sidhudurg Fort, Shree Shivchhatrapati Temple, Beach, Tsunami Island, and more.
Things to Do: Enjoy boating through the backwaters, indulge in adventurous water sports, birdwatching, shop famous aam papad, amba wadi, cashew bars, and more at the local shop, stay in a houseboat, etc.
What to Eat: Try authentic Maharashtrian and Goan delicacies like Mori Masala or Shark Curry, Kombdi Vade or Murgh Malvani, Solkadhi, Bangda Fry, Malvani Mutton Curry, Kavda Curry, Bombil Fry or Bombay Duck Fry, Pamphlet Saar, Phanasachi Bhaji, Kaju Chi Aamti, Fish Koliwada, Dhondas, Ghavan, Khaproli, Tandalachi Bhakri, and Malvani Malpua.
Wayanad, Kerala
Escape in the lap of mother nature, Wayanad is the land of misty mountains, untouched woods, lush plantations of spice garden, and paddy fields. The city is ideal for those who enjoy mesmerising views and peace. Wayanad offers perfect weather in November and is also a perfect place for adventure lovers.
Places to Explore: Visit Chembra Peak, Banasura Sagar Dam, Kuruva Island, The Bamboo Factory, Pookode Lake, Tholpetty Wildlife Sanctuary, Edakkal Caves, Lakkidi View Point, Meenmutty Waterfalls, Irupu Falls, Phantom Rock, Kabini River, Chain Tree, etc., to name a few.
Things to Do: Enjoy adventure activities like rock climbing, camping, mountaineering, rappelling, and more, shop your heart out, stroll through tea estates, lake boating, wildlife safari, stay at a treehouse, etc.
What to Eat: Try authentic Kerala food and delicacies like fish moilee, appam & chicken stew, nadan beef fry, payasam, karimeen pollichathu, Malabar duck roast, Malabar biryani, puttu & beef fry, chattipathiri and chemmen pathiri.
Meghalaya
Abode of Clouds, Meghalaya is the ideal destination for nature lovers. The hill station is home to a mesmerising sky, beautiful mountains, captivating hills, and dense forests. Meghalaya is a lovely place for a rejuvenating escapade from the hassle of life. Pack your bags and get ready to enjoy panoramic views, foggy hills, cascading waterfalls, terraced slopes and winding rivers.
Places to Explore: Visit Wards Lake, Eco Park, Khoh Ramhah, Sweet Falls, Lady Hydari Park, Nohkalikai Falls, Mawsmai Cave, Dwaki, Green Rock Ranch, etc., to name a few.
Things to Do: Trekking, Camping, Caving, exploring quaint villages, relish local food, shop at Bara Bazaar, Mountain Biking, and more.
What to Eat: Try traditional food like Pudoh, Kyat, Sakin Gata, Jadoh, Pumaloi, Minil Songa, Nakham Bitchi, Doh-Khlieh, etc.
Sundarbans, West Bengal
A UNESCO World Heritage Site and pride of Bengal, Sundarbans is one of India's best and famous national parks. The place tops the list of travellers who visit West Bengal. Sundarbans' dense mangrove forest is home to fox, wild bear, jungle cat, deer, and many other wild animals and birds.
Places to Explore: Visit Sundarban National Park, Sudhanyakhali Watch Tower, Sajnekhali Wild Life Sanctuary, Tin Kona Island, Mangrove Eco Garden, Dublar Char Island, Hiron Point, etc., to name a few.
Things to Do: Wildlife safari, go tiger spotting, enjoy a boat ride, holy dip in Gangasagar, Oliver Ridley Turtles into the Sea in Kanak Island, and more.
What to Eat: Try Hilsa fish or Ilish Maach, Chingri Maacher Malaikari, Kosha Mangsho, Bhetki Paturi, Kalta Curry, Langcha, Sitabhog, Rossogolla, Joyenogorer Moya, etc.
The month is already loaded with festivities and many long weekends, which make an ideal time to visit these places. Explore the nation on wheels and elevate your travel experience with Myles self-drive car.
To book your self-drive car for an upcoming road trip or to explore your city, visit https://www.mylescars.com/
Tags:
budget car rental
,
Budget self-drive
,
Explore India
,
Festive Season
,
hire a budget car
,
Holiday Season
,
Mumbai-Pune Expressway
,
Myles Cars
,
Myles Self Drive
,
myles self drive car rentals
,
self-drive in delhi
,
Travel in November
,
Travel India
,
Travel Manali