Happy Diwali: Bring your New Car Home through Subscription
---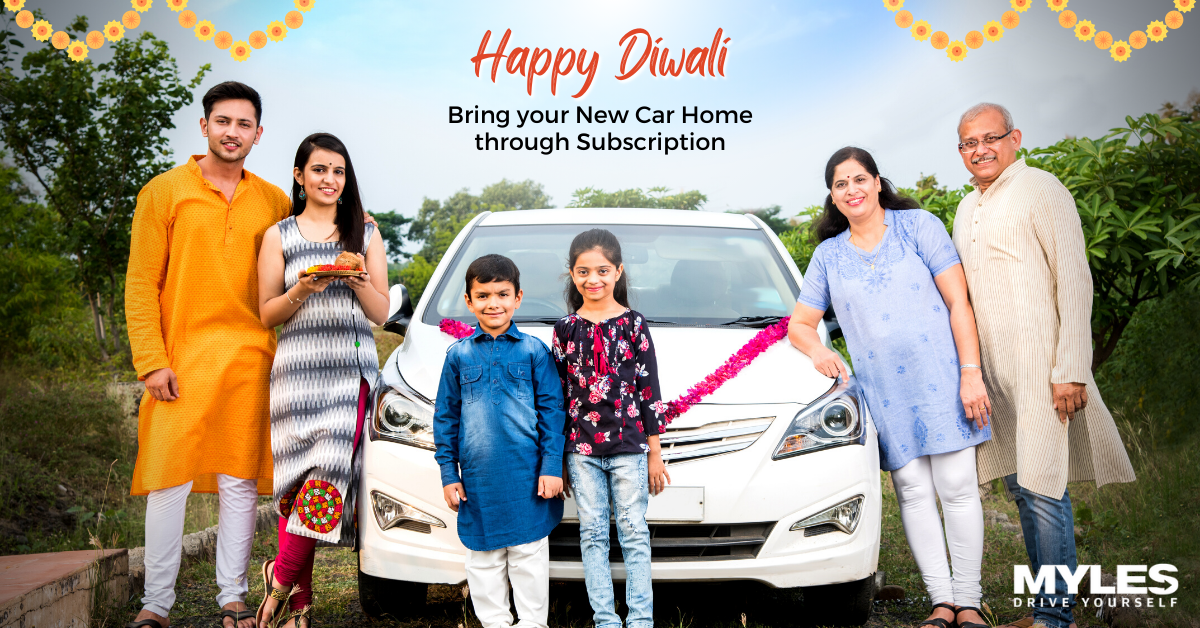 In India, the festive season is not about getting holidays, eating mouth-watering delicacies, and having a good time, but also an auspicious time where people start new ventures, invest in properties, or make expensive purchases.
Vehicles often figure at one of the top products on buyer's wish lists. And, why not? Car manufacturers offer big festive season discounts and add-on accessories. But what actually makes customers save this festive season on car buying is Subscription.
Car Subscription for Diwali
Car Subscription is the smart and practical alternative to car buying and comes with zero commitment, zero down payment, no EMI, and cost-free maintenance, insurance and roadside assistance. Today, buyers are well aware of this term and the benefits that it comes with. Depending on the customer's financial perspective, a car subscription is available for every requirement with endless fleet options.
There are endless benefits of getting your dream car this Diwali through Subscription.
Festivals are believed to be an auspicious time to make valuable purchases, and with it, you also welcome prosperity and good luck. This Diwali, drive your dream car home through subscription because it saves you big, and the brands are also offering attractive deals and offers. Car Subscription means no extra cost on accessories, maintenance, insurance, roadside assistance, and no down payment.
Get Diwali Ready with Subscribed Car
If you plan to buy a car for a long time, Diwali is the right time to invest smartly and bring home your car. It not only makes your life easy but makes you festive ready instantly. Get your car for a comfortable commute to home, work, markets, and for vacation. Diwali is the time for a new beginning, do it as you opt for a car subscription- a new way of car ownership without committing to a single-vehicle for years. Car Subscription offers the full benefits and pleasure of driving your favourite car without lighting the ownership cost.
It's that time of the year when most of us travel back home to celebrate Diwali with our family and close relatives. Some of us prefer going on a trip with our loved ones away from the festive hustle and bustle. Amidst the current scenario, owning a vehicle is necessary for commuting, travelling, and more. So, if you and your family are missing having time together, a spacious car on subscription is the right choice for endless trips.
Save Money during Festival, What?
Car manufacturers indeed come with exclusive and alluring festive offers and deals on cars. It makes buyers save a lot, but the rest of the expenses, like maintenance charges, insurance fees, roadside assistance, and more, will remain the same throughout the year and beyond. Buying a car through a subscription not only make you save big but make you free from not paying any cost of other services apart from fuel. Car Subscription is an all-inclusive car ownership deal.
Even after attractive festive discounts on your favourite car, your pocket may not allow you to purchase your dream car because spacious and luxurious cars are pretty expensive. But with a car subscription plan, you can get your brand-new dream car at your doorsteps at affordable monthly charges. Car Subscription service providers like Myles offer an array of fleet options according to buyers' requirements, need, and budgets. The cars are better equipped and have a wide range of fleet availability, both used and brand-new cars are there to choose from.
Buyers are driven towards the new-gen car ownership way. Diwali is the right time to make better and smart choices for yourself. With Myles Zero, drive your subscribed car home and enjoy every ride with comfort and ease.
Happy Diwali!
Happy Driving!
Tags:
Benefits of Car Subscription
,
car buying
,
Car Subscription
,
Car Subscription in Delhi NCR
,
Car Subscription in India
,
Car subscription on Diwali
,
Happy Diwali
,
Myles Cars
,
Myles Zero
,
Smart Ownership