Happy Diwali: Celebrate Diwali Experiencing India on Wheels
---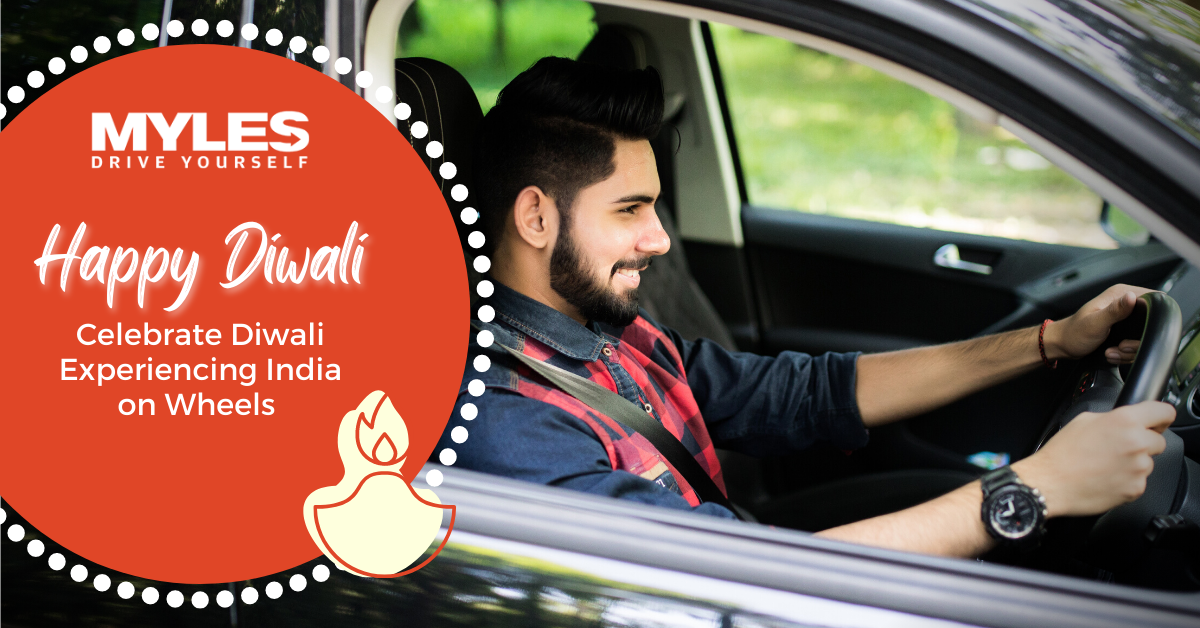 Diwali is considered one of the biggest and significant festivals of Hindus. The festival sees people thronging markets and malls, friends and relatives exchanging gifts, house parties and food, children bursting crackers, and everything vibrant. Diwali is around the corner, and the celebrations are in full swing.
While others are soaked in the gusto of festivity, you wanted to celebrate it differently. Pack your bags, book Myles self-drive car and hit the road making the most out of your Diwali holidays.
Explore, Experience, and Witness India on Wheels differently this Diwali by visiting these exotic places.
Amritsar, Punjab
Stay away from hassle while being close to the festival's celebration through a festive holiday getaway. Drive to the land of the holy shrine Golden Temple; Amritsar is your place for Diwali vacation. Here you witness the Bandi Chhor Divas along with the Diwali celebration. Witness soulful Kirtan while the Golden Temple looks mesmerizing when illuminated.
The weather makes it ideal for savouring local cuisine, especially sarson ka saag and makki ki roti with gur and lassi. You can also explore other places in the city and around. Book a self-drive car rental in Chandigarh or Delhi and have a fantastic road trip to Amritsar on the upcoming Diwali holidays.
Varanasi, Uttar Pradesh
Varanasi or Banaras or Kashi, the place is known for its spiritual abundance and ecstasy. If you want to experience something grander, visit Varanasi on Diwali. The celebration starts with a holy Ganga bath, exploring vibrant bazaars, enjoying sunset view on a boat ride, witnessing enchanting Ganga Arti, and enjoying the sight of glimmering lamps while listening to religious chants in the backdrop.
Diwali here is known as Dev Deepavali and celebrated in full enthusiasm. It is one of the important Mahotsav festivals in the region and makes you witness and experience India in an altogether new way. Hire a budgeted car rental in Delhi and have a memorable road trip to Varanasi.
Ayodhya, Uttar Pradesh
Another holy city of India, Ayodhya, is known to be the place to ring in the Diwali celebration festival in Hindu culture. Ayodhya is the birth land of Lord Rama, and when he returned here after fourteen years of exile and defeating Ravana, people lit Diya and celebrated the festival of Deepawali.
Here Diwali celebration takes place with utmost grandiose. In 2018, the city secured a place in the Guinness Book of World Records for lightening three lakhs earthen lamps or Diya on the banks of the sparkling Saryu River. Ayodhya is an authentic way to explore and experience India and its rich heritage.
Delhi
Well, if you want to stay clear of the Diwali hassle, then Delhi is not your place. But if you want to travel and celebrate Diwali differently, the capital city is an ideal choice. Delhi is one of the cities that is beautifully illuminated with various types of lamps and lights. You feel the vibrancy in the atmosphere and among people.
The city is beautifully decorated till Guru Purab. While you travel to Delhi in your self-drive car rental, don't miss to visit Lotus Temple, Red Fort, India Gate, Qutub Minar, and Purana Quila. The best part of the Diwali celebration in Delhi is its unique market and eco-friendly fairs, which you can't miss.
Pushkar, Rajasthan
Diwali is traditionally a time to spend and celebrate with loved ones. But today, it seems to be an opportunity for wanderlust to explore and choose an escape instead of participating in the grand celebration. If you're someone who wants to enjoy the festivity and at the same time want peace, Pushkar is your place.
Pushkar, Jaipur, and Udaipur is very scenic and looks gorgeous during Diwali. The temples and lakes around these places are lit with Diyas and decorated with fresh flowers. The Pushkar Fair offers a mystical experience that makes your feel close to divinity.
Goa
Not your regular Diwali destination, Goa is a beautiful place to travel to this holiday season. In Goa, the celebration starts from Naraka Chaturdashi. People decorate their houses with lanterns, and locals built giant Narakasura effigies filled with grass and firecrackers to burn them in the wee hours.
Diwali celebration in Goa is worth beholding, and one can have the best time relaxing by the beach, partying at the swanky restaurants, and having fun at the casinos. There are plenty of things one can do during the festive holiday in Goa on budget. Book a self-drive car rental in Mumbai or Pune, and have a fantastic road trip to Goa this Diwali.
Madurai, Tamil Nadu
Many of us don't know that Diwali in South India is celebrated one day before in North India, which we call Choti Diwali. Madurai is known for its temples built in the Dravidian style of architecture. There are many outstanding monuments that look beautiful during the festivity.
The entire town is decorated with lights, lamps, and diyas. The local market is filled with various cuisines, fireworks, decorative items, and many other things for the shoppers. Visit Meenakshi Amman Temple, Gandhi Memorial Museum, and other places to witness cultural richness in abundance.
Travelling during Diwali is the best way to participate in a grand festival. Hire a budgeted self-drive car rental and explore the country beautifully. Myles Cars offer the best festive offers on their self-drive fleet.
To book your self-drive car for an upcoming road trip or to explore your city, visit https://www.mylescars.com/.
To know more, write: help@mylescars.com or call: +91 – 888 222 2222.
Tags:
book self drive car rental in Delhi
,
book self drive cars in mumbai
,
Budget self-drive
,
Diwali Holidays
,
Diwali Travel
,
Festive Ready
,
Festive Season
,
Happy Diwali
,
Myles
,
Myles - Self Drive Car Rental
,
Myles Cars
,
Myles Self Drive
,
self drive car rental in India
,
Travel India