7 Luxury Staycation Destinations Across India to Rejuvenate
---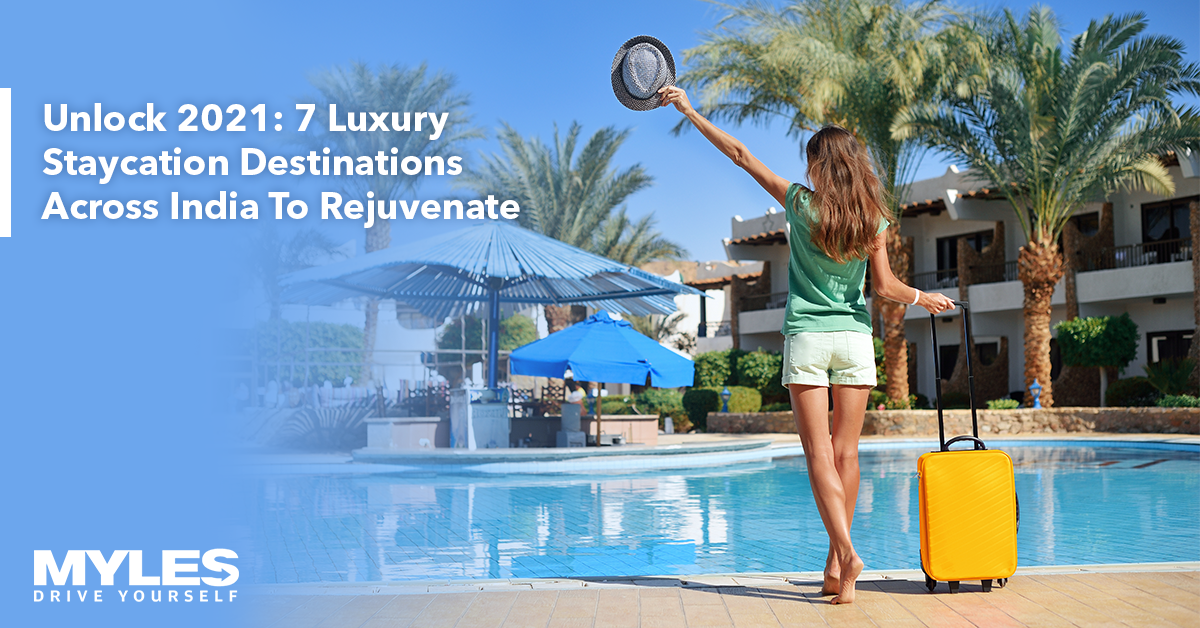 With the ease in COVID cases, the government is gradually lifting the ban with a few restrictions and preventive measures. We all had challenging times and still fear stepping out of our homes. But on the contrary, we all need a break from the monotonous life and work.
Staycation at a luxury resort is an ideal choice to rejuvenate and revive the body, mind, and soul amidst a pandemic.  
Delhi NCR
     

The Tree House Resort, Jaipur
Situated in Chandwaji in Jaipur, the Tree House Resort is encircled by Syari Valley and the Aravali Range. The place is an ideal spot for a luxury staycation from Delhi, NCR. The resort is 237 km away, around 4 hr 30 minutes. Take a break from the hustle of the metro city and pamper your body and soul with relaxing massage, spa, and activities like Tennis, Cycling, Yoga, and more.
     

Neemrana Fort Palace, Delhi-Jaipur Highway
The infamous Neemrana Fort Palace is known for a destination wedding if you want to feel royalty. This finest resort in Rajasthan is nothing but luxury and ideal for a staycation weekend getaway. Neemrana Fort is just 116 km away, around 2 hours. Book a car rental in Delhi and drive to your regal spot.
     

The Roseate, New Delhi
The lavish property surrounded by greenery and landscaped water bodies; the Roseate is an opulent resort based in Delhi. Located on NH8, The Roseate is known for its chic rooms, lake view room, state-of-the-art spa, and magical backdrop. This staycation spot doesn't make you feel like you're in a busy urban city.
     

Karma Lakelands, Gurgaon
Another gem of Delhi NCR, Karma Lakelands, is unknown to many and is famous for its luxury weekend getaway at its grandeur villa, duplexes, and studios. You feel like your senses are engulfed in absolute luxury. This boutique resort is also called Karma Chalets that offer a plethora of indoor and outdoor activities for complete rejuvenation.
     

Oberoi Amarvilas, Agra
Relax and revive at the country's most exquisite properties by Oberoi. Oberoi Amarvilas Agra is one such resort that is everything you ever dreamt of when it comes to luxury, tranquillity, and serenity. Experience the regal living while enjoying facilities like sauna, spa, jacuzzi, and taste mouth-watering cuisines. The place is also pet friendly. The location is just 242 km away from Delhi and can easily be reached by car.
     

The Vivaan, Karnal
The Vivaan is just the right luxury hotel for a staycation near Delhi NCR. Located in the town of Karnal, the property is just 129 km away from the national capital. The hotel offers a surreal experience and a plethora of activities for an enjoyable stay. Book a self-drive car in Delhi to Karnal and enjoy your staycation with utmost comfort.
     

Aloha on the Ganges, Rishikesh
The leisure resort situated in the lap of pristine nature, Aloha on the Ganges, offers ecstasy. Surrounded by the breath-taking Himalayan Ranges, the resort offers luxurious amenities for its guests like spa, massage, yoga, and more. Rejuvenate your body, mind, and soul amidst the perfect setting and have a great staycation experience. The resort is 270 km away from Delhi.
Chandigarh
     

Aura Vaseela Resort, Chandigarh
Aura Vaseela is located in the city's suburbs and is an ideal place for an urban getaway. Aura Vaseela Resort is 16 km away from the city centre and is known for its village-themed setting with top amenities and luxurious facilities.
     

The Oberoi Sukhvilas Resort and Spa, Chandigarh
Another gorgeous property by Oberoi is the Sukhvilas Resort and Spa. The place is for those who crave leisure, luxury, and solace. One of the newest 5-star resorts in the city is just 18 km away from the city centre. Every room is away from the other for complete tranquillity and offers a magnificent view of the mighty Himalayas. Staycation here from Delhi, Punjab or Haryana is an ideal option.
     

Kasauli Resort, Kasauli
The beautiful cosy Kasauli Resort is a perfect amalgamation of both traditional and modern values. The impeccable hospitality, interiors, and view of snow-capped ranges of the Himalayas make it an ideal getaway spot from city life. Every room offers a private balcony, and at night you can see the panoramic view of the city of Shimla dotted with twinkling lights and serenity. Kasauli Resort is 56km away from Chandigarh city.
     

Kikar Lodge, Nurpur Bedi
Relax, Recuperate and Rejuvenate at this another gem within the city. Kikar Lodge makes your experience, comfort, warmth, and adventure. Nestled in the foothills of Shivalik, the lodge is known to be the country's first Private Forest Reserve. It is undoubtedly secluded, heaved embodied with luscious greenery, tranquillity, and fantastic weather. The lodge is only 9 km away from Chandigarh.
     

Golden Tulips, Morni Hills Panchkula
The 4-star resort property located on the Morni Hills in Panchkula is known for its picturesque view, peaceful environment, and comfortable space. The Golden Tulip resort is an ideal location for leisure travellers to enjoy the authentic experience of a luxury stay. The resort is 16km away from the city centre.
     

Aura Vaseela Resort, Mohali
Aura Vaseela Resort is infused with bliss and luxury, making it an ideal space for a staycation with the family. The property's rural charm brings you close to nature and offers a fantastic experience through its commendable service and delicious food. The resort is 20 km away from Chandigarh.
     

Moksha Himalaya Spa and Resort, Chandigarh- Shimla Road
The name of this resort says it all; Moksha Himalaya Spa Resort is an Ayurvedic Spa Resort that offers solace, luxury, and rejuvenation. Located on the mystical ranges of Shivalik hills, the resort is an ideal staycation destination that provides a soothing view of the valley. It is around 36 km away from Chandigarh.
Bangalore/Chennai
     

Guhantara Resort, Karnataka
This uniquely designed resort makes you feel closer to Mother Nature; Guhantara resort is an ideal escapade from the hustling bustling of city life. The resort is only 25 km away from Bangalore and boasts its natural waterfall, magnificent man-made lake, and greenery. Enjoy your weekend here with mouth-watering meals and adventure activities.
     

Evolve Back Resort (Orange Country Resort), Coorg
The architectural marvel blends modern luxury with historical elegance and brings the best of both worlds to offer an exquisite regal experience. Evolve Back Resort is a heaven of a place. Surrounded by lush green landscapes and breathtaking views, the resort pampers you with luxurious amenities and plush facilities. The resort in Coorg is just 268 km away from Bangalore.
     

Bonjour Bonheur Ocean Spray, Pondicherry
Have a great staycation experience at this luxury beach resort; Bonjour Bonheur resort offers a laid-back setting in the paradisal land of Pondicherry. Get away from your monotonous life and satiate your soul with magnificent views and delicious food. The property offers luxurious amenities and is just 152km away from Chennai.
     

Vythiri Resort, Wayanad
Enter into the wilderness with Vythiri Resort located in the mountains and embodied with peace and tranquillity. Relax amidst nature and enjoy the pleasant weather of Wayanad. The resort is known as the rainforest Paradise of Wayanad and is just 273 km away from Bangalore. The place is ideal for a weekend staycation getaway. 
     

InterContinental Chennai Mahabalipuram Resort
Located along the Bay of Bengal coastline, InterContinental Chennai Resort in Mahabalipuram offers a blissful stay and the perfect setting to revive. The resort is the most popular and known for its hospitality, elegant décor, stunning interiors, and commendable service and amenities. The resort is just 56.4 km away from Chennai.
     

Arthigamya Spa & Resort, Gokarna
Arthigamya Spa & Resort is located on the land of Shiva. This exotic luxury beach resort in Gokarna is known for its beautiful features, natural surroundings, and solace. The resort offers a scenic sunset view while the ocean breeze brushes your skin—this untarnished and rustic town of Gokarna and 490 km away from Bangalore.  
     

Heritage Resort, Hampi
The Heritage Resort Hampi is the UNESCO World Heritage Site that boasts a rich history, legacy, tactical architecture, and traces of the forgotten empire of Vijayanagar. The resort is situated beside the magnificent River of Tungabhadra, and beholds the sight of rocky landscape and lush greenery. The place not only offers a pleasant regal stay but also brings you close to nature and history. Enjoy their famous Ayurveda spa. The location is 340 km from Bangalore.
Mumbai
     

Quinta Da Graça, Goa
Experience a heritage homestay at Quinta Da Graca, a resort located in the quaint village of Saligao in Goa. The resort is an ideal place for a staycation in the city. It offers you an opportunity to witness the vibrant yet straightforward Goan lifestyle—relish palate satiating Goan food while relaxing amidst nature. The resort is ideal for a long weekend staycation getaway and is 565 km away from Mumbai and nearby areas.
     

Della Resorts & Villas, Lonavala
The Della Resort & Villa in Lonavala on the Mumbai-Pune Expressway is famous among travellers seeking leisure, peace, luxury, and some adventure. The resort is known for its interior, camping experience, leisure activities, aesthetic décor, delicious food, and commendable hospitality. The resort is pet-friendly and just 84 km from Mumbai.
     

The Machan Resort, Atvan
The Machan Resort in Atvan is a unique eco tree house resort embellished with wooden work, soothing space, and boasts greenery and magnificent view. This resort offers an ideal setting for creative minds who want to clear their head and fill it with newness. From Mumbai, the resort is around 99 km away.
     

Dune Barr House, Matheran
Dune Barr by Neemrana Hotel was a property built back in the 19th century and is famous for its Charlotte Lake. Indeed, the place takes you to the vintage area due to its architecture, tasteful interiors, and stunning views. The modern amenities will offer you the best of contemporary time. This staycation spot is for those who want to relax and spend quality time with self, overlooking the mesmerizing view. The Dune Barr House in Matheran is 85 km away from Mumbai.
     

Ramsukh Resorts, Panchgani
Located in the breathtaking hill town of Panchgani, Ramshukh Resort is one of the lavish properties in the region. It is popular among travellers seeking peace and rejuvenates the body, mind, and soul. The resort is situated beside Lake Veena and is a famous place among couples. If you're newlywed and unable to travel for your Honeymoon, here is your destination for a staycation trip. The resort is 261 km from Mumbai.
     

U Tropicana Resort, Alibaug
Alibaug is one of the favourite beach destinations for Mumbaikars for vacation, destination wedding, weekend getaway, etc. U Tropicana Resort is one of the most loved locations to stay and experience luxury at its best. You can book a self-drive car and travel to this gorgeous destination while enjoying scenic views throughout your road trip. The resort is 93km from Mumbai.
     

Four Seasons Vineyards, Baramati Pune
Experience the Tuscany akin and bounty of nature as you enter the region where Four Seasons Vineyards Resort is located. The vibrant luxury property offers you a comfortable stay and makes you engage in a plethora of adventurous activities. The place also takes its guests to the bottling plant to watch how wine is aged in oak barrels. Have a happy staycation at the boutique property that is 223 km from Mumbai.
Staycation is the best option for holidays, especially in this pandemic. You can have leisurely time amidst nature and with the self without any fear of getting infected. Book a self-drive car with Myles for your staycation vacation and enjoy the benefit of a road trip and risk-free travel.
To know more: https://bit.ly/3YFzwHc
You can download Myles App from the App and Play Store and regulate all your self-drive and car subscription books.
Tags:
Bangalore
,
Car Hire in Kolkata
,
car rental in Mumbai
,
Carzonrent
,
Chandigarh
,
chennai
,
Delhi
,
Delhi NCR
,
goa
,
Gurgaon
,
highway
,
Luxury Resort
,
Mumbai
,
Mumbai to Goa Road Trip
,
Myles Cars
,
Pandemic
,
pondicherry
,
Punjab
,
road trip
,
Safe Travel
,
Sanitized Car
,
self drive cars
,
Staycation
,
Subscription
,
Travel India