Happy Father's Day: Take Your Dad on a Long Drive to these Calming Places
---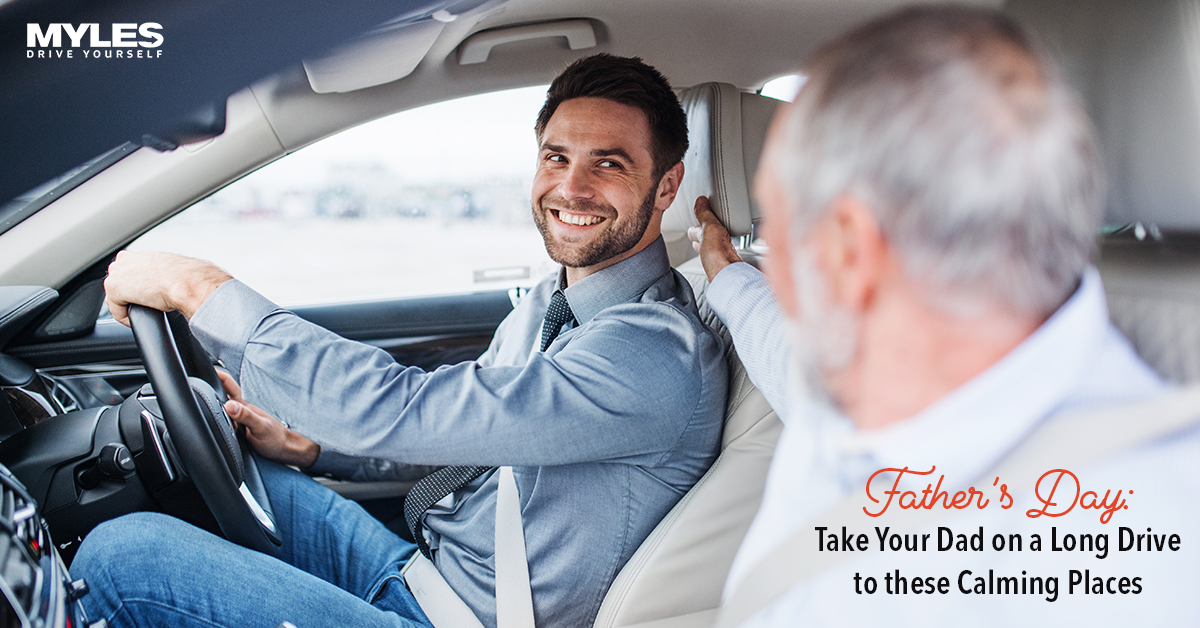 "Dad are most ordinary men turned by love into heroes, adventurers, storytellers, and singer of songs."
– Pam Brown
Father's Day is just around the corner. With lockdown lifting, it proves to be a great opportunity to go out with your dad and engage in some fun activities. But, of course, nothing is better than a vacation or road trip with your dad for an adventurous getaway. So make the most out of Father's Day and easing the restrictions, and hit the road. Show him your driving skills and take that much-needed holiday with your dad.
*We got your ride covered. Book a self-drive car on Father's Day at a special discounted rate*.
Here we are listing some amazing options for your road trip with a hint of calmness and adventure.
Delhi to Rishikesh: For Yoga, Peace and White-Water River Rafting
Start your road trip with your dad from Delhi to Rishikesh. Rishikesh is situated on the foothills of the Himalayas beside the Holy River Ganges in Uttarakhand. The spiritual and healing town is an ideal escapade from city life.
Once you enter Uttarakhand, you experience solace amidst the lap nature and can smell adventure from far. The city is known for pilgrims, ashrams, yoga and Ganga Arti, bungee jumping, white water river rafting, waterfall trekking, and camping. The trip is ideal for the upcoming Father's Day weekend to indulge in adventure activities with your dad.
Things to Do: River Rafting, Bungee Jumping, Camping, Trekking, Rappelling, Zip Lining, Cliff Jumping, Body Surfing, Temple Hoping, and witness Ganga Arti.
Places to Visit: Beatles Ashram, The Twin Bridge- Ram & Lakshman Jhula, Neelkanth Mahadev Temple, Neer Waterfall, Triveni Ghat, Parmarth Niketan, Geeta Bhawan, Byasi, Muni ki Reti, Rishi Kund, Swarg Ashram, Rajaji National Park, and more.
Food to Try: You'll get multiple International and Indian cuisines here, but try street food, like Samosa, Kachori, Aloo Puri, Masala Chai, Pani Puri, Falooda, etc.
Time & Distance: It takes around 5 hours to reach the Yoga Capital of the World, covering a distance of 243.4 km.
Chennai to Pondicherry: For Meditation and Scuba Diving/Sailing
One of the beautiful routes for a road trip in India is Chennai to Pondicherry. Travelling beside the East Coast Road is an experience one must go through. The sea on one side and greenery on the other is a sight to behold as the sun goes down. The changing reflection of the sun rays on the water makes the view more enchanting.
Make the most out of your travelling experience while road-tripping through this route, and take a lot of pictures for lasting memories. Pondicherry is a quaint Union Territory that boasts the perfect blend of Indian and French culture. Don't forget to visit Auroville- the city of dawn for solace.
Things to Do: Café Hopping, Scuba Diving, Meditation at Auroville or Aurobindo Ashram, City Tour on Bike, Ayurveda Spa, Surfing, Boat Ride, Sailing, Yachting, Kayaking, Canoeing, and much more.
Places to Visit: War Memorial, Paradise Beach, Serenity Beach, Rock Beach & Promenade, Auroville, Sri Aurobindo Ashram, Arikamedu, Auroville Beach, The Basilica of the Sacred Heart of Jesus, Botanical Garden, Old Lighthouse, etc. to name a few.
Food to Try: Cafes here serve multiple cuisines and vegan food as well. Try places like Café Des Arts, Bread & Chocolate, Bay of Buddha, Villa Helena, Madhuram, etc., to name a few. Famous Delicacies- Baguettes, Croissants, Crepes, Coffee, Ratatouille, Masala Dosa, Sambhar, Idli, Medhu Vadai, Coq au Vin, and more.
Time & Distance: Book a self-drive car in Chennai and reach Pondicherry in approximately 3 hours, covering 152.3 km.
Shillong to Cherrapunji: For Boating, Nature Walk and Caving
North East is the untarnished gem- look anywhere around, and you'll find a bounty of natural galore. The road from Shillong to Cherrapunji is magnificent. Take this scenic road trip with your dad, winding through dense forest while enjoying breathtaking views and refreshing weather.
Cherrapunji, also called Sohra, is an undulating upland in Meghalaya with a waterfall-ribboned valley, lush greenery, and spectacular landscape. The place is known for its monsoon rainfall, cool air, and tranquillity. During your drive, stop by and enjoy tea or Kyta- rice beer, or try zip-lining at the Mawkdok Valley.
Things to Do: Boating at Dawki, caving, zip-lining, river canyoning, walking over living root bridges, etc.
Places to Visit: Nohkalikai Waterfall, Mawlynnong- the cleanest village of Asia, Eco Park, Mawkdok Dympep Valley, and more.
Food to Try: Try authentic cuisine of Meghalaya, including Jadoh, Doh-Khlieh, Nakham Bitchi, Pumaloi, Doh-Neiiong, Tungrymbai, Pudoh, Minil Songa, Sakin Gata and Pukhlein,
Time & Distance: Get the best car hire and enjoy the most scenic road trip with your dad. It takes around 1 hour 38 min to reach Cherrapunji from Shillong, covering a distance of 54 km.
Manali to Leh Highway: For Adventurous Road Trip
Fill your Father's Day weekend with thrill and adventure by taking a road trip from Manali to Leh Highway. Get a self-drive car and start your journey through the crisscross terrain surrounded by the gigantic snow-capped Himalayas. The incandescent beauty of the region is beyond words and rejuvenates your mind, body, and soul.
Spend quality time with your dad while satiating your adrenaline rush with this adventurous escapade. It is an ideal time for the road trip to Leh Ladak.
Things to Do: Jeep Safari, Mountain Cycling, Motor Biking, Hemis Festival (June or July), Shopping at the local market, trekking, etc.
Places to Visit: Pangong, Shanti Stupa. Hemis National Park, Nubra Valley, Thiksey Monastery, Hall of Fame, Gurdwara Pathar Sahib, Tso Moriri Lake, Tanglang, and more.
Food to Try: Momos, Tingmo, Butter Tea, Chhang, Chhutangi, Skyu, Thukpa, Khambir bread, and apricot jam.
Time & Distance: You can also start from Delhi to Manali to Leh or From Chandigarh to Manali to Leh- the distance from Manali to Leh is 11 hours and 36 minutes, where you covered 427.5 km.
Mumbai to Pune Expressway: For Chikki and Banter
Another scenic and easy road trip route is the Mumbai to Pune expressway. Most people travel to Lonavala for a weekend getaway through this route. So, take your dad for a long drive at Mumbai to Pune Expressway and cherish old memories of your and his childhood.
Don't forget to savour chikki in Lonavala and have cutting chai by the roadside. If it is raining, grab hot and yummy corn on the cob. The expressway is 94 km long and considered one of India's best routes for road trips. Book your self-drive car and enjoy a fun-filled weekend with your dad. You can extend your trip to Pune and can enjoy Paragliding.
Things to Do: Enjoy Chikki, Champing, Hot Air Balloon Safari, Trekking, Explore Caves, and much more.
Places to Visit: Book a resort for a luxury stay and enjoy in-house activities.
Food to Try: Chikki, Corn on Cob, Cutting Chai, Vada Pav, Sev Puri, Pani Puri, Sabudana Vada, Poha, Dabeli, Pav Bhaji, etc.
Time & Distance: The expressway is 94 km long and takes around 1 hour and 44 minutes to 2 hours to cover.
Spending quality time during these road trips with your dad gives you memories you'll always cherish. It is nothing but a meaningful effort to strengthen your bond with your dads and thank him for everything he did for you. Make sure to follow all COVID-19 precautionary measures.
Happy Father's Day to All! Happy Road Tripping!
To book a self-drive car, visit: https://bit.ly/3YFzwHc
You can down Myles App from Play Store or App Store to book a self-drive car in simple steps or car subscription.
Tags:
book self drive cars in mumbai
,
Bungee Jumping
,
car hire
,
car rental in india
,
Chai
,
chennai
,
Chennai to Pondicherry Road Trip
,
Delhi to Rishikesh
,
Father's Day
,
Happy Father's Day
,
highway
,
Leh Ladak
,
lonavala
,
manali
,
Meditation
,
Monsoon
,
Mumbai
,
Mumbai-Pune Expressway
,
Myles Cars
,
Myles Self Drive
,
pondicherry
,
Pune
,
rishikesh
,
River Rafting
,
road trip
,
Travel India
,
Vada Pav
,
Yoga