World Yoga Day: Drive to These 5 Best Yogacation Places to Find Inner Peace
---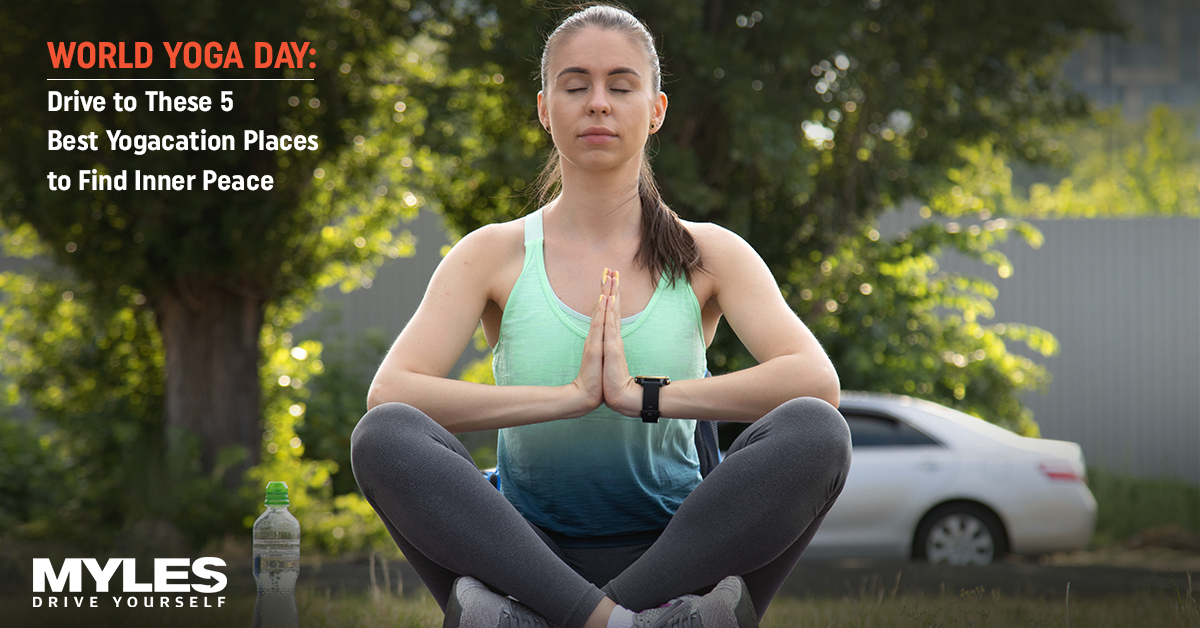 "Yoga does not Transform the Way We See Things, It Transforms the Person who Sees."
– B.K.S. Iyengar
In this fast-paced life, we often forget to breathe and live in the moment. We are constantly struggling to meet our day-to-day requirements. The only mantra to find inner peace and rest your body, mind, and soul is while- Exploring, Observing & Engaging.
Explore through travelling- wander to find the hidden gems. Observe overlooking the nature- that fill you with ecstasy. Engage in activities like yoga, meditation, adventure sport- that satisfy you.
This Yoga Day, book a self-drive car and travel to these peaceful places for an unforgettable Yogacation.
Note: While travelling, follow COVID-19 travel precautionary measure- wear your mask, sanitize your hands, and maintain social distancing.
Rishikesh, Uttarakhand
The epitome of yogic culture and serenity, Rishikesh in Uttarakhand is known as the 'Yoga Capital of the World'. Nestled in the foothills of the Himalayas beside the Holy Rives Ganges, the city is a heaven for spirituality seekers. The world gets to known about the yogic and meditative mantra when the Beatles visited Rishikesh in the late 60s.
To find solace, Rishikesh is an ideal place to visit. Yoga Day is the perfect occasion to travel to this town that brims with life, spirituality, and nature galore. Every inch of this city carries you towards complete rejuvenation.
What to do: The city is known for its Ashrams, Temples, Adventure activities, Yoga and Meditation Retreat, etc. So, take time off from your busy life and this Yoga Day, and rewind yourself to attain ecstasy.
How to Reach: Rishikesh is around 5 hours away from Delhi. Book a self-drive car from the best car rental service in Delhi and take a Yogacation to find inner peace.
Spiti Valley, Himachal Pradesh
The fascinating Valley engrossed with quaint villages, windswept landscapes, cold desert freckled mountains with green patches, dry weather, and fluttering prayers flags. Spiti Valley is 'a world within a world', 'a place where the Gods live', as described by Rudyard Kipling in his book.
The place is known for its adventurous getaways, but little did we know that Spiti Valley is also famous for its Yoga retreat and spiritual detox. So, drive your way to Spiti to unwind the body, mind, and soul.
What to do:
Participate in yoga and meditation retreat.
Go trekking and camping.
Sleep under the stars.
Visit Buddhist Monasteries.
Take a Nature Walk and much more.
How to Reach: It takes around 11 hours from Chandigarh to reach Spiti. So, take this adventurous road trip to this spectacular place, roll out your mat and do some stretches. Then, book a self-drive car rental service in Chandigarh and drive your way to the Himalayas.
Osho Resort, Pune
A wellness experience of a lifetime, Osho Meditation Resort is one of the most famous places where you can find ecstasy with every breath. Situated about 120 km southeast of Mumbai, it is one of the most beautiful and largest Osho campuses. It is an ideal place to celebrate Yoga Day with peace and leisure. Spend your day here practising yoga and meditation while enjoying luxurious amenities like spa, pool, tennis, and meals.
What to do: Apart from spending your day at Osho Ashram, you can visit Shaniwar Wada, Pataleshwar Cave temple, Sinhagad Fort, etc., enjoy meals like tandoori chai, pav bhaji, chikki, and more, visit the German bakery, and indulge in adventure sports like paragliding.
How to Reach: Hire a self-drive car rental service in Mumbai and travel to Pune. It takes around 3 hours and 20 minutes to reach the destination.
Auroville, Pondicherry (Tamil Nadu)
Auroville is known as the City of Dawn; it is an experimental township founded in 1968 by Mirra Alfassa (the mother). People from across the globe of all culture and tradition lives here together, and they believe in a sustainable community. The bright and looming Matrimandir sits at the centre- a perfect place to escapade from this busy life.
Visit Auroville this Yoga Day and have a surreal experience practising yoga and meditation. To enhance your experience in Auroville, visit cafes around that serves organic, vegan, fresh, and quality food. The place attracts tourist worldwide for a heavenly experience.
What to do: Visit cafes, Auroville beach, shop from organic made products shop, enjoy a show at Adishakti Theatre, healing spa and massage at Auroville's health spa centre, yoga and meditation at the various facilities, and various other activities.
How to Reach: Road Trip to Auroville is scenic. Book your self-drive car in Chennai and reach Pondicherry in approx. 3 hours. If you book a car rental in Bangalore, you'll reach in approx. 6-7 hours.
Varkala, Kerala
The town with majestic sunset and golden sand beaches, Varkala is a quaint town that boasts solace and tranquillity. Imagine relaxing in indulging in yogic activities by the beach surrounded by unique red cliffs adjacent to the Arabian Sea. Immerse deep into nature and revitalize the body, mind, and soul.
The place is known for yoga retreats and is the third most visited destination by yoga and meditation enthusiast across the globe after Rishikesh and Dharmshala. So, spend your day here with family, spouse or friends, and take a mini getaway to this quieter place on the land of Gods, Kerala.
What to do: This peaceful town has a lot to offer like- visit Varkala beach, Kappil Beach, Janardhana Swami Temple, Anjengi Fort, Lighthouse, and more, or indulge in activities like Yoga, meditation, jet skiing, parasailing, banana boat ride, shopping, and try mouthwatering local food.
How to Reach: Varkala is only 1 hour away from Trivandrum. Book your ride with the best self-drive car agency and drive to this beautiful town.
Interact with nature, look inward, and go on a soul satiating vacation this Yoga Day. Roll out your mat and stretch your body and fill yourself with joy.
To book a self-drive car, visit: https://bit.ly/3YFzwHc
Tags:
2021
,
Ayurveda
,
Chennai to Pondicherry Road Trip
,
covid travel
,
covid-19
,
highway diaries
,
India
,
India travel
,
International Yoga Day
,
June 21
,
Meditation
,
Myles Cars
,
Prime Mister Modi
,
rishikesh
,
road trip
,
Spiritual
,
Spiti Valley
,
weekend
,
Yoga and India
,
Yoga Capital of the World
,
Yoga Day
,
Yoga Retreat