World Yoga Day: Enjoy the flexibility of a car subscription
---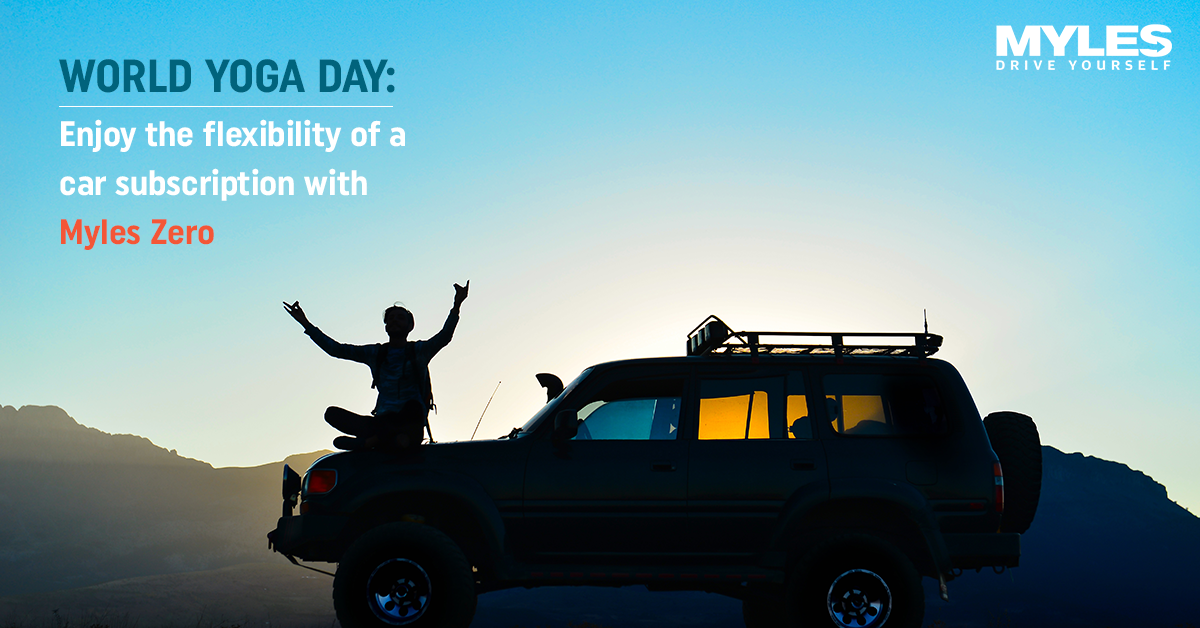 Driving is fun, exciting, and filling, just like yoga. They are perfect when they offer balance, strength and flexibility. Your next car should offer less tire wear, a smoother ride, and a steady wheel for a balanced drive. It should have a more durable vehicle design and power for good strength and should offer ownership flexibility.
Car Subscription offers a wide variety of fleet to choose from and the flexibility of ownership. Car Ownership with subscribed vehicles comes with all perks- to discover and drive freely.
This Yoga Day, not only work on body flexibility but also enjoy the flexibility of car ownership with a subscription.
Flexible Car Subscription
In the next five years, car subscription service could account for about 10% of all new vehicle sales in the developed countries. Throwing the prediction, 1 in every 5 subscribed cars offer a new model. When it comes to the Indian market, carmakers and agencies see a big future in this market due to the rising trend of the flexible car subscription model. The trend is changing the auto industry, said experts on various occasions.
How is Car Subscription Flexible?
Flexible Ownership
Flexible ownership means zero commitment. It means that you don't have to stay with one vehicle for years as a car owner. When you buy a car- you will stick with that particular model at least for 9-10 years. With a car subscription, we can upgrade your car model every 6 months. Car Subscription starts with 6 months to 60 months plan, which is why it is called flexible ownership.
Flexible Monthly Payment
Subscribing a car is cost-effective and tax-saving than traditional car-buying or leasing. These subscription plans are tailor-made for groups like SMEs, expats, millennials, organizations, etc., who want a simple, economic and hassle-free temporary mobility facility that comes with easy return and cancellation policies. Car Subscription plan also offers luxury vehicle ownership as per individual's need and requirement. So, drive your car and pay as per your requirement.
All-Inclusive Package
Not only you'll get a flexible monthly payment option, where you can customize your expenses as per your need and requirement, but also the bill will cover all the extra charges. The cost of the subscribed vehicle will cover registration, insurance fee, car maintenance, repair, and other expenses as per the contract. It gives you the flexibility of saving more and driving stress-free.
Return. Upgrade. Buy Back
Car Subscription is full of benefits and flexibility, unlike the traditional car-buying system. Car Subscription offers you the flexibility of return and up-gradation of the car when you want and gives you a buyback option. Car Subscription is all you need in this time and age.
Get your flexible subscription model as your next car and avail all the perks. Visit: https://bit.ly/3OF6Wko
Tags:
Benefits of Car Subscription
,
car buying
,
Car Subscribe
,
Car Subscription
,
Car Subscription in Delhi NCR
,
Flexible Car Ownership
,
International Yoga Day
,
Leasing
,
Myles
,
Myles Cars
,
Myles Zero
,
Yoga Day
,
Zero Commitment