How much does it cost to buy a monthly Car Subscription in Mumbai?
---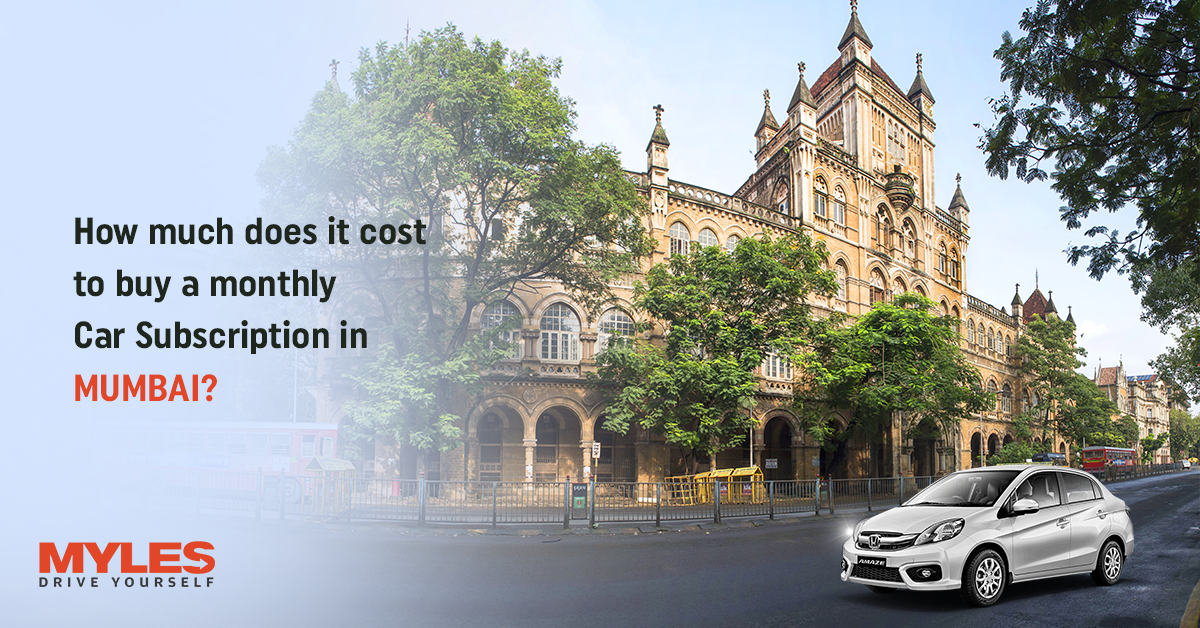 A city of dreamers and artists, fisherfolk and millionaires, hard-workers and gangsters, Mumbai is the city that never sleeps. Mumbai is the land of Bollywood and known as India's financial powerhouse. Amchi Mumbai captivates the attention of tourists across the globe with its frenetic energy, monsoon galore, ornate colonial-era architecture, unique bazaar, hipster enclaves, nightlife and prime locale.
If you're living in the city, you understand the hassle of boarding public transportation and commuting from one point to another. A personal vehicle is the best option to make the daily commute more accessible and have sorted weekend plans, even if you don't want to go for a big investment.
You now have one value-for-money and practical option to own a car through a Car Subscription.
What is a Car Subscription?
Car Subscription is becoming one popular concept for car ownership. In many cosmopolitan cities in India, people are choosing car subscription over leasing or buying. Here you select the preferred car model, tenure, submit documents and get your new car at the doorstep at a monthly cost that is less than EMI. The cost is all-inclusive, as it covers maintenance charges, insurance fee, repair, and more.
Cost to Buy a Monthly Car Subscription in Mumbai
– Myles Car Subscription in Mumbai starts at INR 24200/- and goes up to 54000/-*, depending on the car you need and required. The plan is cost-effective and saves you expense on- cabs, taxi, or if you buy a car. Subscribing a car in Mumbai comes with multiple benefits like:
Tailor-Made Plans
Flexible plans for Car Subscription in Mumbai make your life and daily commute easy. It means no more waiting for cabs or getting cancelled by them, safe travel amidst covid instead using public transport, and pay as per your convenience facility. Choose car, tenure, and kms as per your need and requirement, and pay accordingly. You can upgrade, downgrade, or change your model whenever you want. You can go for an economical car like Kicks or drive a luxury MG ZS EV.
New and Old Model Availability
Another benefit is that it reduces your monthly subscription cost and allows you to afford an SUV at a lower price. Myles offers both new and old inventories in Mumbai that are well maintained, safe, and sanitized for car rental purpose. New or Old Model, whatever your choice is, both options are available for you.
All-Inclusive Plan
All-inclusive plans prove to be cost-effective and time-saving as well. Myles Car Subscription monthly fee includes maintenance cost, insurance fee, repair expense, and other benefits. Amidst the busy life of a city like Mumbai, you don't need to worry about taking your car to service or pay for the insurance. It is all included in the subscription package without any extra cost. Even for maintenance, your vehicle will be picked from the doorstep, and once it is done, it will be dropped back at your home.
Zero Commitment
The car subscription plan in Mumbai from Myles offers flexible ownership without any commitments. You can start your vehicle subscription, starting from 6 months to 60 months, and opt-out whenever you want. Even it offers you the option to buy back the car after your subscription tenure gets over, and even during the term. All in all, Car Subscription with Myles comes with zero commitment, ease, convenience and flexibility.
Easy Commute
Owning a car means no morning cab hunts, zero cancellation on rides, a weekend plan sorted and maintaining social distancing at best. Myles Car Subscription in Mumbai not only makes your daily travel easy and risk-free, but it also helps you get through the monsoon season smoothly. It is convenient, cost-effective, comes with zero commitment, flexibility, and a lot more.
Car Subscription plans by Myles are designed with a purpose that worked on everyone's personal choices and requirement. That's made to customer's satisfaction, and they own a car most conveniently.
To book a car on subscription visit: https://bit.ly/3OF6Wko
Tags:
car rental in Mumbai
,
car rental india
,
Car Subscription
,
Car Subscription in Mumbai
,
covid-19
,
India
,
Monsoon
,
Myles Cars
,
Myles Zero
,
Subscribe a Car
,
Travel India
,
travelling
,
Zero Commitment