5 Reasons Why a Car Subscription is a Smart Choice in 2021
---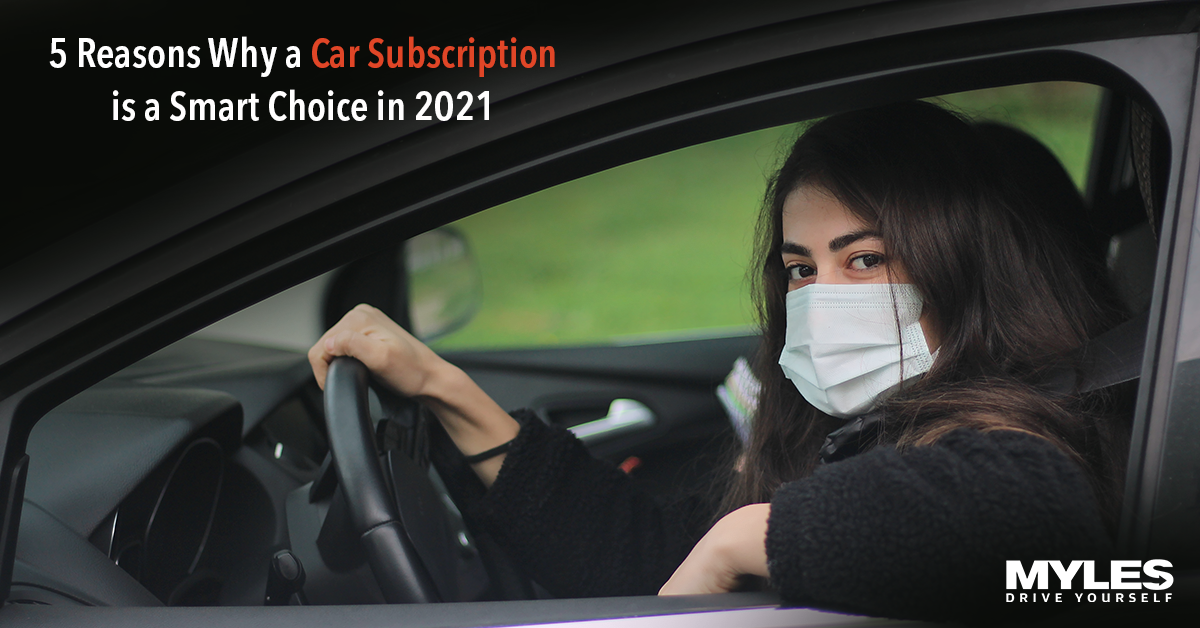 The crucial and uncertain times we are facing since last year, many of us have suffered immense financial losses. Amidst the pandemic, it is hard to put a financial strain on oneself. Meanwhile, some needs remain the same and are unavoidable.
Transportation is one of the top three expenses in every household in India, especially in metropolitan cities. In this situation, using the public vehicle is not safe. And, if you're living in the region where restrictions are imposed own car is required for the daily commute, emergency travel, etc.
Owning a car comes with hefty financial strain, and depreciation is the biggest expense which least people understood. No wonder why a car subscription has suddenly seen a surge in demand.
What is a Car Subscription?
Car Subscription is the new way of owning a convenient, flexible, cost-effective, safe, frictionless, and maintenance-free car. When subscribing to a car, you can choose a model and then select a tenure as per your need. You get your car at the doorstep, and you just have to pay a monthly fee- it also covers maintenance cost, insurance, repair, and more.
5 Reasons a Car Subscription is a Smart Choice in 2021
No Financial Strain
Owning a car today is not only a matter of luxury; moreover, it is about need and requirements. Car Ownership means making a giant hole in your pocket and investing months of savings in the down payment. Car Subscription gives you freedom from the unnecessary financial burden that you might carry for years.  It also saves your pocket to pay loan interests. Also, a car is a depreciating property and owning it on a subscription also save you from the declining value of your vehicle.
No Lock-in Contracts
The best part of owning a car through subscription is the flexibility of ownership. There are no hefty paper works before signing in for the car subscription in Delhi or pan India. You need to submit a few documents for an eligibility check; you get your vehicle at the doorstep once approved. Similarly, a car subscription service agency won't bind their customers in lock-in contracts; the customer needs to give a notice period of around 15 days before cancelling the subscription or upgrading the model.
All-Inclusive Deal
Car subscription is cost-saving and offers tax benefits. Besides this, getting a car on subscription saves a lot on roadside assistance, insurance fee, maintenance, repair, etc. The cost of the monthly subscription fee covers it all. Yes, a Car Subscription is an all-inclusive deal. Moreover, it saves you from the monthly or quarterly vehicle service hassle. You need to book a service, and the agency agent picks your car, and after service, drop back at your doorstep.
Drive what you want
Offering you the utmost comfort and convenience of car ownership; car subscription company like Myles provides a variety of fleet for its customers to select from. On the Myles dashboard, there are a number of listed vehicles, both new and used. So instead of paying a lot of money on a brand-new car, transact it online through a car subscription. You drive whatever car you want and when you want.
Flexible Fit in Changing Scenarios
Considering the current scenario, where jobs, financial securities, and business are at risk, and no one wants to put in their saving on such a big investment, a car subscription offer you that flexibility and space. It is like a Netflix subscription; you can discontinue when you don't feel like using, and get it again. God forbid, if this COVID-19 pandemic turns the tables again, we don't have to worry about our investments in a depreciating asset.
Avail benefit from this new age concept of owning a car without the hassle. Subscribe to your car and sort your daily commute, travelling plans, and other emergency needs to be sorted. And, of course, it comes with safety, luxury, and comfort.
To book your car subscription, visit: https://bit.ly/3OF6Wko
Tags:
All-Inclusive
,
car rental in Mumbai
,
Car Subscription
,
Car Subscription in Delhi NCR
,
covid travel
,
covid-19
,
Flexible Ownership
,
Monthly Car Subscription
,
Myles
,
myles car
,
Myles Zero
,
Pandemic
,
tax