Work with Myles: Drive the 'extra' in the 'ordinary'
---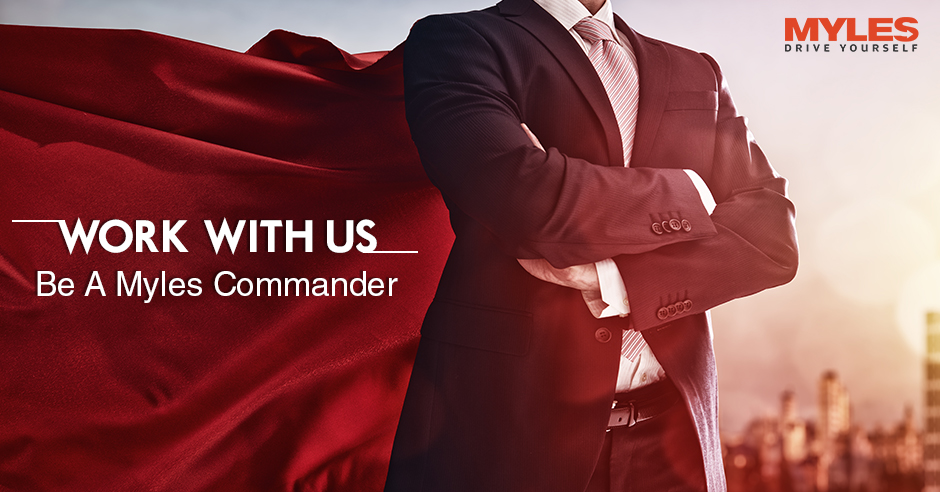 To be a Myles Brand Commander is no ordinary job.
You have to be the best to enlist yourself among the ranks of India's leading self-drive company.
Your journey will begin as a sales driver in a young team at the heart of Delhi.
The Ideal candidate –
1.       Confident and holds good communication skills
2.       Committed and of strong character with right work ethics and values
3.       Tech & social media savvy
4.       Self-driven and resourceful
5.       Keen interest in travel, startups, automobiles  and is passionate about driving
About Myles
Myles is India's premier self-drive service, available across 21 cities with multiple convenient pick-up locations. A few of the major cities we are present in: Delhi, Mumbai, Bengaluru, Ahmedabad and Chennai. Myles' services allow customers to rent car on short and long durations. From a couple of hours to several months.

Myles' wide range of cars includes more than 34 car models from a Tata Nano to a Mahindra e2o to Toyota Fortuner, so you can have a car to match your needs. Our flexible price points mean that you can rent a car for anything between Rs.60/ hr onwards.
Today, Myles is changing the way young urban Indians are buying cars. Car sharing/Self driving through Myles is making sure that greater flexibility, convenience and affordability is available to any individual looking to buy a car. We use sophisticated telematics solutions to enable all cars to be available on a single web and mobile platform. The Mobile application becomes the navigation and key to your car once it has been booked. We have over 200 locations in 21 cities in India with over 1000 cars.
What started with 14 cars and 3 locations has grown to over 1000 cars and 200 locations with presence in 21 Indian cities. We have a community of over 1,50,000 Mylers who have ditched their personal cars for a more cost effective, flexible and convenient solution. All of this to ensure that you have the best self-drive experience! So, whenever you need a car, we have the keys.
Tags:
career
,
Carzonrent
,
jobs
,
Myles
,
selfdrive
,
work