World Ozone Day: 5 Benefits of Subscribing an Electric Car
---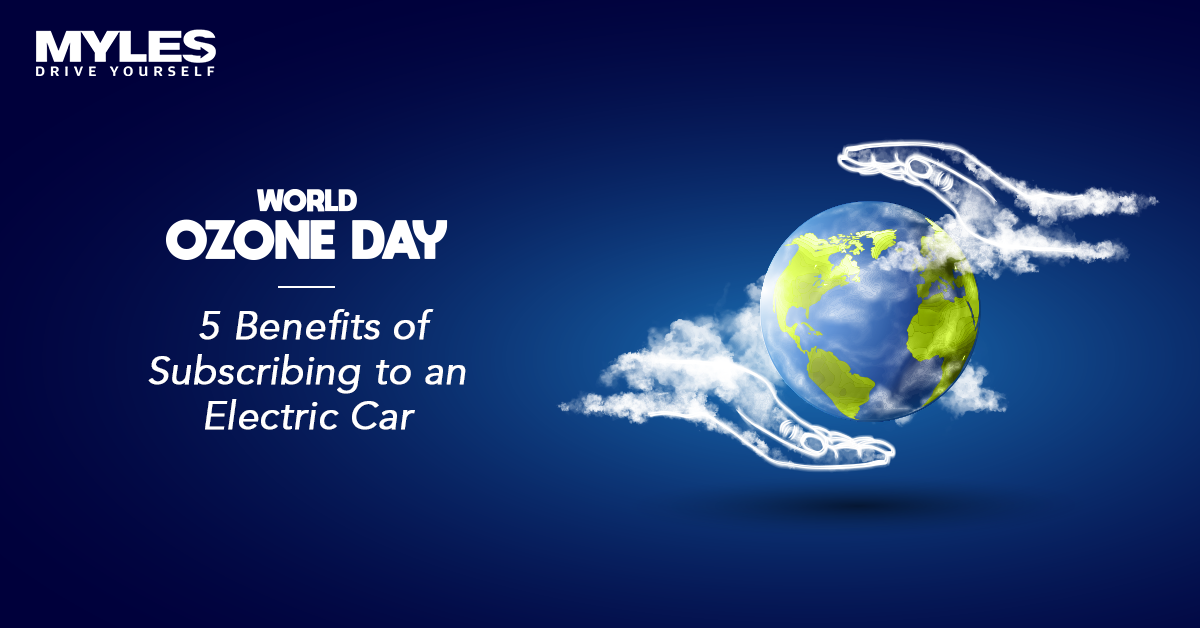 Car Subscription is the smart alternative to buying or leasing a vehicle. It comes without the hassles of traditional car buying, such as servicing, loans, down payment, maintenance and insurance renewal. Car Subscription is the second name of flexible ownership. It is a practical, convenient and affordable way of driving.
Make it more cost-efficient and sustainable with an electric car subscription.
Electric cars are the future of automotive. The shift from conventional to electric is taking over the motoring market. To make electric vehicle ownership easier, companies are offering it on subscription.
Electric car subscription is similar to subscribing to a conventional vehicle. It comes with a lot of advantages such as better tomorrow. Here are five benefits of subscribing to an electric car.
Better Environment
Climate change, which is quite noticeable, is an existential threat for the planet- including the life of most living beings. The transportation industry is blamed for producing most of the pollutants in the environment. EVs are the step towards green mobility. They are ultra-low-emission vehicles that offer a noise-free ride. Subscribing an electric car drives you towards a better tomorrow and offers quality living. They emit fewer greenhouse gases and air pollutants.
Lower Operating Costs
An electric car is a far better mobility option for the planet than petrol-diesel run cars. It benefits your pocket too. The operating cost of EVs is lower. A fully charged vehicle costs significantly less than fuel. Subscribing an electric vehicle reduces the maintenance costs, which also benefits you with the monthly subscription fee. The rapidly building charging infrastructure makes it easy for you to drive smoothly.
All-Inclusive Package
Like a conventional car subscription, subscribing to an electric car also comes with an all-inclusive deal. The monthly electric car subscription fee includes service and maintenance costs, insurance fee, roadside assistance, zero down payment and no registration cost. The electric car subscription package also offers a complimentary personal EV charger box to charge your e-car after your day out on the road.
Flexible & Sustainable Ownership
Electric Car Subscription comes with flexible and sustainable ownership. You can subscribe to the car for as minimum as 12 months and a maximum of 36-60 months (depending on car subscription company policy). Subscribe to an electric vehicle and enjoy a smooth, silent and green drive every day. You can always exit the subscription, upgrade the model or continue the subscription during the tenure by giving around a month's notice.
Vehicle Selection Options
Car Subscription provides many EV options with varied colours to choose from. Currently, there are around nine electric car models on sale and subscriptions in India. The numbers are increasing rapidly, and the market will see growth in the coming years, with almost 23+ models available for car subscription and buying. You can opt for Tata Tigor EV to Strom Motors R3 to Tata Nexon EV to Audi e-Tron, and more.
Reduce the carbon footprints by opting for an Electric Car on Subscription. Save Money and Invest in a Better Future.
Tags:
car leasing
,
Car Rental
,
car rental in india
,
Car Subscription
,
Car Subscription in India
,
electric car
,
electric car India
,
Electric car on subscription
,
Electric Car Subscription
,
EVs
,
Myles Cars
,
Myles Subscription
,
Myles Zero