Wedding Season: 5 Ways your Self-Drive Car Helps in your Wedding
---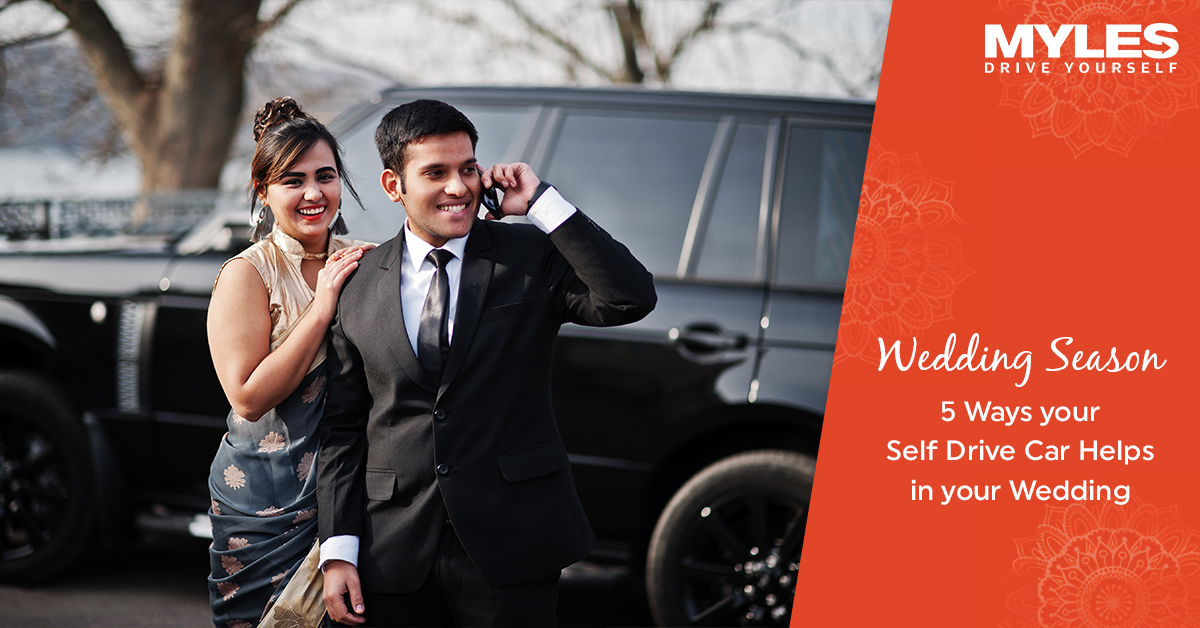 Wedding season might not be around the corner, but it indeed is down the road. When we hear of a celebration, the thought of a shopping spree crosses the mind. A wedding takes months of preparation, from bookings to inviting guests to buy things, and a lot more. Your car always is a support to get through these hassles. But what if a person doesn't own one.
Enters the self-drive into the picture, and indeed to make your life better.
The concept of self-drive is dominating the space in the automotive industry and works in favour of seasonal commuters. People who don't travel much, prefer public vehicles, often migrate to multiple cities for work or couldn't afford one, and can opt for a long- or short-term car rental car.
Self-drive cars are the smart alternative to traditional car ownership, especially in the current time of the pandemic. And when it comes to the wedding, having a vehicle by your side helps a lot.
Here are five ways that convince you how a self-drive car helps in your wedding.
Helping Hand to Carry your Shopping Bags
Wedding shopping starts weeks and months before the actual D-day. From buying dresses for wedding functions to gifts for guests to getting things for wedding customs and a lot more, the wedding shopping list is endless. The whole process is both tiring and thrilling, make it less hectic with a reliable shopping partner. Self-drive cars help you carry your shopping bags and other fragile items with ease. Whereas using public vehicles or cabs can be a daunting task.
Wedding is an Expensive Affair, Save on Self-Drives
A big fat Indian wedding is a grand affair which is expensive too. Even if you make a budget, there are expenses you can't control. Getting a self-drive car will help you cut the cost, as they are pretty affordable. Booking a car for rent at the right time proves to be cost-effective. You have to make sure about few things like duration, location, and km. Even car rental agencies offer customised deals to the couple on wedding cars that go well with their theme, budget, and requirements.
A Reliable Partner to Help your Wedding Guests
Indian wedding is a gala affair. It comes with multiple functions, endless ceremonies, designer attire, and a lot of guests. To manage everything and effortless transfer of wedding guests from the airport to hotel to venue and back is very important. Your self-drive cars will be your ultimate helping hand in your wedding. It is advised to book your self-drive cars well in advance to avoid last-minute hassle and compromises. You can go fancy and get a vintage car for an exquisite addition.
Be in Charge and Enter in Style at your Wedding
What if your cousins miss preparing your perfectly Bollywood inspired entry in your dream car?
India Wedding means being constantly occupied with work, ceremonies, and guests. Be in charge and drive your plush self-drive car and enter in style. Self-drive cars are a reliable option and are affordable than traditional car ownership. You can choose from various models and types of cars available in the market as per your wedding theme and budget.
Just Married: Go for an Amazing Road Trip Honeymoon
Nothing is better than a grand closure to any ceremony. Give your spouse a surprise and a lifetime of experience with a road trip honeymoon in your comfortable self-drive car. Ditch the hectic train journey or a long queue at the airport, and switch to a road trip to spend more time with your better half. Enjoy your honeymoon by driving through the most beautiful routes that take you to exotic locations. Be your guide, enjoy all the privacy, explore less-visited roads, and enjoy leisure time with your self-drive car.
Happy Driving!
A vehicle is essential during festivals and weddings. And in today's time, it is not necessary to own one to enjoy their benefits. Self-drive cars and car subscriptions are a practical, affordable, and smart way to own a vehicle. Myles self-drive cars offer exclusive deals on car rental and bulk bookings, offering a wide variety of fleets.
To book your self-drive car for an upcoming road trip or to explore your city, visit https://www.mylescars.com/.
Tags:
book self drive cars in mumbai
,
car rental in india
,
delhi self drive car rental
,
Indian Festival
,
Indian wedding
,
Myles - Self Drive Car Rental
,
Myles Cars
,
Myles Self Drive
,
myles self drive car rentals
,
self drive car for wedding
,
wedding car rental
,
wedding season