Car Subscription: 6 Reasons Why you should get a Car Subscription in Pune
---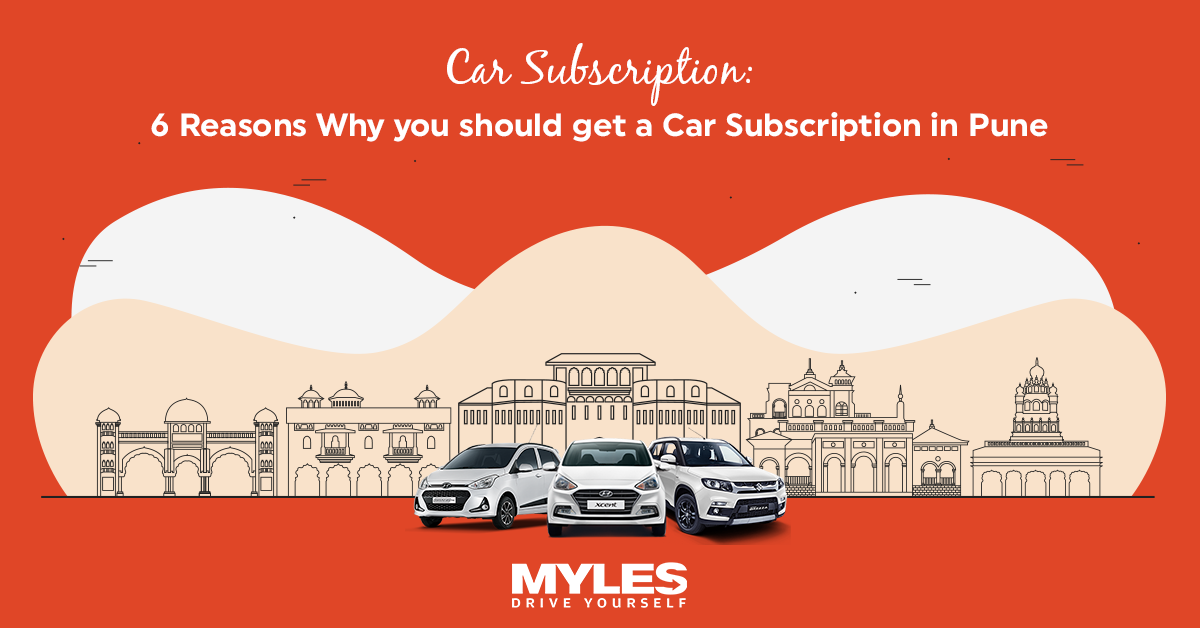 The land of Marathas, the glorious and rich past of Pune, made it Maharashtra's cultural capital. The city has made its mark as an education epicentre and is called the 'Oxford of the East.' This thriving metropolitan has so much to offer. Over the past few years, Pune has emerged as a new corporate hub with many start-ups, automotive, and IT companies sprouting.
Life has been quite hectic in a metro city like Pune and having a reliable travel partner always helps. Owning a personal vehicle is the right choice to commute, especially amidst the pandemic. But not everyone can afford a car or don't want to commit to one car for a longer time.
Enter the practical choice of Car Subscription in this perplexing situation.
What is a Car Subscription?
A smart alternative to car buying, a car subscription is a flexible, affordable, and commitment-free way of vehicle ownership. Get a car of your dream at your doorstep without paying a hefty amount, be it down payment or EMIs. Subscribe a vehicle for 6 months to 60 months. Car Subscription in Pune is an ideal choice, especially for ex-pats, SMEs, and those who like to change their vehicle after a couple of years.
6 Reasons to get a Car Subscription in Pune
Don't block your Money?
You must have saved for months to buy your dream car. But why spend your saving on one asset when you can invest the amount to purchase multiple products? Car Subscription comes with a Zero down payment policy and doesn't put you in a situation of paying a lump sum. You need only pay a monthly fee when you opt for a car on subscription, including maintenance charges, insurance fees, and roadside assistance.
Car Loan is a Big Deal
As we grow up, our necessities expand from the basic ones to more luxurious ones. To fulfil them, we have seen that people usually bury themselves under the burden of loans. When it comes to owning a vehicle, why bind oneself in a loan period for 3, 5, 7 or 9 years. Myles Car Subscription ends the hassle of getting a loan, doing paperwork, and paying huge EMIs. A subscription comes with zero-commitment ownership and a flexible tenure option.
New Job in Pune, Subscribe it!
Got a new job in Pune and worried about the transportation solution? Relocating to another city, especially for a short period, comes with a lot of vagueness. A person will mostly depend on cabs and public transportation for commute, which can be inconvenient. Bringing your car to a new city can be difficult, but subscribe to a new one isn't. Subscribing a vehicle is much more comforting, be it for the long or short term. You can use it for daily commute from work to business travel, running errands during the weekend, and more.
Weekend in Pune are Sorted
Pune is a beautiful place, and so are the neighbouring cities. Owning a car in the new town offers you a sense of liberty. Apart from using your subscribed car for the daily commute, take exciting weekend road trips to explore the stunning western ghats. In your subscribed car, go for a weekend escapade from Pune to Nasik, Lonavala, Mumbai, Goa, Matheran, Lavasa, Khandala, Kolad or Panchgani.
Get New Car Every Month, Like Clothes
Desires are never-ending, be it for new clothes to phones or cars. We all always want something new. We can get new clothes every month or upgrade phones every 12-18 months. Owning a vehicle is a considerable commitment and can't be exchanged easily. With a car subscription, your dream of changing cars every month or after a year can come true. Spoil yourself with Myles Subscription and own the freedom to change your car every few months without paying any extra money.
Hassle-Free Rides Always, with 24/7 Assistance
Car buying involves a lot of paperwork, physical signature, getting insurance, etc., which require time, energy, and money. It is an analogue process, and certain requirements need to be fulfilled after buying a car, like cleaning, servicing, repair, and other maintenance. But when you get a vehicle on subscription, the company fulfil every requirement on your behalf. Also, your rides are always secure because 24/7 digital assistance is there for your help.
Car Subscription in Pune or anywhere in the country comes with several benefits. These are some of the few reasons that make you choose to drive the latest cars trouble-free for years. Myles Subscription offers you the best subscription offer with a wide variety of fleets to choose from.
To book a Car Subscription in Pune, visit: https://www.mylescars.com
Tags:
Benefits of Car Subscription
,
Car Subscribe
,
Car Subscription in India
,
car subscription in pune
,
Cars in Pune
,
Myles Automotive Technologies
,
Myles Cars
,
Myles Subscription
,
Myles Zero
,
Pune to Mumbai