5 Things to Remember While Getting Your Vaccination
---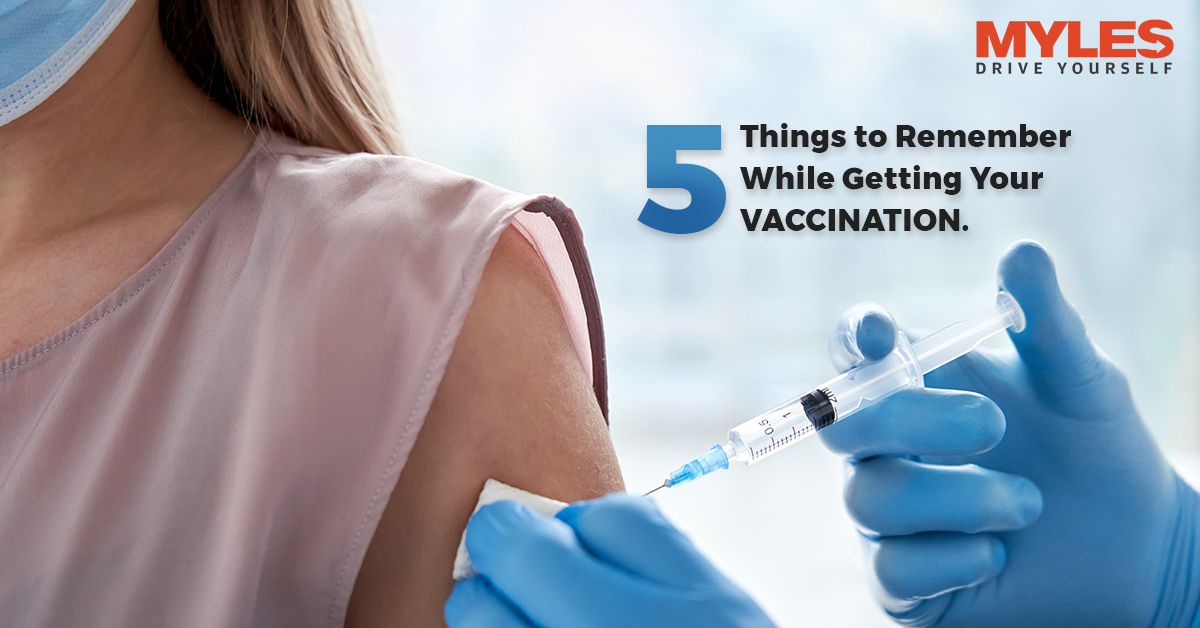 I'd much rather have a vaccine than have this virus. – Paul A. Volberding, MD
We all are hearing a lot of news related to COVID vaccines now and then. Some are facing side effects, where others are feeling alright after getting jabbed. Some people compare which vaccination is better than the other, and some are scared to get one.
Bursting the myths many studies and report claims vaccination as the effective measure. It acts as a shield and helps you fight the virus in a better way. Yes, getting vaccinated doesn't mean you stop wearing a mask, do not follow social distancing or maintain hand hygiene.
According to the latest measure, vaccinated people are less prone to get affected and if they, the damage won't be severe.
With the second phase of the vaccine already rolling out in the nation, people are more eager to get jabbed for COVID-19. Reportedly over a million people in the nation have already got vaccinated, and many are still enrolling themselves.
We encourage you to join the largest vaccine drive and fight against Coronavirus.
So, before you go for your vaccination, there are five things that you need to remember.
Eat Properly and Keep yourself Hydrated
Getting your first dose or second, it is required to eat properly before getting jabbed. Have a filling meal before your vaccination and stay healthy. As much as food is important, staying hydrated is essential too. Keep your body hydrated before and after getting a vaccination. Coconut water, lemon juice, tropical and water-based fruits, and water should be your partner throughout for next couple of days.
Wear Mask and Keep Sanitizer Handy
Getting vaccinated doesn't mean you can walk freely without a mask or participate in a gathering without following social distancing. The virus is very much there, and you are prone to get it. Vaccination is your shield that builds better immunity. In most cases, people who got vaccinated are not catching the virus quickly, and even if they are, they are recovering fast without any severe symptoms and damage. So, continue following covid precautionary measures- wear a mask, practice hand hygiene, don't touch your face, eyes, and nose, and maintain social distance.
Book a Ride and Reach the Centre Risk-Free
After receiving the COVID vaccine shot, stay put at the vaccination centre for 30 minutes. It is to monitor any adverse event, in case. After getting the vaccine, some people may have side effects like mild fever, body ache, dizziness, etc. To be extra cautious, book a cab to your vaccination centre and travel risk-free without any stress. Even if you want to go on your own, you can book a self-drive car if you don't have your four-wheeler to combat the spread of the virus.
Relax. It's Normal to have minor Side-Effects
As mentioned above, it is common and normal to have few side effects like body ache, mild fever, pain at the injection site, and dizziness. So don't panic if any or all of them occurs post your vaccine shot. These are expected, and if these side-effects persist for a longer time or you're facing other issues, contact the vaccination centre. You can always book your ride and visit the nearest health facility. It is advised not to initiate self-treatment or medication.
Take the Second Dose as per Schedule
Remember to take the second dose of the vaccine as per the schedule. According to the Ministry of Health and Family Welfare (MoHF&W), a gap of four to six weeks must be maintained between the two doses if taking Covaxin, whereas, in Covishield, the second case dose can be taken four to eight weeks after the first dose.
What Experts Said?
Let's not complicate taking a COVID-19 vaccine. It's like any other vaccination, and people might have some normal side effects. Just be prepared for simple medication like Paracetamol, if required, said Dr Ravindra M Mehta, Senior Consultant and HOD – Pulmonology and Interventional pulmonology, Apollo Speciality Hospitals Jayanagar.
Given two reasons behind continuing precautions, WHO's Dr Kate O' Brien said, we don't actually have the evidence yet for using the vaccine in some age groups, children, for instance. So, for the time being, those age groups will continue to be at risk of both disease and infection and transmit to other people. The second reason is that the vaccines are in short supply, so we don't have enough vaccine yet out in the community to protect everybody.
WHO's Chief Scientist, Dr Soumya Swaminathan, said on the importance of taking both the doses, the first dose actually presents this new antigen to the immune system to prime it. And the second dose is the one that really gives a boost to the immune system so that the antibody response, as well as T cell-mediated response, are powerful. They also develop a memory response, which then lasts for a long time, so that when the body sees this antigen again, this virus protein again, it knows that it needs to react quickly.
How are we Helping amidst Challenging Time?
Fully Sanitized Cabs and Self-Drive Cars.
Car Subscription at the best price for 6 to 60 months.
Help with transporting medications, oxygen cylinder and other medical equipment.
Risk-Free Drive around and inter-city.
Discounted ride for those who got their vaccine dose.
Safe Ride to Vaccination Center.
We are in this together.
Join the largest vaccination drive and keep yourself safe along with your family and friends.
To know more about us and our COVID related services, visit: https://bit.ly/3YFzwHc
Tags:
Cab Service
,
Car Rental
,
Coronavirus
,
Covaxine
,
COVID Vaccine
,
covid-19
,
Covisheild
,
Dose 1
,
Dose 2
,
drive
,
Free Car Ride
,
India
,
Lockdown
,
Myles
,
Myles Cars
,
Pandemic
,
Side Effects
,
Travel
,
Vaccination
,
Vaccination center
,
Wear Mask. Social Distancing
,
WHO