7 Days of Love: 7 Benefits of Car Subscription
---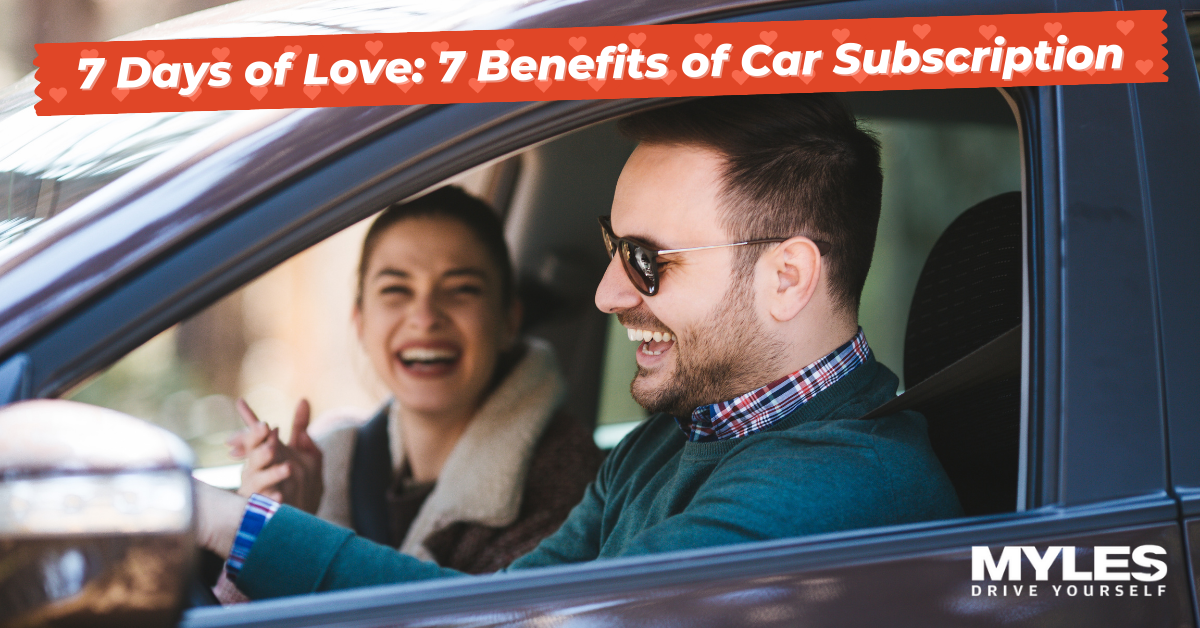 February is known as the Love Month, thanks to Valentine's Day. Though every day is a V-day with the right one, there are the days of built-up to Valentine's Day to make things more exciting. The seven days of love enables you to express your feelings better in different ways.
But love is not always about other human beings; it can be the next travel destination on your bucket list or that little black dress in your shopping cart or your dream car that you wanted to buy for so long but couldn't due to budget constrain. We don't know about the travel plans or your shopping list, but one thing we can get you is your dream car on budget with Car Subscription.
Dream Car through Subscription
Car Subscription is like modern love, as it comes with zero commitments, zero stress, and zero conditions. Car subscription is a modern way of buying a car on a budget without paying down payments, bank loans, and EMIs. You need to pay a nominal monthly fee and own a vehicle on your terms. The flexible ownership covers the extra cost and offers other benefits.
7 Benefits of Car Subscription like 7 Days of Love
Zero Down Payment & Affordability
Car Subscription is affordable, and it makes you own one without breaking your bank. Getting your dream car is everyone's dream, but many struggles due to budget. Car subscription made it easy. It comes with zero down payment, no bank loans, and EMIs. It is cost-effective and ideal for those moving to another city and expats.
Flexibility Ownership at Zero Condition
The best part of a car subscription model is that buyers need not stick to one car for long. They can change, return or upgrade whenever they want. It is a flexible ownership model with zero condition of keeping a car for long, paying hefty down payments, stressing over depreciation value and selling the vehicle and other conditions that come with car buying and ownership.
Wide Range of Fleet
We often struggle between getting our dream luxury car and affordability. You can get yours in the budget with multiple options with a car subscription. One of the many benefits of subscribing to a car is the wide range of old and new fleets. With the Myles Zero car subscription program, you can select the vehicle, choose the tenure, and enjoy smooth rides.
Easy Return and Exchange
With traditional car-buying comes the stress of depreciation value of the vehicle, reselling it, and finding a suitable buyer. The subscriber has not to worry about any of these with a car subscription. It comes with an easy return and exchange policy. You choose car subscription tenure and can easily return the car on maturity and even upgrade or exchange the model.
Digital Assistance at Every Step
When you plan to get a car, you hassle a lot to get good deals and get a lot of paperwork. It does take a lot of time and energy, and even after owning a car, you need to do a lot of work like servicing, maintenance, accident repairs, and more. Car Subscription helps you through every step and accomplishes them digitally. They offer 24/7 digital assistance from getting a car subscribed to taking it for maintenance to return it.
All-Inclusive Deal
Buying a car the traditional way comes with many expenses, from the hefty down payment to bank loans to maintenance charges, taxation, insurance, and much more. It often becomes quite a task to manage all of them in terms of time and money monthly. If you get Myles Zero Car Subscription, you need to pay monthly car rental and everything covered under it, such as maintenance charges, service routine, insurance fee, and roadside assistance.
Drive the Car Trouble-Free
You choose your dream car, select the tenure, pay for it, refill the fuel, and get going. It's the mantra for driving your brand new subscribed car trouble-free for years or selected tenure. You receive the vehicle in the best of its years, making every ride smoother.
These are the seven amazing benefits of a car subscription, like the seven days of love, though there are more to a car subscription. Get your sanitized dream car on subscription at your doorstep from Myles Zero, and change whenever you want.
To book a car subscription or demo, visit: https://bit.ly/42GPbWO
To know more, write: help@mylescars.com or call: +91 – 11 – 43083000/ 0888 222 2222
Tags:
7 Benefits of Car Subscription
,
7 Days of Love
,
Car Rental
,
car rental in india
,
Car Subscription
,
Car Subscription in India
,
covid-19
,
Happy Valentine's Day
,
Myles Zero
,
mylescars
,
rent a car
,
Valentine's week