Move with Myles: Fun and Romantic Car Date Ideas for V-Day
---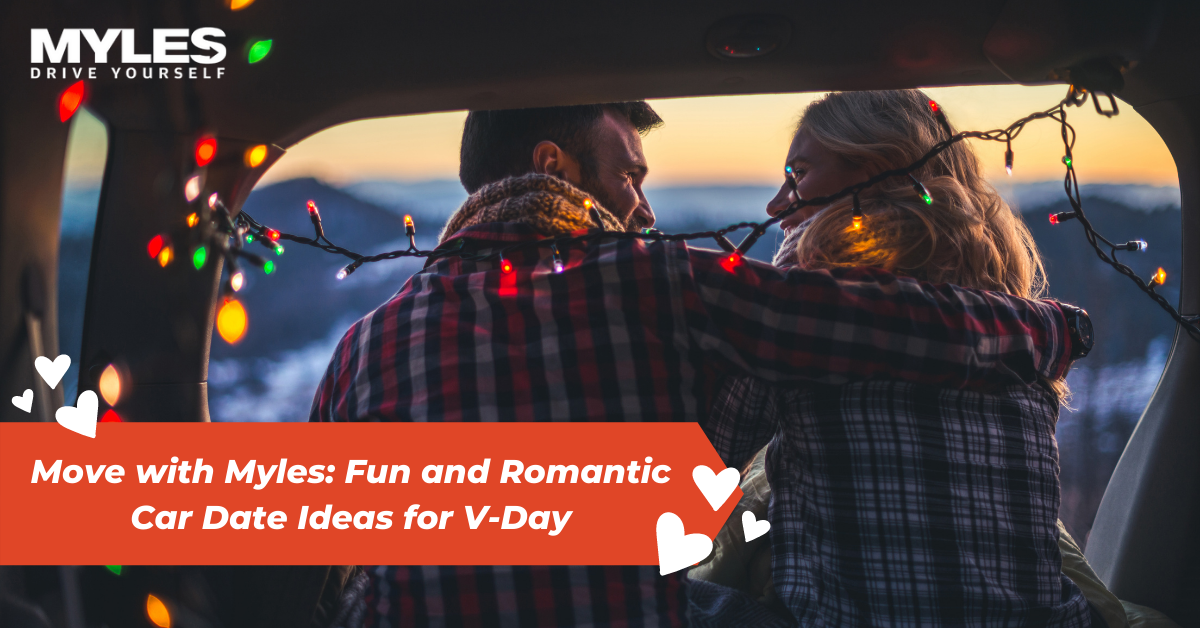 From red roses to heart-shaped chocolates to candlelight dinners and grand gestures, Valentine's Day is all rosy to celebrate the love and bond with your partner. So what are you choosing for this year's celebration to make it memorable for your partner? We are sure you want to do something different since candlelight dinners are predictable, and planning a holiday is too late.
How about a cosy and romantic date in your car? Spending quality time in your car sounds so good, and it keeps you away from crowded places. Even if you don't own a car, get it through a subscription or book a self-drive.
So here are some amazing and fun car date ideas for Valentine's Day 2022 celebration.
Car Picnic with Sunset View
In today's fast-paced life, many of us hardly get peaceful time to spend with our partners. Either we go to cafes or have a Netflix and Chill at home. How about having a soulful picnic lunch and talking this Valentine's Day? Car Picnic is an excellent idea for quality time with bae, and end the day with yummy sundowners and a magnificent sunset view.
Long Drive with Soulful Music
The classic long drives and romantic music never goes wrong, and with your love beside you, the evening can't be more memorable and dazzling. If you don't own a car, get Myles Zero Car Subscription or a self-drive car for your V-Day special long drives, chit chat, and fun. Prepare your playlist and begin the voyage.
Car Camping while Gazing the Stars
The day can't be more romantic when it sums up with adventure under the stars. Stargazing date nights are the epitome of romance. It's calming, makes you closer to nature and each other, and offers breathtaking views. Lie down and gaze at the stars through the sunroof or on the hood of a car and enjoy.
A Drive-In Movie Night
Drive-In Movie Night sounds so Hollywood, but thanks to those who bring the concept here for us to enjoy, and obviously, how can we forget the DDLJ run at Maratha Mandir. Choose your watch, grab the blanket, park your car, and enjoy the movie. Amidst the pandemic, the drive-in movie car date idea is perfect. It's intimate, warm, and pleasurable.
Cuddle and Romance in the Car
I mean, how could not we include this. No date is complete without some snuggles and romantic moments. Car is one of the cosiest places to be with your partner to have a little adventure.
Savour some Good Drive-Thru Food
No celebration is complete without good food, and here we can smell a good car date idea. Skip the standard date at the restaurant or candlelight dinner, and head to a drive-in restaurant to savour some good go-to food. Start by having a cup of coffee on the go, and then indulge in some finger food and have a comfy and mouthwatering V-Day date.
How about a Last-Minute Road Trip?
Well, in the beginning, we said it's too late to plan a romantic getaway, but a last-minute road trip can be planned anytime. Book your ride from Myles, pack your bag and begin an adventurous voyage with your bae. Go to beaches or mountains or go for a thrilling activity or a couple of retreats. Whatever it is, it indeed gives you plenty of quality time with your partner in this love month.
Get a reliable partner for your car date this V-Day, and Myles promises you everything for a perfect adventure with your partner.
Happy Valentine's Day!
Happy Driving!
To book your self-drive car for an upcoming road trip or to explore your city, visit https://www.mylescars.com/.
To know more, write: help@mylescars.com or call: +91 – 11 – 43083000/ 0888 222 2222
Tags:
Budget self-drive
,
Car Date
,
Car Rental
,
Car Subscription
,
Car Subscription in India
,
covid-19
,
Happy Valentine's Day
,
highway
,
India
,
long weekend
,
myles car
,
Myles Self Drive
,
Myles Zero
,
self drive car rental
,
Travel India
,
travel plan
,
travel tips
,
travelling
,
V-Day