Happy Valentine's Day: A Non-Cheesy Gift Idea for Them with Car Subscription
---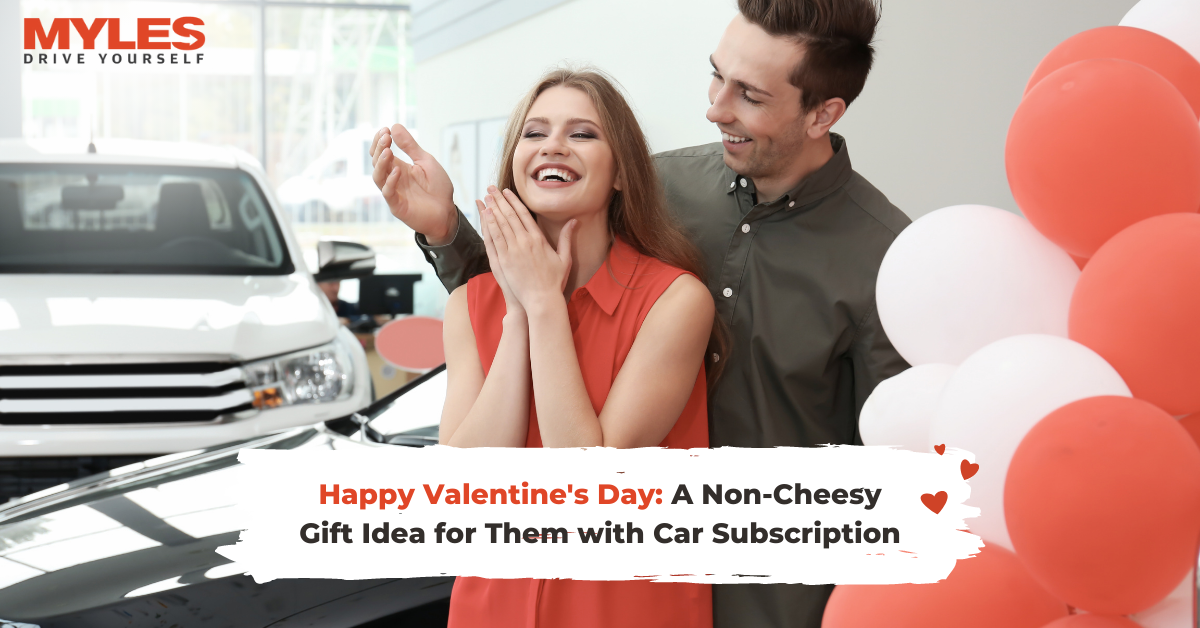 The day of love is around the corner, and to make it memorable for your partner, you must have planned a lot of surprises. Valentine's Day would be incomplete without special gifts. Some plans to get red roses and heart-shaped chocolates, make a booking for a romantic candlelight dinner, compose songs, cook meals, get customised gifts or go for romantic getaways.
But how about giving your partner something meaningful gift like Car Subscription. Keep the cheesy gifts away and switch to a smart way of car buying with Myles Zero Car Subscription.
Know what it is and how it works.
What is a Car Subscription?
A car subscription is a practical and flexible way of car ownership that comes with Zero- Zero Down Payment, Zero Condition, Zero Commitment, and Zero Hidden Charges. It is the modern and fastest-growing alternative to the traditional car-buying system and seems to be a perfect gift for your partner this V-Day. 
Why a non-cheesy gift idea for your Love?
Buying a car is everyone's dream, but budget refrains us from fulfilling it, especially in the current scenario where a major investment cannot be a good idea. Gifting a car through a subscription is not just the most romantic Valentine's Day gesture but show your sense of responsibility and protectiveness towards your partner. It comes with countless benefits, and some of them are:
Affordability with Zero Down Payment
A car subscription model doesn't require down payment, bank loans, and EMIs. It runs on a fixed monthly fee and covers all your expenses like maintenance charges, routine service, insurance fees, and roadside assistance. It indicates that a car subscription plan is budget-friendly, depending on your choice of car model and tenure.
Flexible Ownership with Zero Commitment
A car subscription is a modern choice for a modern couple. We understand how your vehicle preferences change every day with zero commitment and stress of resale of the car. A car subscription gives you the flexibility to change your vehicle whenever you want, return it, or upgrade the model as per your convenience.
All-Inclusive Place with Zero Hidden Charges
The best part of a car subscription is that it leaves you with zero stress and hassle. The affordable monthly subscription fee covers maintenance and service costs, insurance fees, roadside assistance charges, and more. It also takes your car from your doorsteps to the service station and drops it back without letting you cause any interruption in your day.
Hundreds of Rides & Surprises with Zero Hassle
Enjoy hundreds of rides and road trips with your dream subscribed car. Feel the leisure of car ownership without committing to it, and you can invest in luxury cars without breaking the bank. The car subscription program offers 24/7 assistance to make every ride safe and hassle-free for your partner.
Digital Assistance with Zero Fear of Virus
When we buy a car, we need to look for the best deals and visit a lot of dealers to get that one dream car. The whole process is lengthy, time-consuming, and in the current scenario, seems to be risky as you have to complete the formalities. A car on subscription is a more practical choice as it comes with digital assistance, which means from choosing the vehicle to selecting the tenure to paperwork, and making payments, everything is digitally done. Moreover, your car will be fully sanitized before handing over.
A car subscription is all you need this Valentine's Day. It is a perfect gift that ensures your partner's comfort, safety, and convenience and takes care of your budget.
Happy Valentine's Day!
Happy Driving!
Tags:
Benefits of Car Subscription
,
car on rent
,
Car Rental
,
car rental in Mumbai
,
Car Subscription
,
Car Subscription in India
,
covid-19
,
Day of Love
,
Flexible Ownership
,
Gifts
,
Happy Valentine's Day
,
highway
,
long drive
,
long weekend
,
Myles
,
Myles Cars
,
Myles Zero
,
mylescars
,
Partner
,
Road Trips
,
Self Drive
,
Travel India
,
travel plan
,
Valentine's Gift
,
zero down payment