Bengaluru on Wheels: A Guide to Self-Driving with Myles
---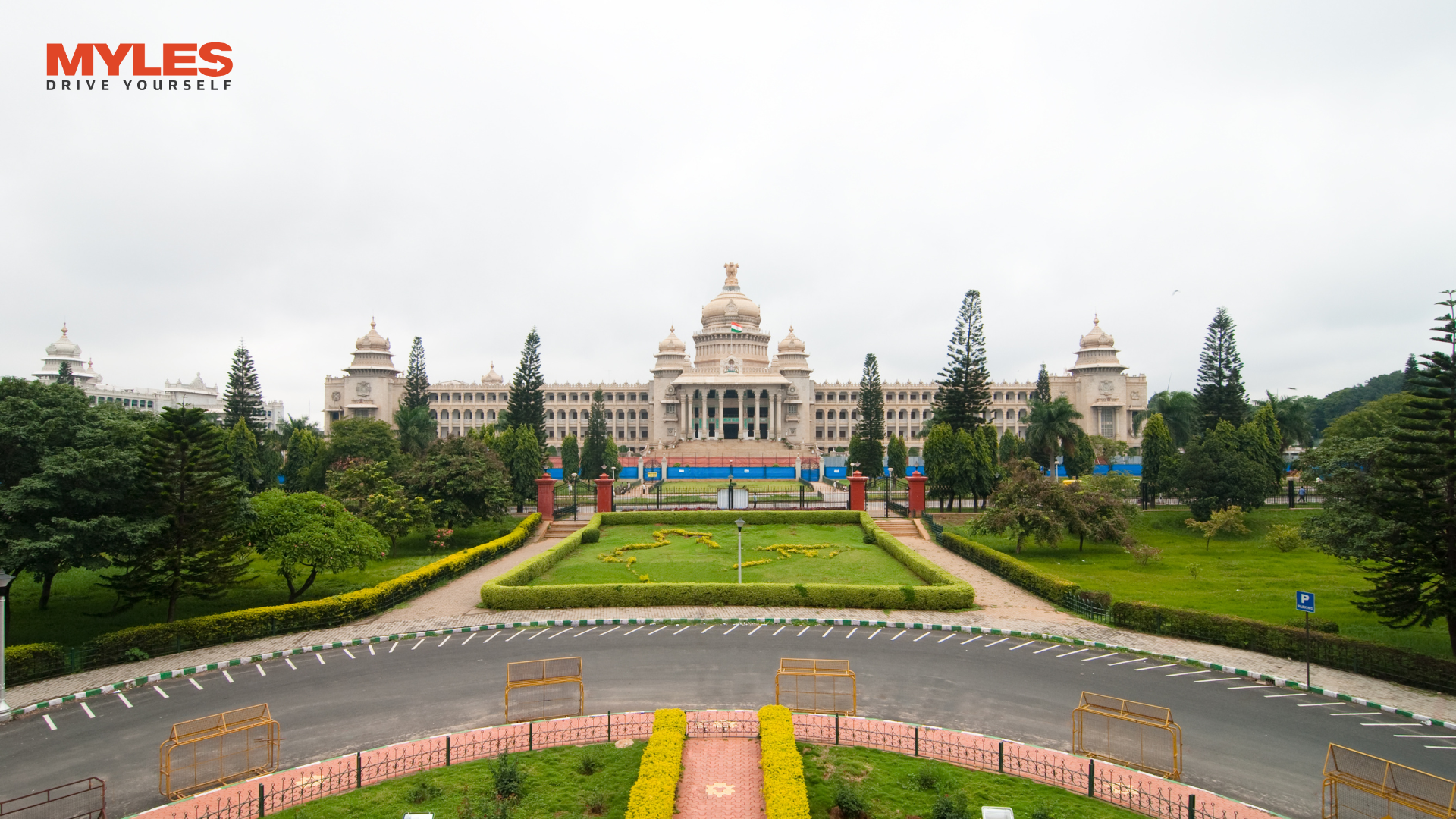 Bangalore or Bengaluru, the capital of Karnataka, may be more famous as a hub for the IT sector, but it is also a gem of a tourist destination. The bustling metropolis beckons vacationers primarily with its scenic, lush green spaces that have earned it the nickname, 'Garden City.'
Among the other things that tempt holidaymakers apart from the best places to visit in Bangalore are its thumping nightlife, exquisite dining scene, myriad shopping districts, and countless adventure opportunities. Read on to find your favorite destination for your next weekend getaway.
Lumbini Gardens
A one-of-its-kind attraction in the city, Lumbini Gardens attracts plenty of visitors every day owing to its serene environment and verdant landscape. The park, situated on the banks of Nagawara Lake, is perfect for a day-out with family as it boasts a kids' park, amusement rides, wave pool, boating club, beautiful fountains, a 1.5 km-long walking path and a food stall to enjoy delectable fare.
Entry Fee: INR 50 (adults and kids aged 3 years and above); Free (kids below 3 years)
Timings: 11:00 am to 7:00 pm
Nearest Bus Stand: Kanaka Nagar Bus Stand
Bugle Rock Park
The Bugle Rock Park is situated in Basavanagudi in the South of Bangalore. The main attraction of the park is the group of natural rock formations called the Peninsular Gneiss. These formations are assessed to be more than 3,000 million years old. The park attracts both locals and tourists looking for visiting places in Bangalore and is complete with a fountain and lush greenery.
Entry Fee: N/A
Timings: 9:00 AM to 7:00 PM on all days of the week
Nearest Bus Stand: BMS College Bus Stand
Tipu Sultan's Summer Palace
Tipu Sultan ruled the Kingdom of Mysore for almost two decades during the late 18th century, and this sprawling palace served as his summer residence. The palace is among the famous places in Bangalore and houses several articles belonging to Tipu Sultan as well as paintings of monarchs. Sightseeing in Bangalore is incomplete without visiting this marvel.
Entry Fee: ₹ 15
Timings: 8:30 am to 5:30 pm
Nearest Metro Station: Krishna Rajendra Market Metro Station
Nandi Temple
The Bull Temple or Nandi Temple in Basavanagudi is one of the largest temples in the world dedicated to Lord Nandi. It houses a very large and majestic idol of Nandi, measuring 15-feet in height and 20-feet in length. The temple is located inside the famous Bugle Rock Park and is a very popular tourist destination in the city. It is one of the top 10 places to visit in Bangalore.
Entry Fee: N/A
Timings: 6:00 AM to 8:00 PM
Nearest Bus Stand: BMS College Bus Stand
Jawaharlal Nehru Planetarium
The Jawaharlal Nehru Planetarium is one of the top places to see in Bangalore in the city, especially for kids and science buffs. The planetarium offers amazing 3D shows, a science park with up to 40 exhibits, and a sky theater. It also organizes a sky-gazing program on the first Sunday of every month.
Entry Fee: Adults – ₹60, Children – ₹40
Timings: 10:00 AM to 5:30 PM, Closed on all Mondays and the second Tuesdays of the month
Nearest Metro Station: Dr. B.R. Ambedkar Metro Station
Innovative Film City
Innovative Film City offers an entertainment extravaganza, one of the most unique places to visit in Bangalore. The place houses Cartoon City, Aqua Kingdom, Dino Park, Petting Zoo, Haunted Mansion and several other similar themed zones that will keep you hooked for an entire day. It also has numerous museums, production studios and restaurants that are perfect for a relaxed outing.
Entry Fee: ₹ 600
Timings: 10:00 am to 7:00 pm
Nearest Bus Stand: Abbanakuppe Bus Stand
Conclusion
While these are the many attractions that you can explore in the city, there are also myriad weekend getaways and things to do in Bangalore such as Ramanagara, Nandi Hills, Horsley Hills and more to take the fun quotient a little higher. So, the next time you book a car in bengaluru with Myles for your trip, give these amazing attractions a thought as well.
Tags:
Bengaluru Travel
,
Book a Car
,
car rental bangalore
,
Self Drive car