Delhi Diaries: A Self-Drive Adventure with Myles in the Capital City at Night
---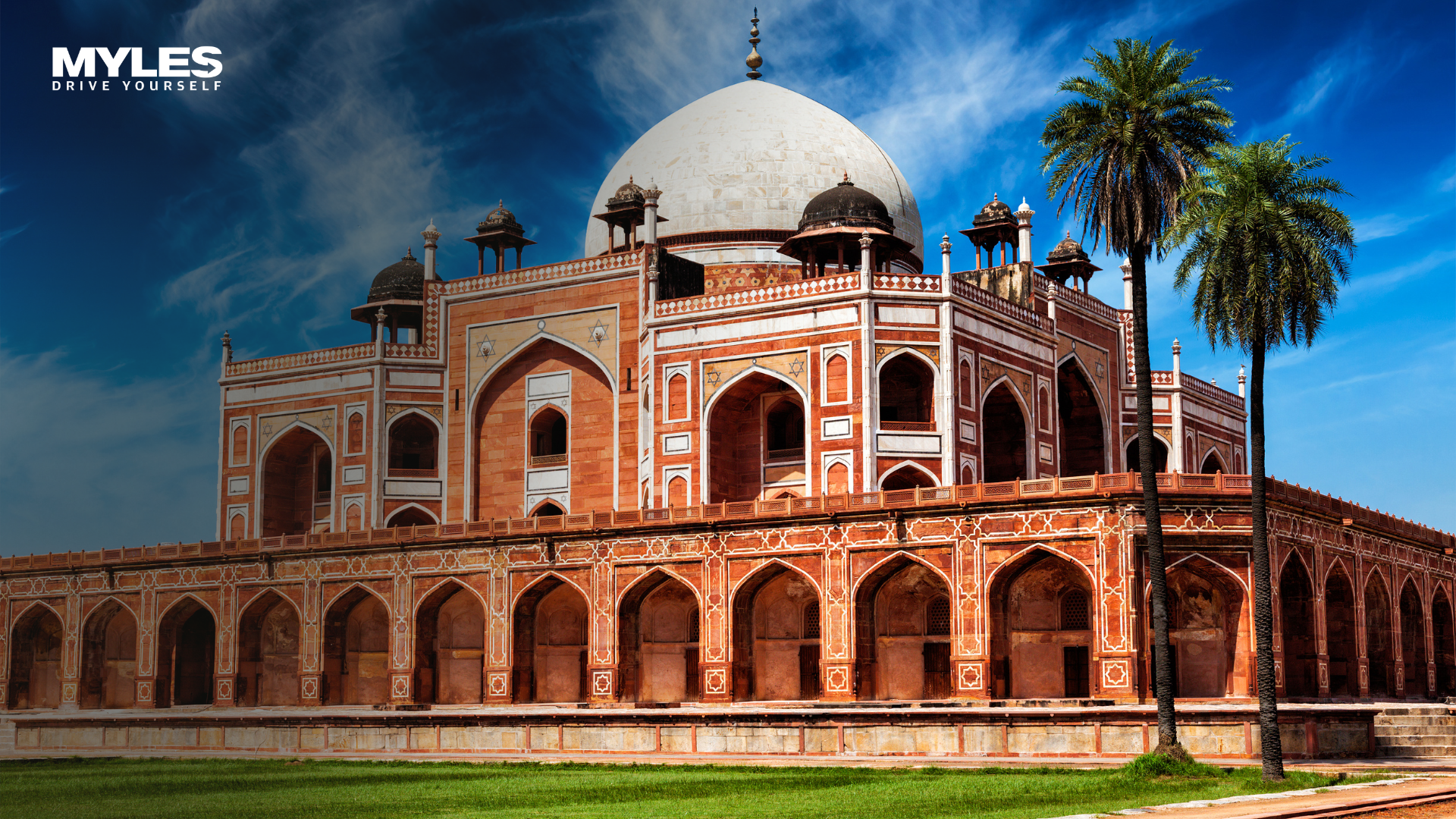 Dil Waalo Ki Dilli is also a city which never sleeps. Every nook and corner of this historically modern city has unexplored streets and numerous hangout joints.
This city is full of night-owls and midnight strollers, scholars and explorers! From food-joints to clubs to midnight walks, we bring you some of the places in the city to explore after late hours of the night.
The Blue Bar
Located in the Taj Palace Hotel, Blue Bar is one of the best clubs in the city. Amazing services along with perfectly romantic ambience, this place is worth visiting for all the party-lovers.
Timings: 5 pm till 12:45 pm
Cost: 4000 Rs. for 2 people
Nearest Metro Station: Durgabai Deshmukh
Sukhdev Dhaba, Murthal
If you are a Parantha lover, you might have heard about these lip-smacking Parathas with Cutting Chai. Other than that, the place has every possible dish any elite restaurant could offer. Ever driving through Murthal, stop by and have a delicious experience
Timings: 10 am till 11 pm
Cost: 300 Rs for 2 people
Nearest Metro Station: Adarsh Nagar
Pandara Road
One of the late-night open areas of Delhi, Pandara Road is a hub for midnight foodies. Veg Gulatis is one of the fine-dining vegetarian paradises, where you can treat yourself with an elegant dinner!!
Timings: 12 am till 12 pm
Cost: 2500 Rs for 2 people
Nearest Metro Station: Khan Market
Hauz Khas Village
It is a hep locality which sees a lot of youngsters who come to party till wee hours. There are many hangout spots like Hauz Khas Social, The Living Room, and Imperfector Shor which are open till 1 AM.
Timings: 10:30 am till 1:00 pm
Cost: 1600 Rs for 2 people
Nearest Metro Station: Hauz Khas
Dilli BC
It is a chain of restaurants that serves scrumptious Mughlai and North Indian food. The locations include Malviya Nagar, Kalkaji, Dwarka, Vasant Vihar, Gurgaon, and Noida. Most of their outlets are open till 4 AM although you might want to check before heading there.
Timings: 12 pm till 4 pm
Cost: 1200 Rs for 2 people
Nearest Metro Station: Lajpat Nagar
London Street Cafe
It is a London-themed restaurant in Shahdara which serves till 3 AM. To keep up with the theme they serve in antique plates and bowls and the place is spruced up with London vibes all over including vintage telephone booths majorly found in London.
Timings: 12 pm to 12 am
Cost: 1100 Rs for 2 people
Nearest Metro Station: Karkardooma
Sis Ganj Gurudwara
Another gurdwara makes it to the list of night-time visits! Built to commemorate the sacrifice of Guru Teg Bahadur, the domes of the structure are covered with lights that illuminate aesthetically. It is located in Chandni Chowk.
Timings: 12 pm till 11:30 pm
Cost: 0
Nearest Metro Station: Chandni Chowk
Qila Lal Kot
Infamous for a white saree clad woman hanging upside down over trees, Sanjay Van is the host for this night safari. Contrary to what this hints, it is not a ghost walk. It is about sharing stories of Mehrauli, tracing unique tales of Delhi, and how change has co-existed with present times. Cicadas, jungle babblers and the sounds of insects set the tone for this walk
Timings: 9 am till 6 pm
Cost: 120 Rs for 2 people
Nearest Metro Station: Sanjay Van
Conclusion
So, we have covered every possible option you could think of when you don't feel like working in the office. Hopefully, you must have figured your route for the next night out-of-doors. Book a Car Delhi with Myles for your next night out.  
Tags:
Book a Car
,
Car Rental
,
car rental delhi
,
Delhi Travel
,
Self Drive car