Best Places to Visit in India during Christmas
---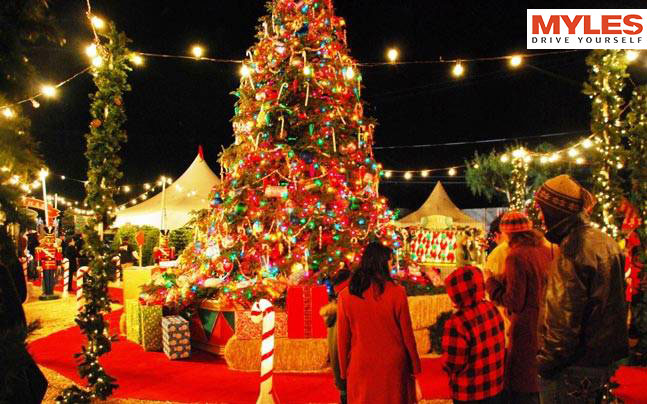 Christmas is that time of the year when we love to be together and cherish the joyful delights of unhindered celebrations. It's the time to be dazzled by the sparkling sights of festive ambience and tinkling decorations all around. But, do you know where all you can go in India during Christmas? Well, you will be surprised to see some of the names in the list of best places to visit in India during Christmas.
Goa
Goa can easily be termed as the party capital of India. Vibrant and vivid, joyful and young, Goa is a destination that beats all when it comes to festivities and celebrations. Blessed with a vast Catholic population, Goa celebrates the festival of Christmas like no other and it is the destination to be at if your plans are for Christmas holiday travels.
Pondicherry
The mesmerizing decorations of the churches and awe-inspiring festivities at the cathedrals make Pondicherry a must visit destination to celebrate Christmas at its best. The blissful weather and serene beaches form a perfect backdrop for unhindered festivities on the day. You can book a car to Pondicherry and explore the grandeur of Christmas activities on full swing.
Kolkata
There are plentiful occasions all year long when one can realize what led to Kolkata being renowned as the 'City of joy'. The charming city is host to grand Christmas celebrations and people from all walks of life love to dance to the joyful tunes that make this place magical and vibrant during the festivities. Kolkata embraces Christmas celebrations heartily and with utmost fervor. Kolkata has an undying affection to Christmas celebrations and the preparations leading to the festivities justify the party nature of people in this true city of liveliness and joy!
Jammu and Kashmir
The fluffy flakes of snow falling from the majestic skies paired with warm fervor of festivities make Kashmir the perfect host of dream Christmas celebrations. Bid a melodious farewell to 2018 and welcome the New Year while being among the heavenly landscapes that make Kashmir a desirable destination for millions.
Kerala
The vividly decorated churches housed among the splendors of magical backwaters sure tempt you for celebrating Christmas this year in "God's own country", Kerala. For those who seek a mesmerizing destination to be at this December 25, Kerala with its host of parties and merry gatherings should be an obvious choice. Kerala lets you dig deep into the splendid charms of its opulent beauty graced with the vibrant festivities on Christmas Eve.
With MYLES as your partner in travel offering car hire in India, you are destined to engage yourself in a myriad of captivating opportunities to celebrate Christmas this year. Avail the budget car rental service and engage in the festive spirit of Christmas at these captivating destinations.
To Book a Self-Drive Car, visit: http://bit.ly/312QrFw
Tags:
car trip
,
christmas
,
travel plan
,
travel tips