10 Essential Apps That Will Make Your Road Trip Planning in India Easier
---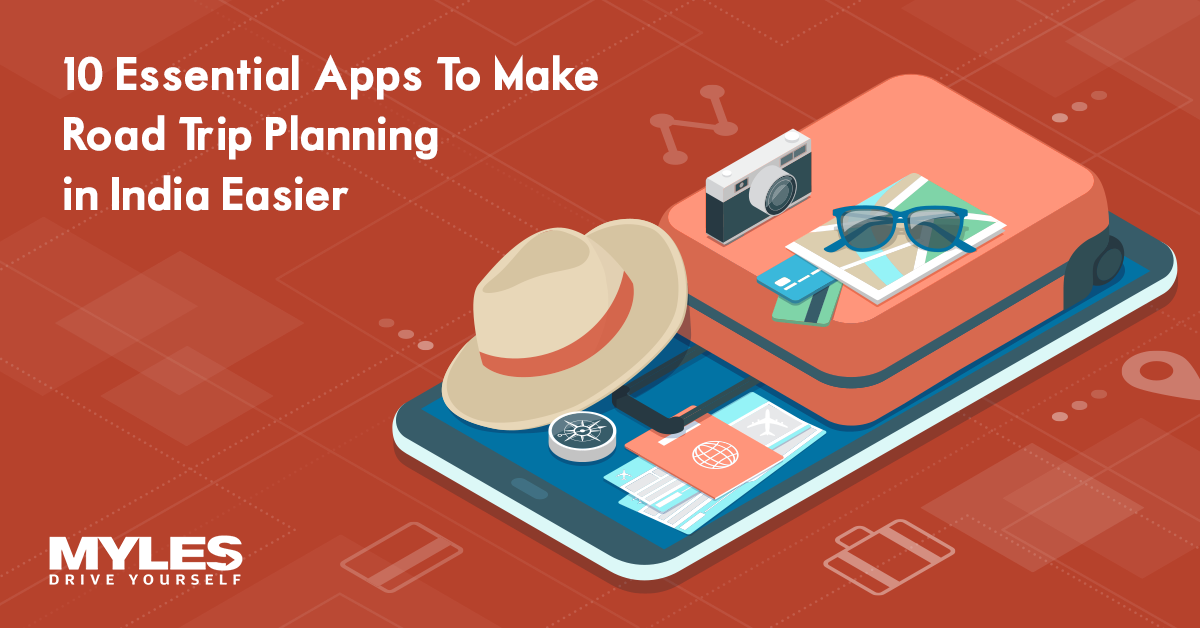 "Planning is everything, the plan is nothing." – Dwight Eisenhower
Mobile apps today have made our lives easier. From trip planners and itinerary creators to marketplaces for hotels and flights, there's no dearth of apps designed to help the millennial travelers. Here are 10 essential apps that will make your road trip planning easier and make sure that your trip goes off without a hitch.
Google Trips (Android, iOS – Free)
Google Trips is an amazing app that turns your smartphone into a travel assistant. It makes exploring the world easier by organizing your important information in one place and making it available offline. With this app, you will get activity suggestions based on what is nearby along with customizable day plans. Main features – automatic trip organization, bundled reservations, day plans, nearby attractions, things to do and offline access.
 —
Myles: Self Drive Car Rental (Android, iOS – Free)
Myles offers self-drive cars on rent at affordable prices. The fleet is spread over 21 cities at more than 250 pick-up locations. You can choose from 38 car models and hire a car by the hour, day, week or month.
 —
Airbnb (Android, iOS – Free)
A marketplace app that lets users search for accommodations across the world.  Right from a small apartment for a week to a villa for a month can be booked through this app.
 —
TripAdvisor (Android, iOS – Free)
This is a crowd-sourced guide to tourist attractions, hotels, and restaurants. With this app, you can browse through thousands of reviews, images, and videos featuring different establishments worldwide. You can also post your own reviews, images, and entries for the places you have visited. The app even has some handy 'Near Me Now' features to notify you of nearby places that you can visit.
 —
Google Maps (Android, iOS – Free)
Does this app need any introduction? Guess not. Because most of us already use it to maneuver around the city and the places we visit.
 —
Trip Planner: India's Best Travel App by Holidify (Android – Free)
Trip Planner by Holidify is another travel app that is ideal to plan trips in India. This app lets you decide where to travel, plan to explore places for your next trip, check travel guides, plan weekend trips and check out travelogues and blogs on all tourist places in India.
 —
AccuWeather (Android, iOS: Free)
One big reason trips fail is because of the unexpected weather changes. Thus, a  good weather app is a must-have app for all travelers and tourists. It features 15 days forecast summaries and 5 day forecasts. Along with it there is another feature in the app that zeroes in on your GPS location and provides minute-by-minute precipitation forecasts.
 —
PackPoint (Android, iOS: Free)
This app helps users by providing a checklist of travel essentials that they need to take along, depending on the nature of their trip. By collecting your destination, length of stay and purpose of travel, PackPoint creates a customized packing and luggage checklist.
 —
Oyo Rooms
With OYO Rooms app you can find best hotels at great prices, discover properties that fit your needs, budget and easily book your stays. You can find nearby hotels, search for hotel room deals & make last minute bookings while you travel for business or leisure.
 —
Google Translate
Google Translate can convert words, phrases, and sentences from one language to another. You simply need to pick an input and output language and then either type or say your message. The app then translates it to the desired language. In addition, visual translation features are also available, allowing you to translate text and signage with the aid of your camera.
To Book a Self-Drive Car, visit: http://bit.ly/312QrFw
Tags:
AccuWeather
,
Airbnb
,
android apps
,
Google Maps
,
Google Translate
,
Google Trips
,
India's Best Travel App by Holidify
,
Myles - Self Drive Car Rental
,
Oyo Rooms
,
PackPoint
,
travel apps
,
travel apps 2019
,
Trip Planner
,
TripAdvisor