Festive Season: 7 Reasons to Book a Self-Drive Car in Festive Season 2021
---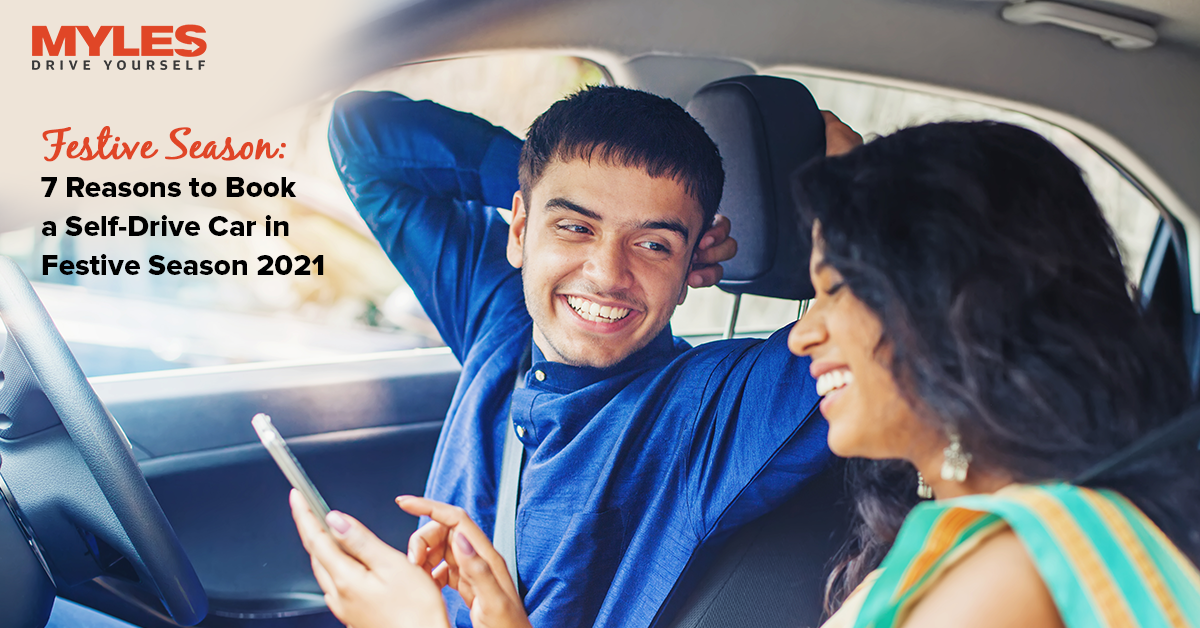 "The greatness of a culture can be found in its festivals."- Siddharth Katragadda.
It's that time of the year again, and we all are already in celebratory mode. The festive season is here, and so is the long leaves to plans a getaway, visit relatives, and much more. Festivity allows you to take a break and revive your body, mind, and soul for a new beginning, new season, and new year.
Fulfil your celebration plan with a reliable partner. Book a Myles self-drive car and experience a seamless driving experience during the festive season.
Be festive ready and know reasons to book a self-drive car in festive season 2021.
#1 Festivity and Shopping Go Together
The festive season is incomplete without shopping and food. Having a self-drive plays an important role during your shopping spree. Drive anytime with ease to markets and malls and shop your heart out. A self-drive car is your reliable shopping partner, and also it carries your bags with safety.
#2 Planning to Visit Family
The festive season means holidays, which forms a perfect opportunity to visit distant family, relatives and friends. Celebrate festivals with your loved ones and have a blissful time. It is the ideal reason to book a self-drive car rental during festivities. Myles offers budgeted self-drive car rental at discounted rates and amazing offers.
#3 Escape the Noise and Crowd
The festive season is all about shopping, the crowd, celebration, lights, and a lot of fun. But few don't like the noise, pollution, and the hustle and bustle of the festivities. Book a self-drive car and go on a soulful escapade this festive holiday season. Hit the road and travel to your dream destination to relax and revive.
#4 To Avoid Public Transport
During the festive season, everyone is out to shop, celebrate, and enjoy. At times we can't avoid going out, but we always maintain social distancing as much as we can. Avoid overcrowded public vehicles and cabs by opting for car rental. Get a self-drive car for your daily commute, shopping, travel, etc., during the festive season to avoid the hassle of public transportation.
#5 Flexibility of Travelling
Festivals mean travelling outstation to meet family and relatives. Travelling by bus, train, or air means crowd, fixed schedule and timings, specific destination, and no cancellation and modification. Travelling through your car means flexibility and a safe trip to your destination. A self-drive car gives you great flexibility to alter your plans and allow you to have a fun-filled journey.
#6 It's Budget Friendly
A personal vehicle is affordable and convenient in comparison to cabs and other modes of public transportation. If you don't own a car, subscribe or rent it out for an easy commute and travel during this festive season. Self-drive vehicles in India are available nationwide and are budget-friendly. Go to the Myles app or website and book yours today.
#7 For over-worked Chauffeurs
The festive season is not just about celebrating and enjoying. It is also about giving and doing good deeds. Drive yourself and give a break to overworked taxi drivers. During the festive season, regular taxi drivers and bus drivers tend to do extra shifts due to overwork or make more money. They get less rest that increases the chances of accidents. Book a self-drive car and be better off driving yourself.
Having a car rental by your side during the festive season proves to be very helpful. Get yours from Myles and celebrate every moment with full comfort, ease, and in a cost-efficient way.
To book your self-drive car for an upcoming road trip or to explore your city, visit https://www.mylescars.com/.
Tags:
Budget self-drive
,
delhi self drive car rental
,
Festive Ready
,
Festive Season
,
festive vibe
,
Myles Cars
,
Myles Self Drive
,
Myles Zero
,
self drive car during festivals
,
self-drive car rental in Pune
,
Travel India