Happy Pujo 2021: Pandals to visit during Navratri/Durga Puja in Delhi
---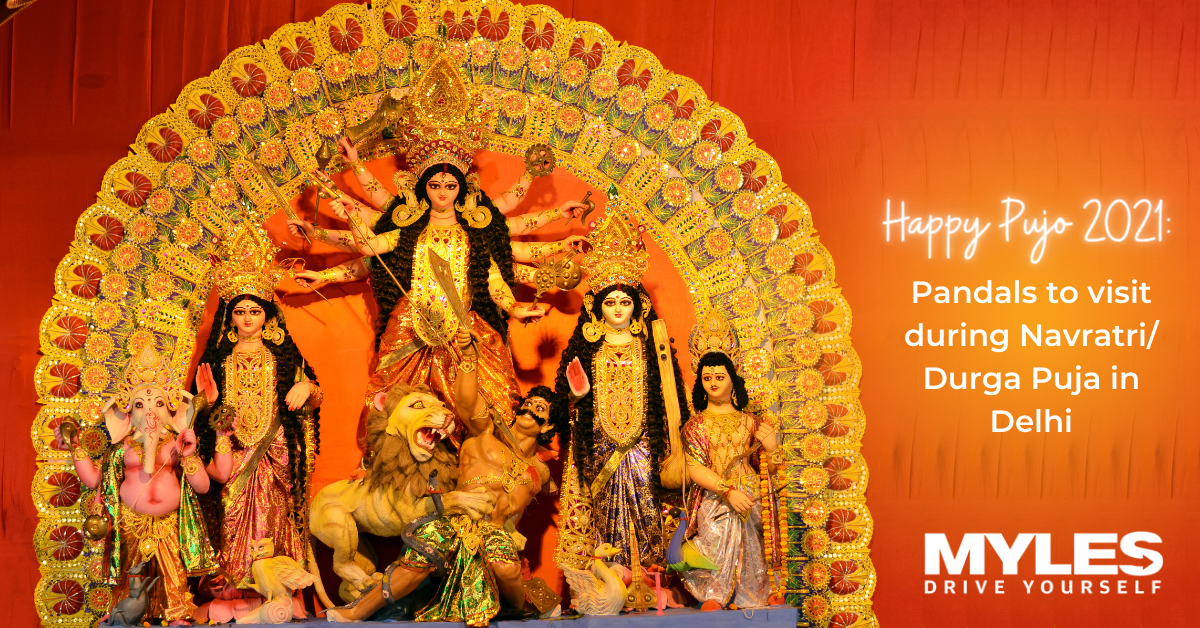 A nine-day Hindu festival, Navarati, to honour the nine forms of Goddess Durga, has been celebrated across the nation in many different ways. Navratri, Nav- nine, and ratri-night is celebrated for nine consecutive nights during the autumn season. The festivity varies across the regions but celebrates the victory of good over evil.
People in the Northern region fast during these nine days; in Gujrat, it is celebrated uniquely by playing Garba and Dandiya. It is known as Bathukamma in Andhra Pradesh, and Bengalis celebrate it as Durga Puja.
The-famous-Pujo
Durga Puja is a nine-day festivity where people pray, feast, and on the tenth day, the married women play sindoor, followed by Visarjan. The festival originates from Bengal, and today, it is widely celebrated across the country amid the Bengali community and by others. After West Bengal, Delhi is home to a large chunk of the Bengali population, and the gusto of Durga Puja is similar to what we expect in Kolkata.
Durga Puja means feat, Dhunuchi naach, and pandal hopping.
Book a self-drive car with Myles and visit some of the famous Puja Pandals this festive season.
Note: These Pandals are hosting limited public to ensure COVID safety and other protocols. It is advised to confirm the timings and date of Durga Puja open for the general public.
Kali Bari, Chittranjan Park
One of the iconic religious places in the city, Kali Bari in CR Park, is a temple complex and Bengali culture community centre. The place is known for its most beautiful pandals and Durga Puja celebration. Kali Bari is the place to kickstart your pandal hopping in Delhi. Book a self-drive car rental service and drive to Delhi's popular spots for the Durga Puja celebration. Here you see a variety of unique and divine pandas, food stalls, fairs, people in gorgeous outfits, and have a mini-Kolkata vibe.
Matri Mandir, Safdurjung Enclave
Another hot spot for the Durga Puja celebration in Delhi is Matri Mandir in Safdurjung Enclave. The place is one of the favourite spots for pandal hoppers and is known as the ancient style puja pandal. The serene and calming ambience of this place makes you feel divinity. The Samiti ensure to procure sustainability with its eco-friendly idols of Goddess Durga. Self-drive cars in Delhi during the festive season is the idol choice.
Durga Puja Samiti, Kashmere Gate
Kashmiri Gate is the oldest, started in 1910, and a popular spot for Durga Puja and Navratri celebration. Get mesmerised by the grandeur as you visit spectacular pandas here. Delhi Durga Samiti hosts beautiful pandas with divine idols of the Goddess. This year, the pandal has been kept small, fearing the pandemic, and the management is following every COVID protocol to offer utmost safety.
Minto Road, Rajiv Chowk
Minto Road is one of the best places to visit during your Durga Puja Pandal hopping and offer Pushpanjali to the Goddess. Witness the mesmerising dhunuchi naach/dance, and savour mouth-watering food and Bengali dishes at the food stall. Pandals are allowing 50 people at a time who can enjoy the festive season while keeping each other safe.
Durgotsav, Greater Kailash II
Durgotsav in GK II is known for its stunning décor, grandeur meals made of organic products, eco-friendly and mesmerising idols, and fun. This stunning location is near Kali Bari of Chittranjan Park and offers easy parking. If you are looking for a fancy place to visit this Pujo season without compromising your diet, then it is your spot.
Though the committee and government keep festive celebration low-key this year, the pandals, Garba nights, and Dusshera arrangements bring a ray of hope amidst the gloom and doom of the ongoing pandemic.
Happy Durga Puja!
Happy Pandal Hopping!
Do it with Myles self-drive cars! Avail exciting offers this festive season on both Myles self-drive and Myles Zero car subscriptions.
To book your self-drive car for an upcoming road trip or to explore your city, visit https://www.mylescars.com/.
To know more, write: help@mylescars.com or call: +91 – 888 222 2222.
Tags:
car rental in india
,
delhi self drive car rental
,
Durga Puja
,
Dusshera
,
Festive Ready
,
Festive Season
,
Happy Durga Puja
,
Holiday Season
,
long weekend getaways 2021
,
Myles Cars
,
Myles Self Drive
,
Navratri
,
Pujo
,
self drive car rental in delhi