Get Weekend Ready: 9 Road Trips Ideas for Dussehra Long Weekend Getaway
---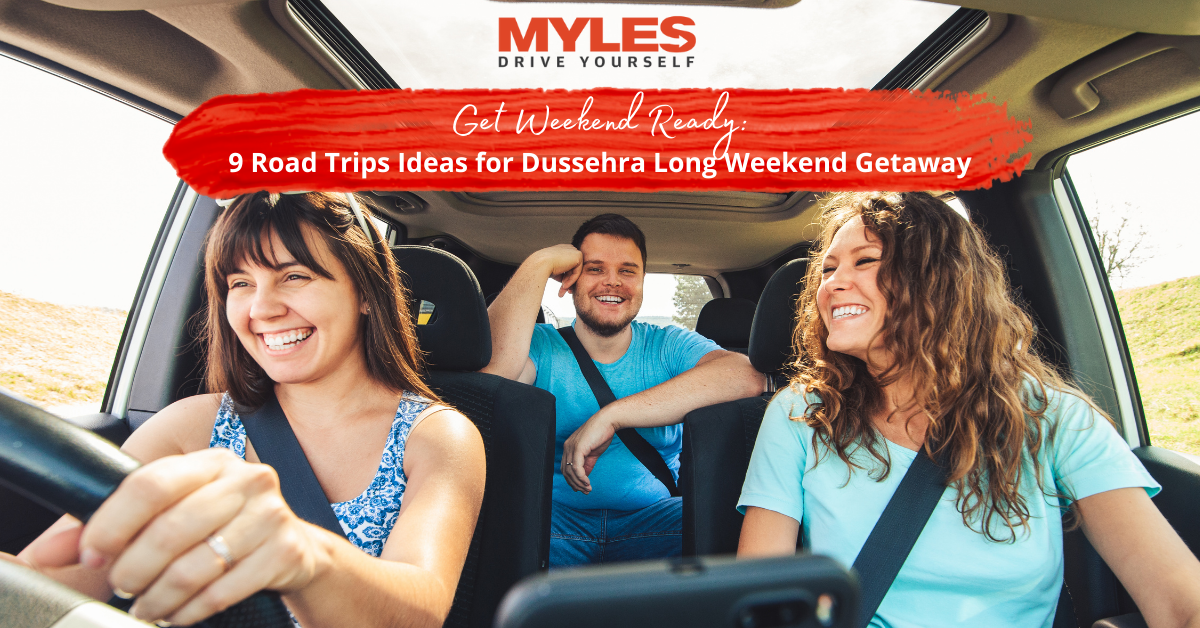 With the onset of the festive season in India comes the opportunity for long weekend getaways. While everyone is soaked in the festive fervour, there are few who want to stay away from the bustle of the festivities and want to relax instead. It is always a good idea to go for a rejuvenating break whenever you get time.
This festive season, celebrate while heading towards a calming hill station, relax by the beach, or explore the hidden historical gems. Book a self-drive car and commence a rewarding vacation to your favourite spot.
Here are nine road trips ideas for Dusshera Long Weekend Getaway.
#1 Travel to Offbeat Places
October offers pleasant and calming weather, which means it's time to explore the roads less travelled. It is always better to choose a destination that seems less touristic, especially during festive holidays, to avoid the crowd. Book a self-drive car rental in Delhi, travel to Pangot and have a peaceful Dussehra vacation in a tranquil Himalayan setting. Hire a budget car rental in Bangalore to have a rewarding road trip to Galibore- a stunning forested land nestled on the banks of Cauvery.
#2 Explore the Historical Gems
Historical places always intrigued travellers. India has filled with thousand-year-old monuments that boast a vibrant, rich, and colourful heritage. This Dussehra goes for an exotic road trip to explore Indian history. Hire a car rental in Jaipur, travel to Mandawa in Rajasthan, and witness stunning forts and Havelis. You can also plan a road trip to Bilaspur to witness the incredible ruins of Devrani and Jethani Temples.
#3 Relaxing Staycations? Yes Please!
One of the best ideas for the Dussehra getaway is a staycation at an exotic resort near your city. Here you try these places for your rejuvenating getaway. From Delhi, you can go to Neemrana Fort Palace and feel like royalty. Book a plush resort in Alibaug and drive there from Mumbai. Sula Vineyard Stay in Nasik from Pune is another ideal location for your staycation during the Dussehra break. Lose yourself in tranquillity at this fascinating place on the Eastern belt. Cherrapunjee offers the best homestay for a relaxing staycation.
#4 Witness Indian Festivals with Road Trips
Autumn is the season of warmth, happiness, and celebration. It is the time of festivals in India, paving a way to explore and take a break. Let's celebrate festivals on wheels. Get on the road with a self-drive car and go the trips to witness the Dussehra festival across different cultures.
Drive in a rental car across Gujrat witness Navratri festivity accompanied with dandiya and Garba nights.
Visit Kullu and other North Indian states to enjoy the festival of Dussehra and Ravan Dahan.
Road Trip to Delhi or Kolkata in October to witness the vibrant festival of Durga Puja.
Travel from Bangalore to Mysore to witness royal rally and grandeur Dusshera celebration.
From Jaipur, drive to Delhi and enjoy Indian Art Festival and attend exhibitions by your favourite artists.
Book a self-drive car rental to Samsara Himalaya Yoga Festival.
Witness rich heritage of Indian tradition at Rajasthan International Folk Festival and Maand Festival in Jodhpur.
Hire a budgeted car rental and travel to Arunachal Pradesh for a relaxing getaway and Tawang festival.
#5 By the Beach with Bae
Beach vacation is something we all need to relax and rejuvenate. This Dussehra long weekend, book a self-drive car and travel to these serene beach locations. Goa is conveniently close to Pune and Mumbai and is an ideal place to visit during October. Another fantastic destination is Gokarna, known for its scenic beaches, delicious food, and lazy afternoon at shacks. If you're in Chennai, hire a self-drive car rental and travel to the white town. Pondicherry is a perfect place for a long weekend getaway.
#6 De-stress with a Vacation to Hills
If you're not inclined towards beaches, the beautiful hill station in India offers a soulful vacation. India is the land of the most prominent mountain ranges globally and attracts travellers across the globe every year to spend their time amidst hills. During your Dussehra long weekend, plan a reviving vacation to these stunning destinations.
From Mumbai or Pune, travel to Lonavla, Khandala, or Mahabaleshwar to enjoy the romantic setting, picturesque views, and breaming lakes.
In the Southern region, hill station like Ooty and Kodaikanal is the perfect hill town.
Rishikesh, Dharmshala, Bir, and Kanatal are the best long weekend destinations from Delhi.
#7 A Day Trip with your Fam
We know it's Dussehra long weekend, but at times you don't get time to plan a vacation with your family. Take a day out and explore the city or places around to a good time. Take your family out for a picnic or to the farm at the outskirts to indulge in fun-filled activities like camel rides, pottery, spending time with farm animals, and other farm activities. Go for a digital detox and spend time with your loved ones.
#8 Into the Wilderness to National Parks
Get vacation-ready and travel into the wilderness. Spending your weekend in the forest is one of the best road trips ideas to try this long weekend. Book a self-drive car and begin your journey to one of the best National Parks in India that is perfect for visiting in October.
Have a great road trip to Bandhavgarh National Park to enjoy a wildlife safari amidst comfortable and pleasant weather. Hire a budgeted car rental in Jaipur and head to Ranthambore National Park. Another one is Corbett National Park is one of the famous and most visited wildlife sanctuaries in India and can be easily visited from Delhi. Book a self-drive in Ahmedabad and travel to Marina National Park- an archipelago of 42 islands. The other national parks you can go for road tripping are Bhavnagar (Gujrat), Hazaribagh National Park (Jharkhand), Jaldapara National Park (West Bengal), Nokrek National Park (Meghalaya), and much more.
#9 Taste Adventure with Thrilling Road Trips
This festive season, take a break and satiate your adrenaline rush by travelling to these adventurous places via thrilling road trips. India is a place that is known for an adventure getaway. This Dussehra long weekend, travel to any of these stunning places.
Book a self-drive car rental in Delhi to Manali to Leh for the most adventurous road trip.
Satisfy the adrenaline junkie in you by travelling to Rishikesh for River Rafting.
Travel to Jaisalmer by hiring a budgeted car rental in Jaipur for Dune Bashing.
Go to Bir Billing and enjoy paragliding from the highest top.
This festive season, celebrate by satiating your wanderlust and have a great road-tripping experience across the country. Book a Myles self-drive car from the major cities and go for a relaxing getaway from the hustle and bustle of city life.
Happy Dussehra!
Happy Weekend!
To book your self-drive car for an upcoming road trip or to explore your city, visit https://www.mylescars.com/
Tags:
book self drive cars in mumbai
,
budget car rental
,
delhi self drive car rental
,
Dussehra Long Weekend
,
Festive Ready
,
Festive Season
,
Getaway
,
Happy Dussehra
,
long weekend
,
myles self drive car rentals
,
Road Trips
,
Travel Diaries
,
Travel India
,
wanderlust