#FestiveReady: Tips to prepare your vehicle for the festive season
---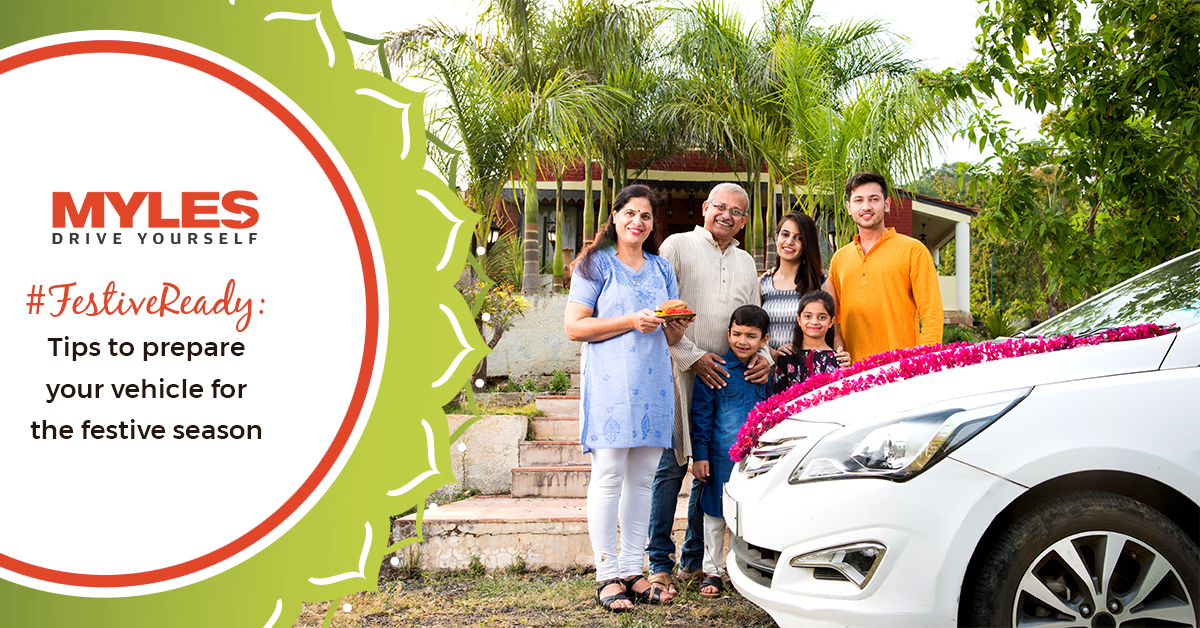 That time of the year is here again, when we all are decked up to celebrate, eat, shop, and make memories with our loved ones. The festive season is around the corner, and we all have already started the preparation.
To be festive ready, we shop, buy gifts, plan holidays, prepare to meet friends, and family, clean house, and decorate it. But have you ever thought to prepare your vehicle for the festive season? Your vehicle plays a major role to have a fun-filled festival celebration. From shopping to meeting friends to going on vacation, you need your car at every point.
Get your car festive ready with these car care tips.
#Prepare: Vehicle Maintenance
It is essential to always keep up with your vehicle's service routine. But be double sure before the festival or any other big celebration. It is necessary to take your car for maintenance and fix any issue affecting the proper functioning of the vehicle. Vehicle Maintenance is the thorough check-up of the car that includes servicing of tyres, fluid level, brake pads, use of water repellent, light, an inspection of windshield wipers, electrical components, car engine oil, and more.
#Look: Body Coating
Imagine you are all dressed up for the festivity, but your Myles Subscribe Car is not complimenting your look. Keep your vehicle looking like a new one by using a body coating or cover. Buy a sleek cover made of synthetic or cloth material that stays longer. Body cover helps to protect your car from scratches, paint fade, dust particles, and watermarks that affect your vehicle's festive look.  
#Sustenance: Fuel- up the Tank
Festivals come with a lot of travelling, rush, and limitless celebration. To have uninterrupted fun, keep your vehicle's fuel tank full to avoid fuel pump failure. The full tank prevents condensation, settles the dust and rust particles at the bottom, and offers stress-free rides. Your engine also needs care. So, it is essential to fill up your vehicle with engine coolant as it helps the engine maintain its temperature.
#BeReady: Keep Emergency Kit
Festive season comes with holidays and allows you to travel for vacation and to home town to celebrate. It is always advised to be well prepared before any trip and be festive ready. Pack an emergency kit for your vehicle, both for your car and personal use. The emergency package includes a tow rope, flashlight, water, battery charger, first aid box, spare wheel, food, and essential tools.   
#COVIDSafe: Health Comes First
We are now used to live in the new normal, and it is important to stay safe and risk-free amidst a pandemic. Be COVID safe and enjoy the festive season the most by following preventive measures. It means you have to bring some additional safety and hygiene products with you while you travel during the festive season. Make sure that you always wear your mask, keep extra in your car, use sanitiser, rubber gloves, and maintain social distancing.
Be festive ready and celebrate to the fullest by following COVID measures, and keep your vehicle prepared for upcoming celebrations. Book a Myles self-drive car or Myles Zero Car Subscription this festive season and make all your commute hassle-free.
Tags:
budget car rental
,
Car Care Tips
,
Car Care Tips in Festive Season
,
Car Subscription
,
diwali
,
dussehra
,
festivals
,
Festive Ready
,
India
,
long weekend
,
Myles Cars
,
Myles Zero
,
self drive cars
,
Weekend Travel