Travel India: 11 Best Places to Visit in India in the month of October
---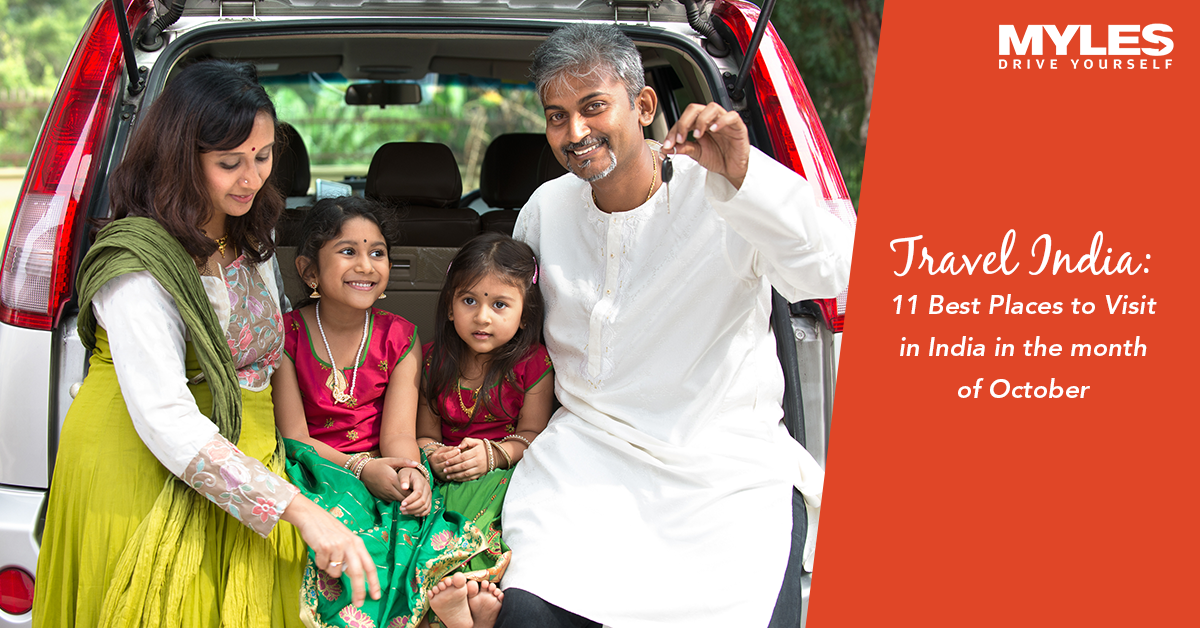 "October is the opal month of the year. It is the month of glory, of ripeness. It is the picture-month."- Herry Ward Beecher
October kicks off many important things, from autumn to the festive season to holidays; the month sees it all. The official tourism season in India also starts in October as the weather become pleasant and calm. Start the month of celebration with a break you deserve. Head to your favourite destination by planning an enthralling road trip in your favourite Myles self-drive car.
Here is the list of stunning destinations that offers the best in October.
Bir Billing, Himachal Pradesh
A place with a spectacular snowy hilltop and plunging river valley, Bir Billing is a quaint town tucked in the lap of the Himalayas. Bir Billing in Himachal Pradesh is one of the top spots for paragliding in the world. The town is also known for its Tibetan community settlement and offer adventure lovers enthralling treks. Book a self-drive car rental in Delhi and travel to Manali to Bill Billing.
Places to Explore: Chokling Monastery, Gunehar Waterfall, Bir Market, Palpung Sherabling Monastery, Baijnath Temple, Tea Factory, Tashi Jong Monastery, etc.
Things to Do: Paragliding, nature walk, trekking, hang gliding, meditation, yoga retreat, camping, travel in the toy train, mountain biking, and more.
What to Eat: Try authentic Himachali and Tibetan delicacies like momos, ginger lemon honey tea, butter tea, Dhaam, Siddu, Aktori, Mittha, Thupka, etc.
Jim Corbett, Uttarakhand
One of Uttarakhand's most fascinating and visited places, Jim Corbett, is among the oldest sanctuaries enclosed with serenity. The place is home to the highest number of Royal Bengal Tigers, other wild animals, and beautiful resorts. This place is ideal for a weekend getaway during October. Hire a budget car rental in Delhi and travel into the wilderness.
Places to Explore: Corbett Waterfall, Corbett Museum, Garjia Temple, Durga Devi Zone, Sitabani Temple, Hanuman Dham, and Kosi River.
Things to Do: Jungle safari, river rafting, jeep safari, camping, elephant safari, bird watching, trekking, mountain biking, rappelling, rock climbing, and yoga mediation.
What to Eat: Enjoy local cuisine that offer delicacies like Bhaang ki Khatai, kappa, sisunak saag, aloo ke gutke, rus, and much more.
Agra, Uttar Pradesh
Agra is one of the fondest destinations among tourists from abroad. It is one of the best places to visit in October and is known for its charm. Get awestruck by the incredible beauty of magnificent historical monuments such as the Taj Mahal, Fatehpur Sikri, Buland Darwaza and more. The place is also known for its petha sweet, handicrafts, and luxe hotels. Book a self-drive car in Delhi and travel to Agra for a fantastic weekend escapade.
Places to Explore: Taj Mahal, Agra Fort, Fatehpur Sikri, Jama Masjid, Akbar's Tomb, Itimad-ud-daulah's Tomb, Jahangir Mahal, and much more.
Things to Do: Shop at the local bazaar for handicrafts, leather products & snacks, city tour, relaxation retreat, boating, sunset view, theatre, and light and sound show at Agra Fort.
What to Eat: Enjoy local delicacies like petha (white pumpkin sweet), paratha, Bhalla, jalebi, shawarma, tandoori chicken, and more.
Nalanda, Bihar
Nalanda exhibits the glorious past, cultural heritage, and great academic lineage of our country. The place is popular among history buffs and is home to the world's oldest residential university. Nalanda is a land dotted with monasteries, learning centres, temples, and dormitories.
Places to Explore: Viswa Shanti Stupa Rajgir, Mahavirswami Jain Water Temple, Swarn Bhandar, Ghora Katora Lake, Pandu Pokhar, Nalanda University Ruins, Xuanzang Memorial, Stupa of Sariputra, Black Buddha Temple, etc., to name a few.
Things to Do: Hiking, walking tour, city tour from Patna, enjoy Bhimbandh Hot Spring, and more.
What to Eat: Try local food of Nalanda like thekua, dal bhat, kachori, bhooja, ghughni, choora, dahi choora, jhaal moodhi, chandshahi, palvidar, Gandhi topa, peda, kalakand, rasogulla, chamcham, sattu, and much more.
Jaisalmer, Rajasthan
A massive sandcastle from the sandy plains looks magnificent; Jaisalmer Fort is a breathtaking sight to behold and is fondly called the Golden City. Book your budget self-drive car rental in Jaipur and visit this beautiful place this October. The place is known for royal palaces, golden sand, desert safari, and mouth-watering food.
Places to Explore: Jaisalmer Fort, Kuldhara Village, Jain Temple, Desert National Park, Gadisar Lake, Sam Sand Dunes, Badal Palace, Patwon ki Haveli, Bada Bagh, Tanot Mata Temple, Windmill Park, Indo-Pak Border, Amar Sagar Lake, etc., to name a few.
Things to Do: Desert safari, camel ride, camping, enjoy the desert festival, dune bashing, quad biking, parasailing, and more.
What to Eat: Enjoy authentic Rajasthani delicacies in Jaisalmer such as Pyaz ki kachori, gate ki sabzi, makhania lassi, daal baati choorma, ker sagri, bhang lassi, mirchi bhajia, chane Jaisalmer ke, Rajasthani laal maas, and kesariya thandai.
Pachmarhi, Madhya Pradesh
Pachmarhi is fondly called – Satpura ki Rani and is one of the scenic hill towns in the country. The place has its places in the Hindu Mythology- Mahabharat. Panchmarhi is known for its wildlife and waterfalls. This festive season takes a trip to visit this beautiful place to relax, rejuvenate, and revive.
Places to Explore: Bee Falls, Jata Shankar Caves, Pandava Caves, Dhoopgarh, Handi Khoh, Mahadeo Hill, Duchess Falls, Satpura National Park, Forsyth or Priyadarshini Fort, Apsara Vihar, Reechgarh, Rajendragiri Sunset Point, Rajat Prapat Waterfall, and more.
Things to Do: Horse riding, caving, land parasailing, ziplining, waterfall trekking, and hiking.
What to Eat: Try dal bafia, bhutte ki kees, and Gujrati and Maharashtrian cuisine.
Ganpatipule, Maharashtra
Ganapatipule is one of the few beach towns in Maharashtra with stunning beaches, ornate temples, white-sand shores, and an old lighthouse. This quaint town is less touristic and makes it ideal to have a relaxing getaway amidst pandemic. If you're bored of crowded places, hire a self-drive car rental in Mumbai and head to Ganpatipule.
Places to Explore: Jaigad Fort, Swayambhu Ganpati Temple, Ganapatipule Beach, Jaigad Lighthouse, Malgund, Pawas, Velneshwar, etc.
Things to Do: Water activities, enjoy sunset view, yoga at the beach, and more.
What to Eat: Enjoy local food like kokam curry, ambapoli, phanspoli, sabudana khichdi, fish curry, and mangoes.
Mysore, Karnataka
Mysore is a well-known Yoga Retreat destination and known for Asthanga Yoga practice. October is an ideal month to enjoy the calm weather and enchanting vibe of the city. Mysore is embodied with opulent palaces that reflect the rich heritage, stunning gardens and religious sites. Take that much deserving break and have a relaxing vacation.
Places to Explore: Mysore Palace, Brindavan Gardens, Mysore Railway Museum, Srirangapatna, Mysore Zoo, etc.
Things to Do: Wildlife-spotting, yoga retreat, Ayurveda spa and massage, bird watching, jungle safari, walking tour, skydiving, food tour, kayaking, and jeep safari.
What to Eat: Try idlis, vada, bonda, khara bath, kesari bath, uttapam, poori saagu, shavige bath, Mangalore chicken curry, masala dosa, kori glass, pulao, Mysore pak, etc.
Thekkady, Kerala
Another stunning destination to visit in October, Thekkady, is an ideal place for nature lovers. Holiday in Thekkady's alluring premises while enjoying jungle safari and visit the beautiful gardens of the city. Book a self-drive car rental in Bangalore and drive to this stunning city of Thekkady.
Places to Explore: Elephant Junction, Periyar National Park, Thekkady Rose Park, Anakkara, Thekkady Lake, Vendiperiyar, Pandikuzhi, Ayurvedic & Spice Plantation, Chellarkovil viewpoint & waterfall, Mangla Devi Temple, etc.
Things to Do: Bamboo rafting, border hiking, Kalari Art show, nature walk, wildlife safari, elephant ride, trekking, lake cruise, shopping, etc.
What to Eat: Try Idli, dosa, filter coffee, kappa and the Kerala sadya, rice & fish curry, vegetable curry, and much more.
Puri, Odisha
Puri is known as one of the holiest destinations for Hindus, crediting to the sacred Jagannath Temple. The city sees thousands of tourists every month to pay their tribute and to enjoy a pleasant sight of the place has to offer. Have quality time in Puri in the festive holiday season.
Places to Explore: Jagannath Temple, Narendra Tank, Gundicha Temple, Markandeshwara Temple, Lokanath Temple, and take a day trip to Chilika Lake and Konark Temple.
Things to Do: When in Puri, shop for local handicrafts, mediate at Puri beach, relish yummy seafood, spiritual tour, and more.
What to Eat: Treat yourself to local delicacies like Khicede, malpua, dalma, ukhuda, abadha, chenna poda, santula, chungudi malai, pitha, and macha chenncheda.
Ziro, Arunachal Pradesh
If you're someone who doesn't like much hassle during the festive season, visit Ziro. It is a perfect offbeat holiday destination surrounded by lush green paddy fields, hills and known for its Ziro music festival in September. This beautiful hidden gem in Arunachal Pradesh is ideal for visiting throughout the year.
Places to Explore: Train Fish Farm, Kile Pakho, Talley Valley Wildlife Sanctuary, Megha Cave Temple, Shiv Linga, Dola Mando, Pine Grove, and more.
Things to Do: Trekking, hiking, camping, river rafting, paragliding, sightseeing, etc.
What to Eat: Try local delicacies like rice with meat, fish and green vegetables, momos, thupka, apong, etc., to name a few.
October is the best time of the year, marking the onset of festivals and pleasant weather. Filled with freshness and a celebratory vibe, October is the month to explore, relax, and reward yourself with a break to revive.
To book your self-drive car for an upcoming road trip or to explore your city.
Tags:
book self drive cars in mumbai
,
Budget self-drive
,
Festive Season
,
Holiday Season
,
Myles
,
Myles Cars
,
Myles Self Drive
,
myles self drive car rentals
,
Myles Zero
,
road trip
,
self drive car in bangalore
,
Travel India
,
weekend getaway