Happy Friendships Day: Plan a Road Trip with your BFF for a Fun-Filled Vacation
---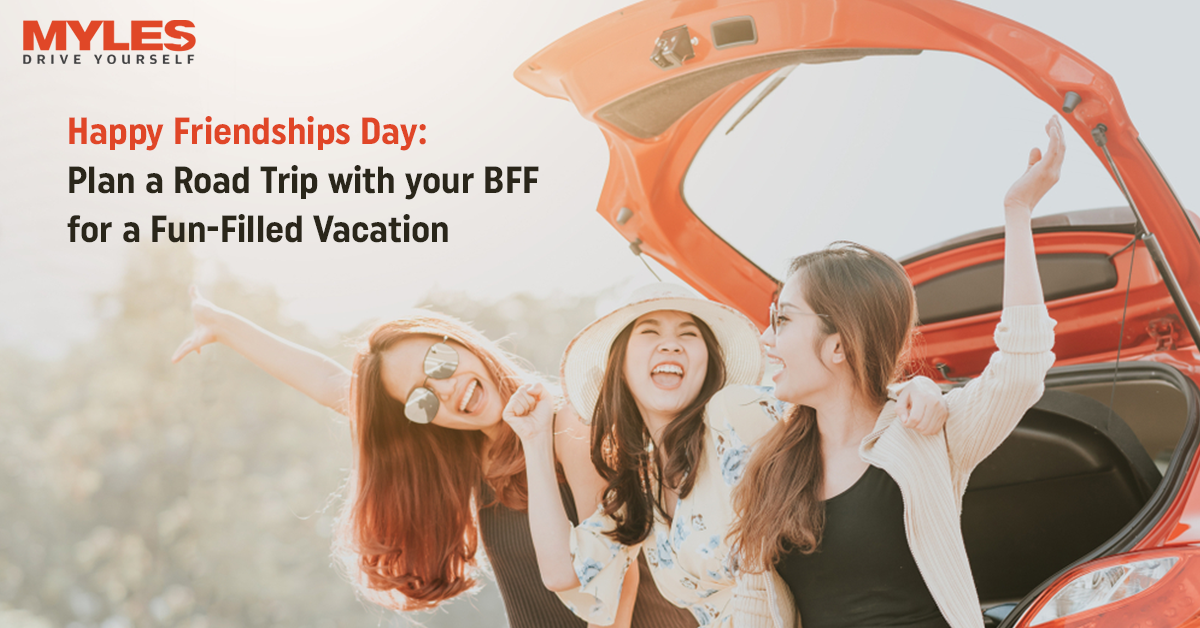 "Life was meant for good friends and great adventures."- Unknown
Have you ever thought of a relaxing vacation with your BFF? Well, we all have always been craving for a fun-filled getaway with our best friend every time we think of a holiday. And no occasion is better than friendships day to go on that long-awaited trip with your BFF.
Travelling with friends is not only loaded with adventure, laughter and memorable experiences, but it also makes the bond stronger and lasting. Book a self-drive, pack your bags, surprise your friends, and hit the road to explore the exotic destinations in the country.
Here are some beautiful road trips for a weekend getaway.
Delhi to Rishikesh: For Some Adventure and Yoga
Rishikesh is heaven for the people of Delhi; it is one of the best places for a weekend escapade in the lap of nature. Book a self-drive car in Delhi NCR, and it takes around six hours to reach Rishikesh travelling through the urban and rural sections of the country. Once you enter Uttarakhand, you witness the magnificent galore of nature.
Rishikesh is a well-known yogic and meditative town nestled in the Himalayan foothills beside River Ganges. The spiritual land offers a serene getaway for deep healing and is also known for its adventure activities to satiate their adrenaline. Experience the best white water river rafting, bungee jumping, kayaking, waterfall trekking, cliff jumping, camping and so on.
Distance: 235km, 6 hours approx.
Places to visit: Beatles Ashram, Café Hopping, Parmarth Niketan, Triveni Ghat, Lakshman and Ram Jhula, Sivananda Ashram, Geeta Bhawan, Byasi, Kaudiuala, Muni ki Reti, Tera Manzil Temple, etc., to name a few.
Chandigarh to Kasol: For Camping and Trekking
Chandigarh to Kasol road trip would be one heaven of experience for you and your BFFs from one beautiful city to another. Start the weekend expedition from Chandigarh by booking a reliable car rental to Kasol. Kasol is a scenic hamlet in Kullu and is one of the most visited and loved destinations among adventure junkies, mountain lovers, and people looking for solace.
It is fondly known as Amsterdam of India and popular among hippies from Israel and others across the globe who want to trek, explore, and have a relaxing time. Chandigarh to Kasol is a picturesque route to travel from and enjoy the spellbinding beauty of Parvati Valley and Kheerganga Trek.
Distance: 273km, 8-9 hours approx.
Places to visit: Apart from Camping and Trekking, visit these famous places in Kasol like Manikaran Sahib, Parvati River, Kheerganga Peak, Tosh Village, Tirthan Valley, Bhuntar Town, Malana Village, and more.
Mumbai to Nasik: For Some Wine and Unwinding
Monsoon is the best to explore the Western Ghats and a trip from Mumbai to Pune, Lonavala, Gujrat, Goa, Karnataka, Tamil Nadu, and Kerala.  But this friendships day, hire a self-drive car rental in Mumbai and set your journey to Nasik- the Wine Capital of India. Sula Vineyard and other wineries are something you wish to explore and stay at, witness winemaking, and some tasting won't hurt.
Don't drink and drive!
Nasik is also known as one of the Hindu pilgrimage sites of the infamous Kumbh Mela. You start your journey from Mumbai, crossing and exploring small towns, enjoying the local flavours and reach Nasik. The city is situated on the banks of the Holy River Godavari and has some intrigued wooden architecture, ornate temples, and references of Hindu epic like Ramayana.
Distance: 166.2km, 4 hours approx.
Places to visit: Ramkund, Sula Vineyard, Dushsagar Falls (Nasik), Saptashrungi, Pandavleni Caves, Sita Gumpha, Anjaneri Hills, Gangapur Dam, Dugarwadi Waterfall, Harihar Fort, Muktidham, etc., to name a few.
Bangalore to Wayanad: Into the Wilderness
Book a car rental in Bangalore and plan a trip to the scenic destination of Wayanad, known for its mild temperature all year round. The untouched woods, long spread plantations, vast spice orchards, and misty mountains leave you awestruck.
Relieve yourself from the everyday hassle and spend time amidst nature with your best friends. Stay at a resort or wood cabin into the dense woods, amidst mighty mountains, and beside the gushing river. You can always opt for camping and enjoy living under the twinkling stars. When in Wayanad, enjoy caving, trekking, rappelling, rock climbing, mountaineering, hiking, and other adventurous activities with your friends' group.
Distance: 271.1 km, 6 hours approx.
Places to visit: Madhumalai Tiger Reserve, Edakkal Caves, Nagarhole National Park, Kuruva Island, Bandipur Tiger Reserve, Chembra Peak, Vythiri, Banasura Sagar Dam, Pookode Lake, Meenmutty Waterfalls, Tholpetty Wildlife Sanctuary, and much more.
Hyderabad to Hampi: To explore Indian Heritage
Commence the much-awaited road trip with your friends from the city of Nizams, Hyderabad, to the famous UNESCO World Heritage Site, Hampi. Book a self-drive car in Hyderabad and go for an exciting and eventful experience. Hampi is a land of massive temples, historical sites, and it was once the capital of the Vijayanagara empire.
There is a lot to explore in Hampi, and you'll get amazing background for your Insta photos, scenic setting, and a delightful environment to spend time with friends.
Distance: 385 km, 9-10 hours approx.
Places to visit: Virupaksha Temple, Vijaya Vittala Temple, Lotus Mahal, Hampi Bazaar, Hippie Island, Coracle Ride, Queen's Bath, Matanga Hill, Elephant Stables, Monolithic Bull, Zanana Enclosure, Old Palace, etc.
Chennai to Pondicherry: For Good Food and Laid-back Stay at French Colony
A road trip from Chennai to Pondicherry is a must to have experience in a lifetime. It is the best route to witness the natural galore of East Coast Road, especially during the monsoon. Imagine driving along the Bay of Bengal with your friends is something you always remember.
Pondicherry is a quaint town that offers a beautiful blend of French and Indian culture. If we talk in the millennial language, Pondicherry is so Instagrammable- thanks to the yellow, white, and grey painted French Town. Explore the city with your friends, hop cafes, visit Auroville, meditate, relax at the beach, and have a gala time.
Distance: 152.3 km, 3-4 hours approx.
Places to visit: Paradise Beach, Seaside Promenade Beach, Basilica of the Sacred Heart of Jesus, Aurobindo Ashram, Auroville, Arikamedu, Serenity Beach, Chnnambur Boat House, Old Lighthouse, Sri Manakula Vinayagar Temple, and more.
Shillong to Cherapunji: For Misty Clouds, Rainfall, and Tranquillity
If you haven't explored the East of India, you're missing something in your travel diaries. Monsoon is the best time to travel to Cherapunji via road from Shillong and enjoy everything from drizzling to waterfalls to misty clouds and captivating views. Hire a budgeted car rental in Shillong and drive to this mesmerizing town of Cherrapunji nestled in the East Khasi Hills.
Enjoy the undulating uplands of Meghalaya, deep, dense forests, waterfall-ribboned valley. Cherapunji offers you to explore its spectacular landscape and feel yourself close to Mother Nature. May to August is the best time to visit here.
Distance: 55 km, 1-2 hours approx.
Places to visit: Cherrapunji Peak, NohKaLikai Falls, Root Bridge, Mawsmai Cave, Kynrem Falls, Dainthlen Falls, and much more.
Start your August with a fun-filled road trip with friends to these exotic lands and enjoy monsoon and friendship day in the best possible way. Drive safely and follow every COVID-19 related preventive measure.
To book your self-drive car for an upcoming road trip, visit: https://bit.ly/3YFzwHc
Tags:
2021
,
August
,
best car rental in India
,
BFF
,
Budget self-drive
,
car rental bangalore
,
Chandigarh
,
Chennai to Pondicherry Road Trip
,
Delhi NCR
,
friends
,
Friendship Day
,
Happy Friendship Day
,
highway
,
India
,
India travel
,
Instagram
,
Monsoon
,
monsoon road trip
,
Myles
,
Myles Cars
,
Myles Self Drive
,
road trip
,
Road trip in India
,
Self-drive car in Mumbai