Travel India: 11 Best Places to Visit in India in the month of August
---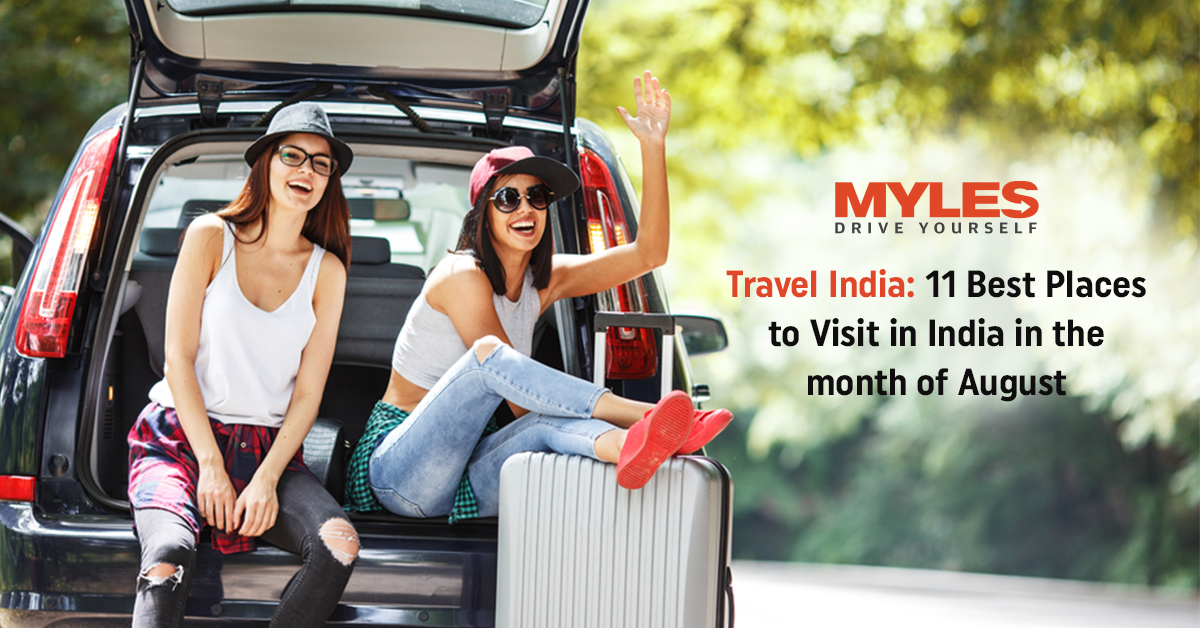 August is one of the fantastic months for travelling owning to so many reasons. There are many holidays usually lined up, low tariffs due to off-season, and extremely exotic weather. Commence the much-awaited escapade to rejuvenate while enjoying the scenic vistas that offer calmness and tranquillity. Hire a self-drive car to explore your country on wheels for an incredible and fascinating experience.
There are plenty of places in India to visit in the month of August to witness the serene beauty of nature.
Dharmshala, Himachal Pradesh
Dharmshala has to be top the list when it comes to travelling in August in the North of India. This picturesque destination is in full galore during the monsoon. Dharmshala receives heavy rainfall makes the view look even more enchanting. It is the best time to visit here for a relaxing getaway or a calming workcation. Visit Tibetan monasteries, explore Tibetan history, tradition and culture.
Places to Explore: Kangra Art Museum & Library, Namgyal Monastery, Masroor Rock Cut Temple, Bhagsunag Temple, Kangra Fort, Tsuglagkhang Complex, Library of Tibetan Works and Archives, Gyuto Monastery, and more.
Things to Do: Trip to Bhagsunag Waterfalls, paragliding, trekking to Triund, Camping, Kareri Lake Trek, strolling around the town, a day trip to Kangra Valley, sightseeing, meditation and yoga retreat, etc.
What to Eat: Try these mouthwatering delicacies, including Bhagsu cake, carrot cake, Tibetan bread, Tibetan herbal and butter tea, thupka, thentuk, momos, etc., to name a few.
Varanasi, Uttar Pradesh
"Varanasi is older than history, older than tradition, older even than legend and looks as old as all of them put together."- Mark Twain.
Varanasi or Banaras or Kashi is an ancient town situated on the holy River of the Ganges. It is the city that depicts India you always have imagined. The energy and peace of this oldest town allure travellers from across the world. Travel to Varanasi to experience spirituality, tranquillity, cultural dynamics. Book a self-drive car from Delhi and travel to this holy town. Witness Ganga Arti, explore ancient temples of this vibrant Hindu pilgrimage town and visit scenic ghats known for liberation from the cycle of death and rebirth.
Places to Explore: Ghats like Dasaswamedh, Assi, Manikarnika, Dhamek Stupa Shri Durga Temple, Shri Kashi Vishwanath Temple, Brijrama Palace, Jantar Mantar, Ramnagar Fort, and more.
Things to Do: Witness divine Ganga Arti, boat ride on Ganga River, take a holy dip in River Ganga, explore and shop from local markets, witness confluence of Varuna and Ganges at Rajghat,
What to Eat: Try yummy street food in Banaras, especially the Banarsi paan and lassi/thandai. You can also relish delicacies like kachori sabji, chooda matar, chena dahi vada, dahi chutney golgappe, baati chokha/litti chokha, tamatar chaat, etc., to name a few.
Panchkula, Haryana
This beautiful quaint town in the Haryana district is known for its staycation, away from the hectic city life. Panchkula has a rich historical past and a delightful environment to have that perfect weekend escapade. The city sits in the foothills of the Shivalik range and looks serene during the monsoon. To have quick relief from your everyday life, book a car rental in Delhi or hire a self-drive car in Chandigarh to travel to this sparkling town that is absorbed in the essence of nature and history.
Places to Explore: Visit Mata Mansa Devi Mandir, Bhima Devi Temple Site Museum, Beer Castle, Pinjore Gander/Yadavindra Gardens, Morni Hills, Botanical Garden, Kaushalya Dam, Mahendra Chaudhary Zoological Park, Wild Life Sanctuary, and more.
Things to Do: Bird watching, play sports at Cricket Stadium or Golf Course, photo walks, shop at local crafts market, trekking, camping, etc.
What to Eat: Try North Indian cuisine and authentic Haryanvi food here at the famous restaurants.
Jodhpur, Rajasthan
The city of magnificent architectural galore and regal vibrancy, Jodhpur is a whole vibe in itself. The Blue City of Jodhpur is an ideal destination for your August travel plans as the city enjoys pleasant weather. Spend your days relaxing at a boutique hotel or resort, and spare your evenings for royal strolls at the palaces, forts, ornate temples, and local bazaars. August is an offseason, which means fewer tourists and no risk.
Places to Explore: Umaid Bhawan Palace, Jaswant Thada, Mandore Gardens, Mehrangarh Fort & Museum, Kaliana Lake, Chamunda Mata Temple, Balsamand Lake, and more.
Things to Do: Go for a desert safari, get pictures for Instagram in front of blue houses, shop at the clock tower, try flying fox, wander through rock park, sightseeing, and city tour.
What to Eat: Try authentic Rajasthani cuisine in Jodhpur, and savour on delicacies like Makhaniya lassi, dal bati churma, dahi chat, pyaaz kachori, kadhi kachori, pani patasha, malai ghevar, mirchi bada, sev tamatar, matka kulfi, malai roti, samosha sahi, gulab halwa, etc., to name a few.
Lonavala, Maharashtra
The most beloved city for Mumbaikars, Lonavala, is a popular weekend getaway in the region. The hill station in the Western Ghats look enchanting in the monsoon and offer a scenic view of verdant hills, a thick layer of clouds, cascading waterfalls, overflowing dams, and pleasant weather. Where the old fort takes you to ancient times, and the serenity brings you close to nature. So book a budget car rental in Mumbai and drive your way for a rejuvenating trip to Lonavala.
Places to Explore: Tiger's Leap, Lonavala Lake, Lohagarh Fort, Lonavala Wax Museum, Bushi Dam, Kune Falls, Valvan Dam, and Bhaja Caves.
Things to Do: Relax at a luxe resort and enjoy leisure activities, indulge in some adventure activities, trekking, try some chikki, and much more.
What to Eat: Try yummy Maharashtrian street food during your trip, including chikki, vada pav, missle pav, pav bhaji, moong dal bhajia with thecha, sev puri, etc., to name a few.
Khajuraho, Madhya Pradesh
Khajuraho is home to famous UNESCO World Heritage Sites and is one of the most loved destinations for tourists across the globe. Summers are hot and humid here, but in August, you can enjoy this gorgeous town at its best. The ancient temples and forts embellished with erotic cravings and detailed structures make Khujuraho an intriguing place for history lovers.
Places to Explore: Sightseeing Khajuraho Group of Monuments, State Museum of Tribal & Folk Art, Raneh Falls, Beni Sagar Dam, Gangau Dam, Mastani Mahal-Dhubela, explore the Easters and Western Group of Temples, and more.
Things to Do: Go for temple tour, enjoy light & sound show, wildlife tour, dance festival, visit the old town, experience the soothing Ayurvedic massage and spa, visit Orchha, Jungle safari, etc.
What to Eat: Try local delicacies of Madhya Pradesh like Biryani, Poha, Korma, Dal Bafla, Jalbei, Bhutte ki Kees, Kebab, Rogan Josh, Lassi, Sugarcane Juice, and more.
Pachmarhi, Madhya Pradesh
The only hill station in the beautiful state of Madhya Pradesh is encircled by canyons, waterfalls, cave temples, lush green forests of the Satpura, and natural pools. Pachmarhi is situated on the plateaus of Satpura and is known for its ancient rock-cut spaces and wildlife. The surreal setting offers a refreshing escapade in the heart of India. Book a self-drive car from your home city and travel to this rewarding place this August.
Places to Explore: Visit Bee Falls, Pandava Caves, Jata Shankar Caves, Dhoopgarh, Mahadeo Hill, Duchess Falls, Satpura National Park, Priyadarshini or Forsyth Point, Chauragarh Temple, Apsara Vihar, Bade Mahadev, Reechgarh, and much more.
Things to Do: You can go for horse riding, ATV Ride, caving, land parasailing, zip-lining, waterfall trekking, hiking, and cycling.
What to Eat: Try local delicacies of Madhya Pradesh like Biryani, Poha, Korma, Dal Bafla, Jalebi, Bhutte ki Kees, Kebab, Rogan Josh, Lassi, Sugarcane Juice, and more.
Digha, West Bengal
Digha in West Bengal is just an hour's journey from Kolkata. This famous beach town is known for parties, laidback beaches, diverse marine life and picturesque vistas. Digha is dazzled up during the festive season and is an ideal place to visit during the monsoon season. Leave the hustle and bustle of city life and drive yourself to this exotic land to relax while enjoying the seafood and satiating your adrenaline rush with some water sport activities at the beach.
Places to Explore: Udaipur Beach, Talseri Beach, Amarabato Park, Chandpur Beach, Kajal Dighi, Marine Aquarium, Chandaneswar Temple, Markets, and more.
Things to Do: Water Sports like speed boating, banana ride, snorkelling, water skiing, water zorbing, etc., Shop for handicrafts, beautiful ornaments, seashells, etc., Digha Ropeway Ride, and more.
What to Eat: The place is known for authentic seafood which you can enjoy by the beach, like Tiger prawns, fried fish, bhetki, pomfret, rohu, and other cuisine options like Continental, Bengali, etc.
Mawlynnong, Meghalaya
Known as the cleanest village in Asia and also God's own Garden, Mawlynnong is the mystical paradise in Meghalaya. From a picturesque backdrop to quaint homes, from fresh air to quirky root bridge, the town is surreal for travellers in the monsoon. Stroll around the magical town that is a treat for the soul. Book a car rental and drive to this magical town to enjoy in the pristine lap of nature.
Places to Explore: Jingmaham Living Root Bridge, Mawlynnong Waterfall, Bophill Falls, Nohwet Viewpoint, Mawlynnong Sacred Forest, Umngot River, Church of the Epiphany, and much more.
Things to Do: Nature walk and evening strolls, boating at Dowki, listen to the stories of locals, explore the village, sightseeing and caving.
What to Eat: Enjoy the simple local Mawlynnong food like rice, potato curry, dal, and other traditional tribal food.
Chikmagalur, Karnataka
Chikmagalur is translated as the 'Young Daughter's Town, known for its enchanting beauty. The dense forests, grassy mountains, beautiful rives, cascading waterfalls is sheer heaven and a visual treat. Chikmagalur is also known for its coffee plantation and is fondly known as the Coffee Land of Karnataka. Revive and rejuvenate amidst the majestic Mullayangiri ranges. Chikmagalur is around four hours away from Bangalore. Book a self-drive car in Bangalore and have a soulful weekend getaway soon.
Places to Explore: Hebbe Falls, Baba Bundangiri, Mullayanagiri, Bhadra Wildlife Sanctuary, Bhadra Dam, Sharadamaba Temple, Hanuman Gundi Falls, Hirokolale Lake and Manikyadhara Falls.
Things to Do: Enjoy visiting a tea plantation and coffee estate, trekking, camping, river rafting, strolling around the town, jeep ride/safari, kayaking, spiritual tour, museum tour, etc.
What to Eat: Try filter coffee, huli avalakki, pathrode, akki roti, jackfruit dishes, hesarubele carrot kosambari, cheenikayi kadubu, and more.
Kanyakumari, Tamil Nadu
Kanyakumari or Cape Comorin is famously called the endpoint of India. The southernmost tip of the Indian mainland is one of the most visited destinations by travellers across the globe. A monsoon trip in August is worth it as you get to witness the majestic confluence of the Arabian Sea, the Indian Ocean, and the Bay of Bengal. Book your car rental ride and explore this surreal city of shores and sand.
Places to Explore: Vivekananda Rock Memorial, Lord Subramanya Temple, Thirparappu Falls, Thiruvalluvar Statue, Kumari Amman Temple, Vattakotai Fort and Thanumalayan Temple.
Things to Do: Divine dip at the Triveni Sangam, shop at the flower market and handicrafts market, witness surreal sunrise and sunset view, and a soulful evening strolls by the shores.
What to Eat: Satiate your taste buds with pasha bajji, banana chips, maravazhi kilangu kothy/minced parotta, semiya payasam, appam, aval, pasha sarbath, and much more.
Plan an unwinding trip to these serene places around the country and take a break from day-to-day hassle. Book a self-drive, control your trip, and have a safe journey.
Happy Vacations!
Tags:
2021
,
August
,
August Travel
,
Best Places to Travel in August
,
book self drive cars in mumbai
,
budget car rental
,
car hire in Bangalore
,
Car Subscription
,
covid-19
,
Delhi
,
highway diaries
,
Mumbai
,
Myles
,
myles car
,
Myles Zero
,
Pandemic
,
Safe Travel
,
Self Drive car
,
Travel India