Ladakh Ideal Road guide – Decoded!
---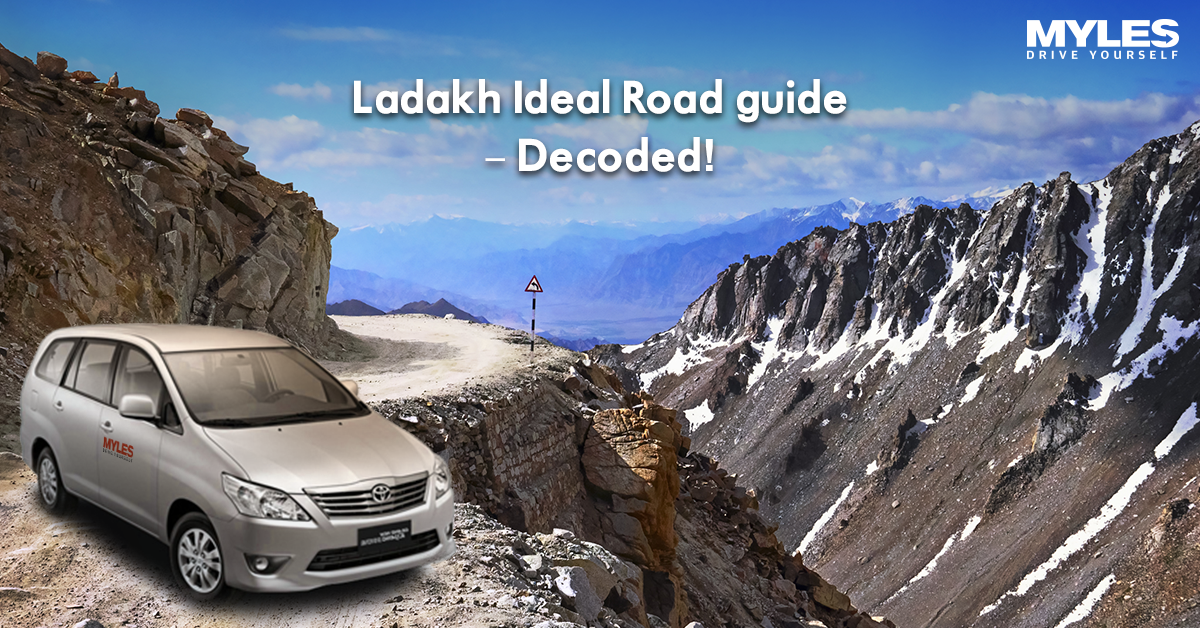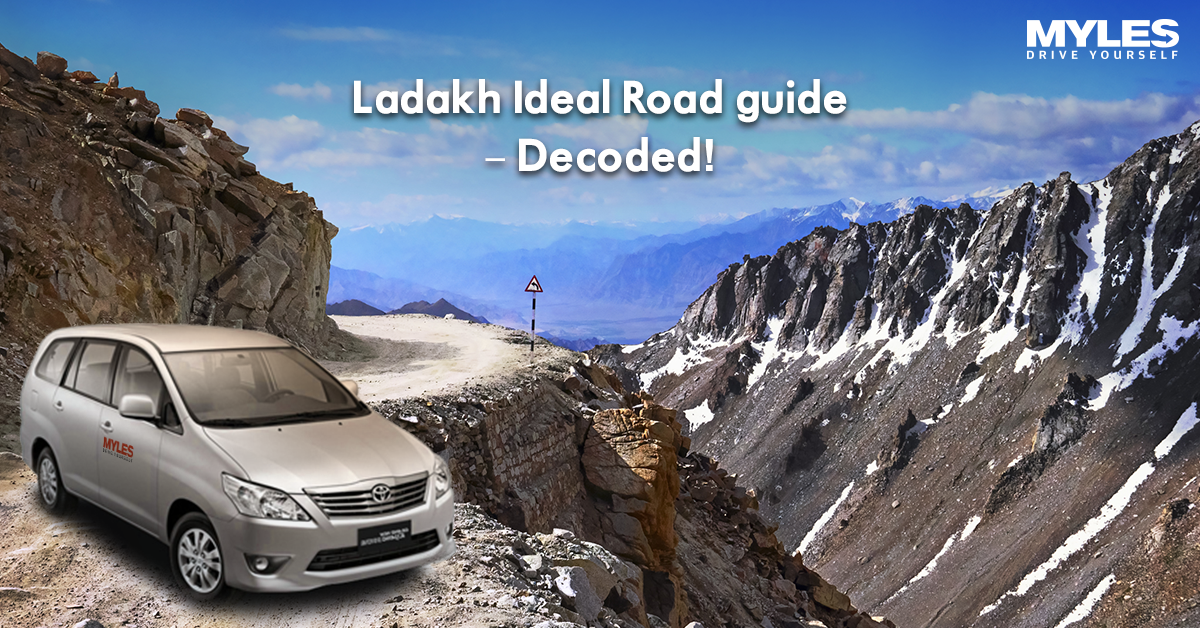 There's nothing quite like Ladakh- said every traveler ever.
An other-worldly landscape, majestic mountains of the Himalayas and the mysterious Buddhist culture make Ladakh a wanderer's paradise. Everyone fantasizes about it once in his lifetime, and we're sure you did too. The quintessential question now is how to get there and what to do next?
Well, as luck would have it, we know just about everything about Leh and Ladakh, right from where to stay and what to see, to where to eat and how to make it a memorable experience.
WHICH PACKAGE SHOULD YOU OPT?
As every adventurer would tell you, the rugged terrain of Ladakh poses a challenge to even the best drivers out there. We, therefore, suggest a heavy-duty SUV be the perfect companion for you. With the Myles assurance of Unlimited Kilometers, drive as far as you can without worrying about paying extra.
WHAT ROUTE SHOULD YOU TAKE?
Hit the scenic Leh-Manali highway (NH1) early in the morning. The distance across the highway is approximately 1011 km.
WHERE CAN YOU FIND ACCOMMODATION IN LADAKH?
Hotels are a scarcity in the region, although you can find a luxury hotel called the Grand Dragon in Leh. Your other options could be luxury tents in Nubra Valley, Pangong Tso, and Thiksey. If homestay is your thing, then you can find packages starting around Rs700 per day.
Here's something useful:
If you're planning to drive via the Leh-Manali highway, make sure to carry reserve fuel. The last petrol pump lies as Tandi, and the next one is around 380 km away Karu.
WHAT ARE THE TOP 5 PLACES TO VISIT IN LADAKH?
Thiksey Monastery
20 km from Leh lies the most important monastery in Ladakh. It is the seat of Thiksey Rinpoche, the main leader of the Gelug School in Ladakh and is the main and leading monastery for more than ten other famous Ladakh monasteries. The tranquillity you'll experience there is unparalleled.
Magnetic Hill
A scientific anomaly in Leh has baffled onlookers from across the world for decades, and it goes by the name of the Magnetic Hill. When you park your car there for a while, you'll notice that it is actually moving uphill! Scientists say it is an optical illusion. Experience it yourself!
Pangong Tso Lake
Located 13,900 ft. above sea level, Pangong Tso lake is around 5 hours from Leh through the mesmerizing countryside. Pangong Tso's pristine blue water and a rocky shoreline will remain in your memories forever.
Nubra Valley
Also called Moonland because of a stark resemblance to the stunning lunar surface, Nubra Valley is located 150 km north of Leh. From snow-capped mountains to sand dunes and double-humped camel rides, the Nubra Valley is a must see.
Khardung La Pass
The site of the highest motorable road in the world, reaching Khardung La Pass is a tremendous feat in itself. It lies at 18,380 ft above sea level and on the road between Nubra valley and Leh in Ladakh.
WHERE SHOULD YOU EAT IN LEH?
Bon Appetit
Leh's most imaginative restaurant is a stylish exercise in Ladakhi minimalist architecture and offers a wide panorama of the southern mountains. Don't pass up the opportunity to try out the sublime cashew chicken in pesto sauce along with succulent tandoori grills.
Gesmo
This age-old traveler haunt has been unchanged so long that its bag-lamps and checkerboard ceilings now seem almost like novel retro-design features. Good value meals range from curries to cakes to yak cheese pizza.
WHAT PRECAUTIONS SHOULD YOU TAKE FOR SUCH A HIGH-ALTITUDE JOURNEY?
1. Rest for at least 2 days before you travel to higher altitudes once you reach Leh. Your body needs to acclimatize to the atmospheric pressure.
2. Keep yourself hydrated, but only enough. A litre more than your usual daily intake is recommended.
3. Don't exert yourself extremely at high altitude where the oxygen level is low.
4. If you're feeling nausea or altitude sickness, try the local remedy of garlic soup.
Happy tripping, folks!