Maha Shivratri Long Weekend: Travel to these Places for a Tranquil Experience
---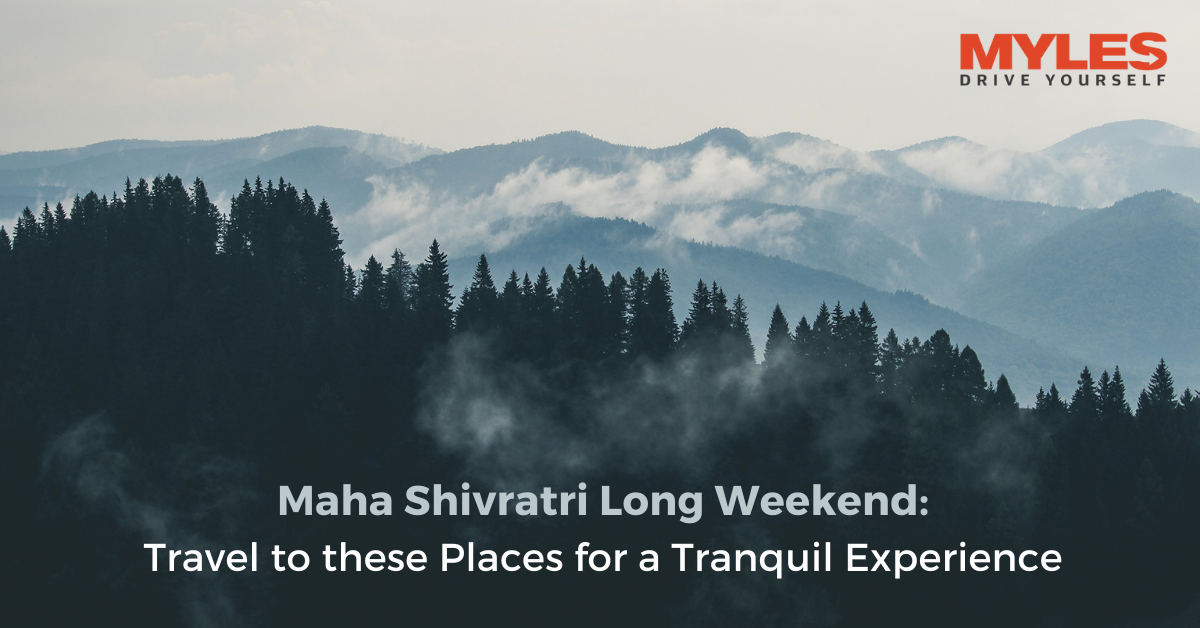 Weekend Vacation is something we all crave, and when it comes to a long weekend, it should be all about adventure, road trips, fun, and relaxation. Maha Shivratri is around the corner, and it comes along with a long weekend.
So don't waste a minute and travel to places that offer a tranquil experience with Myles self-drive. 
Dharamshala, Himachal Pradesh
The divine home to Tibetan Spiritual Leader Dalai Lama (though he actually based two miles up in McLeod Ganj), Dharamshala, is a beautiful hill town in the Kangra Valley. The hill station is surrounded by oak and coniferous woods, snow-capped mountains, and breathtaking views. Book a self-drive car from Chandigarh and have a soulful getaway to this beautiful place.
Best time to Visit: March to Mid-July
What to do in Dharamshala: Enjoy adventure sports like paragliding, camping, Triund Trek, Kareri Lake Trek, Trip to Kangra Valley, Lahesh Cave Trek, and more, go for sightseeing, Kangra Fort, visit Dal Lake and Gyuto Monastery, and enjoy local dishes like bhagsu cake, thumpka, thentuk, Tibetan bread, Tibetan Butter Tea and Herbal Tea, Momos, tudkiya bhat, shapta, mittha and dham.
A tranquil place where Buddha came to preach his message of attaining nirvana after he achieved enlightenment in Bodhgaya, Sarnath in Uttar Pradesh is a famous religious site, a few kilometres from Varanasi (also called Banaras and Kashi). The city of Lord-Buddha offers a soul-stirring experience and is an ideal place for a long weekend getaway.
Best time to Visit: October to March
What to do in Sarnath: Visit Bodhi Tree, Chaukhandi Stupa, Dhamek Stupa, Buddhist Temple, Garden of Spiritual Wisdom, The Archaeological Museum, and try local food that offers traditional Indian, Chinese, and Tibetan cuisine.           
Book a budget self-drive in Jaipur for a revving experience to Pushkar this long weekend. The majestic colourful town of Pushkar is a famous Hindu pilgrimage town that keeps buzzing with hums of puja, drums bells, and devotional songs. You witness the hustle-bustle in bazaar, hippy tie-dye clothes, travellers, street vendors, and snack shops.
Best time to Visit: November to March
What to do in Pushkar: Leisure stay at Garden of Dreams, camping, visit ghats, Brahma temple, camel safari, food walk, go handicraft shopping, enjoy sunset view, and more, and try local like kachori, samosa, dal bati churma, jalebis falafel, malpua, poha, parathas, etc.
The peaceful land of Ujjain sinks in the divinity that fills you with ecstasy. The city is a wealthy town regarding architectural galore, religion, educational value, and scenic views. The famous temple city is ideal for having a tranquil experience during the Mahashivratri long weekend break.
Best time to Visit: October to March
What to do in Ujjain: Visit the famous Shree Mahakaleshwar Temple Harsiddhi Temple, andipani Ashram, Ram Ghat, ISKCON Ujjain Temple, Jantar Mantar, Bhartrihari Caves, and try local food like poha, sabudana khichdi, bhutte ki kees, dal bafla, namkeens, etc., to name a few.
Pondicherry, Union Territory
The place offers you peace and old-world charm as you step in here. Travelling to Pondicherry is a once-in-a-lifetime experience that is loaded with adventure. It is one of the most peaceful places in India and is famous for the stunning East Coast road trip experience from Chennai. Book a self-drive car in Chennai and have a fun weekend getaway to Pondicherry.
Best time to Visit: October to March
What to do in Pondicherry: Visit Promenade Beach, Sri Aurobindo Ashram, The Sacred Heart Basilica, Rock Beach, Paradise Beach, Arulmigu Manakula Vinayagar Temple, Auroville, and chic cafes like La Maison Rose, Le Café, Satsanga, Café de Flore, Tanto, Café Des Arts, Coromandel Café, Bread and Chocolate, Café Helena, and more.
Gokarna is a low-key, calm, and chilled-out beach town embodied with blissful coast, bamboo huts, and cliffs. This place is ideal for beach lovers and is one of the famous Hindu pilgrimage sites. The town is about ornate temples, lush greenery, and majestic Western Ghats peaks.
Best time to Visit: October to March
What to do in Gokarna: Visit Om beach, Kudle beach, Half-Moon beach, Paradise beach, Mahabaleshwar Temple, Mirjan Fort, Koti Tirtha, Nirvana beach, and more. Indulge in scuba diving, parasailing, sightseeing tours, beach camping, banana boat rides, etc.
Travel to the heavenly abode of this beautiful North-Eastern city of Cherrapunji in Meghalaya. The picturesque town is the wettest location on Earth and is dotted with vast valleys, enigmatic clouds, clear rivers, and majestic views. This long weekend, have a fantastic vacation to this beautiful place that provides you with a surreal experience.
Best time to Visit: October to February
What to do in Cherrapunji: Walkthrough double-decker living root bridges, visit Nohkalikai waterfalls, Mawsynram village, Wakaba falls, Mawlynnong village, Dawki, Ka Khoh Ramhah, Arwah Caves, etc., to name a few, and try local delicacies like pork momos, pork rice, rice beer, and more.
Make the most out of this long weekend, and have a fantastic getaway.
Happy Holidays!
To book your self-drive car for an upcoming road trip or to explore your city, visit https://www.mylescars.com/.
To know more, write: help@mylescars.com or call: +91 – 11 – 43083000/ 0888 222 2222.
Tags:
book self drive cars in mumbai
,
Budget self-drive
,
car hire
,
car on rent
,
Car Rental
,
highway
,
long weekend
,
Maha Shivratri
,
Myles Cars
,
mylescars
,
Puskar
,
road trip
,
selfdrive
,
Travel India
,
travel plan
,
travel tips
,
travelling
,
Ujjain
,
Weather in Dharamshala