Travel India: 11 Safest Places in India for Solo Women Travellers in the month of March
---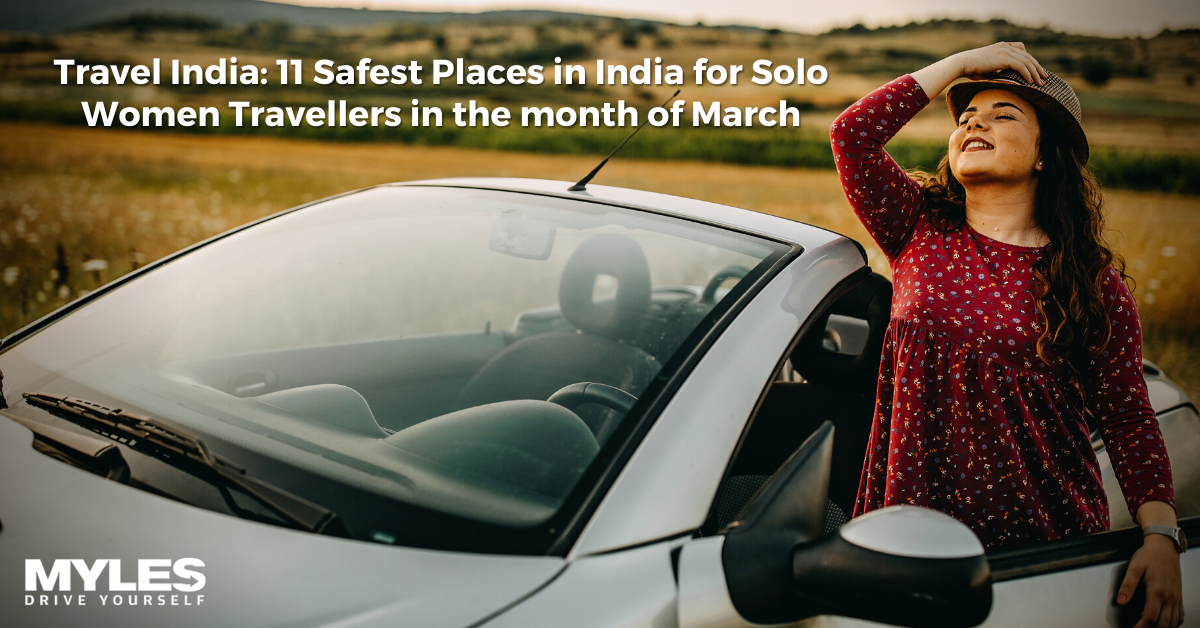 Solo Travelling is like meditation; it connects you with nature and within. It can be the scariest and, at the same time, it is the most liberating and life-changing experience. Take a step that can change your life and commence a road trip with Myles to these beautiful places ideal for women solo travellers.
Get ready to behold some of the most incredible views forever in your memory. Now let's get to exploring India.
Rishikesh, Uttarakhand
Nestled in the lap of the Himalayas beside the River Ganges, Rishikesh is a beautifully quaint town in the state of Uttarakhand. It is known as the Yoga Capital of the World that draws the attention of travellers across the globe and makes it a tourist-friendly place, especially for women travellers. The city has safety norms dedicated to female travellers, and if you are thinking of sailing solo, it is your place. Book a self-drive car rental in Delhi and set the voyage to Rishikesh.
When in Rishikesh: This beautiful town has a lot in store from calming yoga & meditation retreat to adventure activities like white water river rafting, bungee jumping, waterfall hiking, etc., to visiting Neelkanth Temple, Beatles Ashram, Ram & Lakshman Jhula, and Parmarth Niketan to café hoping to witnessing soulful Ganga Arti at Triveni and Parmarth Ghat.
Kasol, Himachal Pradesh
Located in the Parvati Valley of Himachal Pradesh, Kasol is a traveller's paradise and is one of the safest abodes for solo female travellers. The picturesque little town is for soul searchers, nature lovers, hikers, and those looking for a relaxing getaway on a budget. The other best part of Kasol is the cheap lodges and hostels and chic cafes that offer mouthwatering wholesome food amidst a scenic backdrop.
When in Kasol: Kasol is a whole different vibe and offers you the opportunity to explore other places like Tosh, Manali, Manikaran, Kullu, Malana, Kheerganga, Pin Parvati Pass, Sar Pass, Tirthan Valley, and more.  If you are travelling in March around Holi, don't miss attending Holi events and parties.
Pushkar, Rajasthan
The colourful city of the royal state of Rajasthan, Pushkar, is another most loved destination in India to travel to in March as the city is known for its Holi celebration. Moreover, the city offers a safe space for solo female travellers to have a culturally rich vacation. Hire a budget self-drive car rental in Jaipur to travel.
When in Pushkar: Ghats of Pushkar, Mahadev Temple, Merta, Naga Pahar, Sarafa Bazar, Brahma Temple, Magnificent forts of Pushkar, Brahma Temple, Laughing Buddha Café, Gayatri Mata Temple are some of the best places to visit. Also, try authentic Rajasthani cuisine.
Lavasa, Maharashtra
Book a budgeted self-drive car rental in Pune and drive to this picturesque hill station in Maharashtra. Lavasa is a planned city inspired by the Italian town of Portofino and is ideal for a weekend getaway. The city is surrounded by the Western Ghats and offers breathtaking views embellished with hills, lakes, lush greenery, and untarnished trails.
When in Lavasa: When in Lavasa, visit places such as The Promenade, Tiona ort, Varasgaon Dam, Ghangad Fort, Devkund Waterfall, Tamhini Ghat, Mutha River, Mulshi Lake, and more. Try to do water activities like jet skiing, pedal boating, nature walking, picnic at the lakeside, bird watching, and shopping. 
Mahabaleshwar, Maharashtra
How about getting a self-drive car rental in Mumbai and commencing a solo trip to Mahabaleshwar? Known for pleasant weather throughout the year and strawberries, Mahabaleshwar in Maharashtra takes you away from the everyday hassle into the lap of nature. The town is ideal for solo female travellers, embellished with lush green forests, a serene valley, and tranquillity.
When in Mahabaleshwar: Visit Elephant's Head Point, Chinaman's Falls, Dhobi Waterfall, Arthur's Street, Venna Lake, Wilson Point, Tapola, Mahabaleshwar Temple, Panchgani town, etc., to name a few. You can engage in activities like shopping, trekking, caving, jungle safari, taking a dip at Lingmala Falls, birdwatching, rock climbing, and more.
Goa, Union Territory
Goa is on everyone's wish list for many apparent reasons. The place is known as one of the safest places for solo women travellers. The place has it all for an ideal any kind of vacation. The place should have no itinerary, and one should enjoy this place like a true explorer.
When in Goa: The list is endless, from visiting famous beaches like Anjuna, Baga, Palolem to exploring the hidden gems like butterfly beach, Mandem, and more. Visit Dudhsagar Falls, Agonda Fort, Basilica of Bom Jesus, Se Cathedral, etc., and indulge in activities like parasailing, banana boat ride, jet skiing, shopping at local bazaar & weekly markets, café hopping, and party by the beach.
Pondicherry, Union Territory
The place should be on everyone's bucket list, especially for solo women travellers. The quintessential town that reflects calmness, peace, warmth, and colours, Pondicherry is one Instragramable place in India that one should visit once in a lifetime. This town comprises pretty French Quarters, quaint houses painted in pastel hues, clean & green alleys, surreal beaches, and charming cafes.
When in Pondicherry: March is an ideal month to explore it by visiting Aurbindo Ashram, beaches like Rock, Promenade, Serenity, Auroville, and Paradise, visit Auroville for a day trip, Basilica of the Sacred Heart of Jesus, Sri Manakul Vinayagr Temple, Light House, French War Memorial, and more. Try scuba diving, yoga and meditation retreat, boat ride at Ousteri Lake, and try authentic South Indian, French, and Italian cuisines.
Hampi, Karnataka
Hampi in Karnataka is an ideal place for history buffs and for those who are looking for a peaceful abode to blend in with rich traditions and culture. The quaint town is embellished with ancient temples and architectural marvels from the Vijayanagara Empire that surely leave you spellbound. March makes Hampi is a must-visit place due to the pleasant weather and iconic Holi celebration. Hire a car rental in Bangalore and enjoy your road trip to Hampi.
When in Hampi: Enjoy the coracle ride, rock climbing, fishing, cliff jumping, and more, witness breathtaking sunset, shop at the local market, explore Hampi on the bike, and visit the temple and ruins of the city, Anjaneya hill, Mantanga Hill, etc. Try local delicacy, authentic Karnatic curries and other South Indian states' dishes.
Kovalam, Kerala
Kovalam in Kerala is a beautiful and calming beach town for those who want to enjoy the sea without the hustle and bustle of Goa. This scenic town on God's own country is embodied with surreal ocean, mouthwatering seafood, mesmerising sunrise and sunset views, ancient sites, luxurious resorts, and of course, Ayurvedic spa treatment centres.
When in Kovalam: Visit beaches like Lighthouse, Hawa, Samundra, Vellayan Lake, Halcyon Castle, Neyyar Dam Vizhinjam Village, Kovalam fish market, Karmana River Valiyathura Pier, Shri Padmanabhswamy Temple, and more.
Gangtok, Sikkim
A lot of stories shared by women solo travellers indicate about the safety they felt while having solo vacation in the North East region of the country. One of such places is Gangtok in Sikkim. It will be an amazing pick for solo travelling women, and the incredible warmth and hospitability can make anyone comfortable. Embellished with breathtaking views, fashionable street markets, and scrumptious momos, Gangtok is a much visit place.
When in Gangtok: Visit Baba Mandir, Tsomgo Lake, Bakthang Waterfall, Tashi Waterfall, Nathulla Pass, Hanuman Tok, etc., live in a homestay to experience the true culture, and try local delicacies like Thenthuk, Momos, Churrpi, Thupka, Sel Roti, Sha Phaley, and more. Don't forget to taste some adventure with Paragliding, Trekking, River Rafting, and Mountain Biking.
Ziro Valley, Arunachal Pradesh
The last on the list is Ziro Valley in Arunachal Pradesh, a lesser-known and one of the safest destinations to travel by women solo travellers. Ziro Valley offers perfect scenery with high mountains, green farms with traditional huts, polite and ethical people, paddy fields, and surreal views.
When in Ziro: Explore the town by visiting Talley Valley Wildlife Sanctuary, Hija, Hong, Tarin, Fish Farm, Kardo forest and more. The place is ideal for a relaxing trip while enjoying the local delicacies like meat, fish curry and rice, green curry, bamboo shoot, pika pila, and apong.
Travelling is the best gift you can give yourself this Women's Day and a solo trip with Myles self-drive and make every moment worthy and memorable.
Happy Women's Day!
Happy Travelling!
To book your self-drive car for an upcoming road trip or to explore your city, visit https://www.mylescars.com/.
To know more, write: help@mylescars.com or call: +91 – 11 – 43083000/ 0888 222 2222.
Tags:
book self drive cars in mumbai
,
budget car rental
,
car rental in bangalore
,
car rental in Mumbai
,
Female Solo Traveller
,
Happy Women's Day
,
International Women's Day
,
March
,
Myles Cars
,
road trip
,
roadtrip
,
Safe Place for Solo Women Travel
,
Self Drive
,
self drive car rental delhi
,
Solo Travel
,
solo trip in india
,
Spring
,
Travel India
,
travel plan
,
travel tips
,
travelling