India Travel: 11 Best Places to Travel with your Mom this Mother's Day
---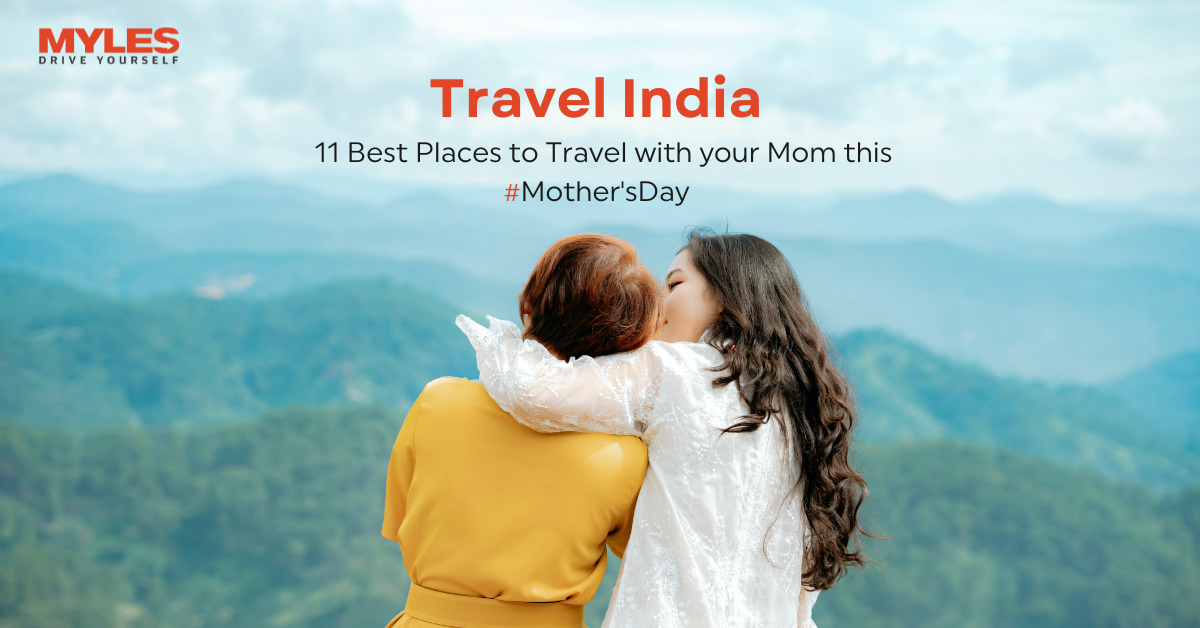 Web and stores are full of exciting mother's day deals and offer. You got everything covered, from a relaxing spa session to 50% off on apparel stores, free popcorn vouchers on movie tickets, a crazy giveaway by your favorite influencer, etc. But how about spending time in nature with your mother on a road trip.
This mother's day, spoil your mom at these super fun travel destinations in India with Myles and make her feel special and rejuvenated.
Ananda in the Himalayas in Narendra Nagar, Uttarakhand
While maintaining a work-life balance, you and your mother will surely enjoy a reviving spa experience. Strengthen your bond with your mom while rejuvenating at Ananda Spa in the Himalayas. The resort offers many retreat options along with wellness courses. A weekend at a luxury resort amidst a gorgeous setting, enjoying the organic lifestyle, nature, and company of your mother.
When in Narendra Nagar: During your stay at Ananda resort, you enjoy your time overlooking stunning Sal forests, Ganges, and Himalayan foothills. You visit Radha Krisha Mandir or take a day tour at nearby places like Rishikesh, Haridwar, Dehradun, or Mussoorie.
Take your Mom on Adventure Trip to Rishikesh, Uttarakhand
Rishikesh is one of the scenic places in the Northern region of India and sits on the Himalayan foothills beside the Holy River Ganges. The land of adventure is an ideal getaway for you and your mom during the Mother's Day month of May. Book a self-drive car rental in Delhi and have a great road trip to the Yoga Capital of the World- Rishikesh.
When in Rishikesh: The city offers a lot while you relax at the Ganga beach, explore other places like Ram Jhula and Laxman Jhula, Rajaji National Park, Neelkanth Mahadev Temple, Beatles Ashram, Parmarth and Triveni Ghat, and much more.
Quality time with Mom Amidst Mountains in Dharamshala, Himachal Pradesh
Known as the Little Lhasa of India, Dharamshala is a quaint, picturesque town surrounded by dense forests, stunning hill views, fluttering prayer flags, and calmness. Within the region, this small village named McLeodganj is known as the home of the Dalai Lama and a must-visit place to explore cute cafes.
When in Dharamshala: You can enjoy Triund Trek, Kareri River Trek, Bhagsu Trek, Camping, Tsug La Khang, Namgyal Monastery, Bhagsu Falls, Tibetan Museum, Gyuto Monastery, etc., try local food, and also enjoy meditation & yoga retreat.
Stroll Around Ghats & Relax in Banaras, Uttar Pradesh
Banaras or Varanasi is known as the oldest city in the world and is a perfect blend of peace and chaos. The ghats, the vibe, and the splendid religious experience depict the ideal vacation gala with your mother. Banaras is all about philosophy, spiritualism, mysticism, and magical chants that leave you spellbound.
When in Banaras: Visit Jnana Vapi, Ramnagar Fort, Banaras Emporium, Kashi Vishwanath Temple, gallies and ghats, etc., and take a boat ride to experience the magic of the Ganga River, experience Arti, try Banarasi paan and lassi, shop at the local bazaar, and much more when in the city.
Relaxing and Luxe Staycation in Delhi
Though the city is warmer during May but is embellished with luxe resorts and hotels, a relaxing staycation in one of them doesn't hurt. Book yourself and your mom a luxury staycation amidst the scorching heat of Delhi.
When in Delhi: There is a lot to do in Delhi, but during your staycation, you must check-in, eat some soul-satiating food, sit by the pool and enjoy sundowners, and go for fine dining.
Strawberry Picking Days- Mahabaleshwar, Maharashtra
Book a budgeted car rental in Mumbai or Pune and drive your way to this scenic town of Mahabaleshwar with your mom for a relaxing weekend getaway. Click a million selfies, pluck fresh strawberries, and have a great time talking and relaxing.
When in Mahabaleshwar: You and your mother enjoy a stroll at Venna Lake, Lingmala Falls, Pratapgarh Fort, Mapro Garden, explore caves, shop at the town bazaar, go rock climbing and bird watching, and witness colorful sunset at Wilson point.
Sand, Sun & Sundowners with Mom in Goa
Goa might not be at its best in May, but water, sand, and beaches are always better than anything else. A week-long trip to Goa with your mother is the ideal way to spend most of the time with each other. Take a rejuvenating dip in the ocean, beach hopping, sit at the shacks, drink, try seafood, and enjoy.
When in Goa: The first thing is to visit Dudhsagar falls, visit famous and unexplored beaches, shop, have dinner on a cruise, attend moon parties, be lazy, and have a gala time.
A Luxury Stay in the City of Nizams in Hyderabad, Telangana
If you and your mom are history buffs and love some royal touch, then Hyderabad is for you; don't forget to try the famous Hyderabadi biryani. Get set to spend a luxurious weekend in the city of Nizams and indulge in some fantastic gastronomic experiences.
When in Hyderabad: After enjoying the famous Biryani, visit Charminar and the shop at the local bazaar near it. You can visit Golconda Fort, Ramoji Film City, Hussain Sagar Lake, Birla Mandir, Chowmahalla Palace, Qutub Shahi Tombs, etc., to name a few.
A Yoga Retreat in Varkala, Kerala
A beautiful small beach town in Kerala known for its yoga getaways and Varkala beach, Varkala is about calming and peaceful surroundings of this town that keep stress at bay. Sweep your mother away to this serene of this tropical paradise donned with a cool breeze, dramatic cliffs, and picturesque views.
When in Varkala: When in Varkala, enjoy water sports, visit Varkala culture center, lighthouse, Ponnumthuruthu Island, Kppil Beach, Anjengo Fort, Varkala Cliff, Kilimanoor Palace, etc., go shopping, enroll in a yoga retreat, try local cuisine, and much more.
To appreciate Architectural Marvel in Puri, Odisha
How about strengthening your bond with your mother while enjoying the most incredible architectural marvels and beaches? Puri is a beautiful untarnished town known for its ornate temples, Jagannath Yatra, majestic vibes, and leisure strolls at the beach. It makes it a fantastic travel destination with your mom.
When in Puri: This magical town has everything you want for a rejuvenating trip. While exploring this one, do visit calming beaches, local shops, Chilka Lake, Sun Temple at Konark, try local delicacies, etc., to name a few.
Spend Joyful Days in Darjeeling, West Bengal
One of the most scenic and beloved hill stations in the country is Darjeeling. Even Bollywood can't resist showing the natural marvel in their movies, especially the Toy Train (Darjeeling Himalayan Railway is a UNESCO World Heritage Site) and the alluring Himalayan foothills. Travel to this beautiful land with your mother and have the best time together.
When in Darjeeling: Enjoy Mountain Railways of India, explore monasteries such as the 19th century Yiga Choeling, colonial-era buildings, local food, witness snow-covered peaks, visit Neora Valley National Park and more.
A road trip with your mother adds more to the mother-child relationship and an opportunity to rest, relax, and revive.
Happy Mother's Day!
Happy Travelling!
To book your self-drive car for an upcoming road trip or to explore your city, visit https://www.mylescars.com/.
To know more, write: help@mylescars.com or call: +91 – 11 – 43083000/ 0888 222 2222.
Tags:
book self drive car rental in Delhi
,
book self drive cars in mumbai
,
Budget self-drive
,
car rental india
,
Happy Mother's Day
,
highway
,
long weekend
,
mother's day
,
Myles Zero
,
roadtrip
,
Self Drive
,
Travel
,
Travel India
,
travel plan
,
weekend getaway