Places to Visit in Rajasthan on a Weekend Trip
---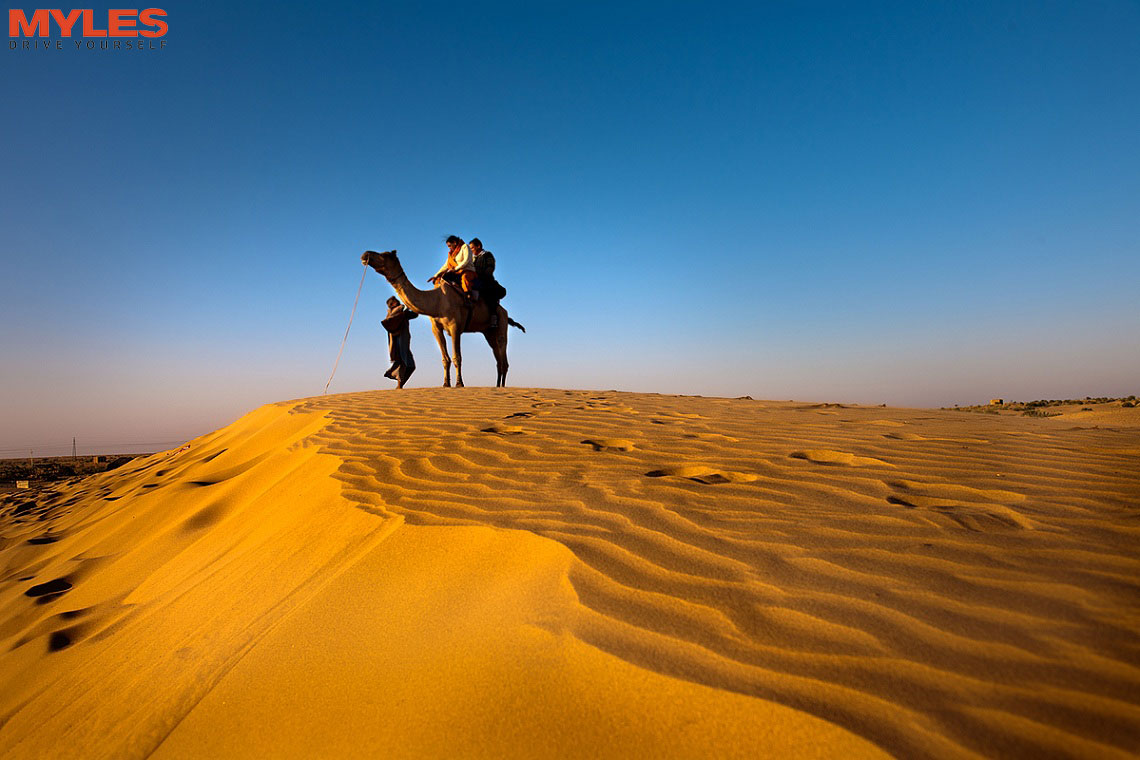 Rajasthan is a must-visit place in India if you are looking to experience royalty in its true grandeur. The historic vibes of this opulent destination can be felt at every nook and corner of the state. The attractive architecture and battle-scarred forts take you through the fabulous history of Rajasthan, which has had a major impact on the development of modern India.
The sheer magnificence of Rajasthani culture and traditions, make this place one of the top tourist destinations in India. The breathtaking artistry and richness captured in the architectural wonders is a sight to behold. If the confines of the time play against your travel desires, don't worry! Rajasthan is a place that can be best explored in three full days and we offer you a perfect itinerary to make the most out of your stay.
Avail self drive car rental and get set to visit the best sights and fascinating destinations that form a wish list for every traveller desiring to be spellbound with the dose of unparalleled royalty and prosperous culture.
Explore the destinations and activities below that lead towards an unforgettable road trip vacation-
Jaisalmer, Heart of the Thar
Nestled in the womb of the mighty Thar desert, Jaisalmer is a destination known for its exuberant forts and mystical sights of golden sands that surround the city. Jaisalmer is the epitome of true Rajasthani culture and traditions.
Explore the diverse wildlife
Some of the major attractions of Rajasthan remain the national parks and wildlife sanctuaries that are home to rare species of flora and fauna. Ranthambore National Park, Sariska Tiger Reserve and Keoladeo National Park form a are the best places to experience the wild wonders of the state in all their glory.
The azure hues of Jodhpur
The vividly royal blues of the Jodhpur cityscape create a mystical sense of a fairytale destination and the exotic architecture of the city forts makes it a priority hotspot in the state.
The Abhaneri Step Well, a mind numbing experience
The architectural wonder of Abhaneri Step Well, situated near Jaipur makes one skip a heartbeat and be mesmerized by the magnificent site of this imperial structure. The site was utilized to harvest rainwater in older days.
Sadar Bazaar Jodhpur, Dream destination for shopaholics
It would be infinitely unfortunate to skip street shopping in the Sadar Bazaar. A perfect destination to get souvenirs.
While these form the to-do itineraries for every trip to Rajasthan there are endless other activities to be engaged in and a multitude of destinations to visit. With cheap car rental from MYLES, you can translate your travel desires to memorable realities and explore the true wonders of Rajasthani heritage in all their glory!
To Book a Self-Drive Car, visit: http://bit.ly/312QrFw
Tags:
family trip
,
long weekend
,
rajasthan
,
travel plan
,
travel tips